This Crab Imperial Appetizer is a classic Maryland seafood recipe full of perfect savory flavors that will leave you wanting more. Puff pastry cups are filled with a hot crab dip mixture making them perfect smaller portions for a finger food appetizer.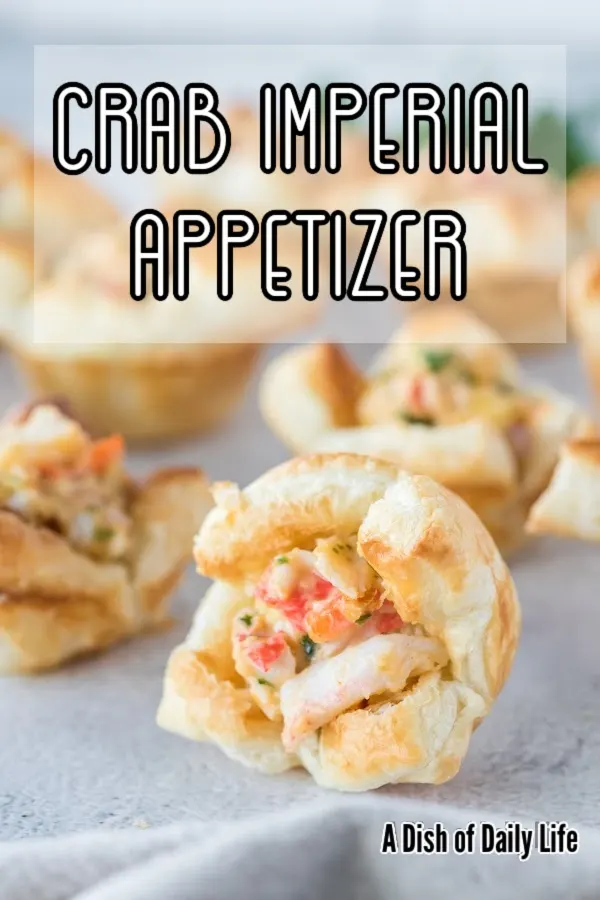 Let me introduce you to this easy crab recipe that always impresses people. It is the classic crab imperial appetizer.
A crab imperial recipe can be served as a fancy main course, sometimes cooked in individual ramekins that have great flavor, but are a lot of work.
This recipe uses edible cups to give you a puff pastry crab imperial full of flavor and a perfect finger food.
This delicious side dish has all the great flavors of the best crab imperial. It uses heavy cream and mascarpone cheese to give it a perfect creamy texture. But it adds fresh vegetables and herbs to mix in different flavors that complement the crab meat.
It really is an elegant appetizer that has all the flavors you want in a first course. Put crab imperial appetizer in your recipe rotation today!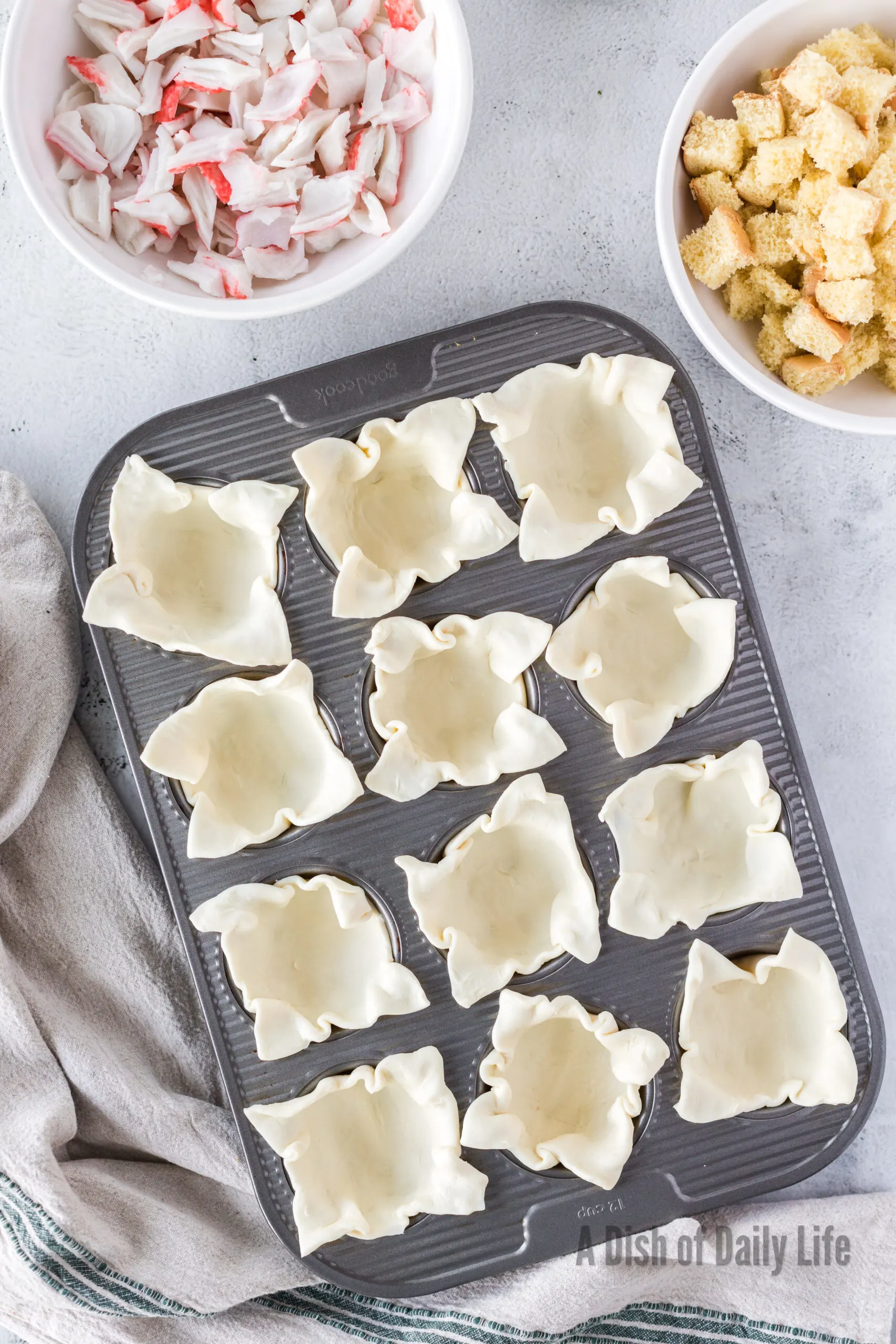 What is Crab Imperial?
Crab Imperial is a classic dish that originated in the United States. It is one of my favorite recipes that uses jumbo lump crab meat.
Usually a crab imperial appetizer uses crab meat combined with a creamy sauce and seasonings. The mixture is then baked or broiled until golden brown, giving you a delicious dish you can serve as an appetizer or main course.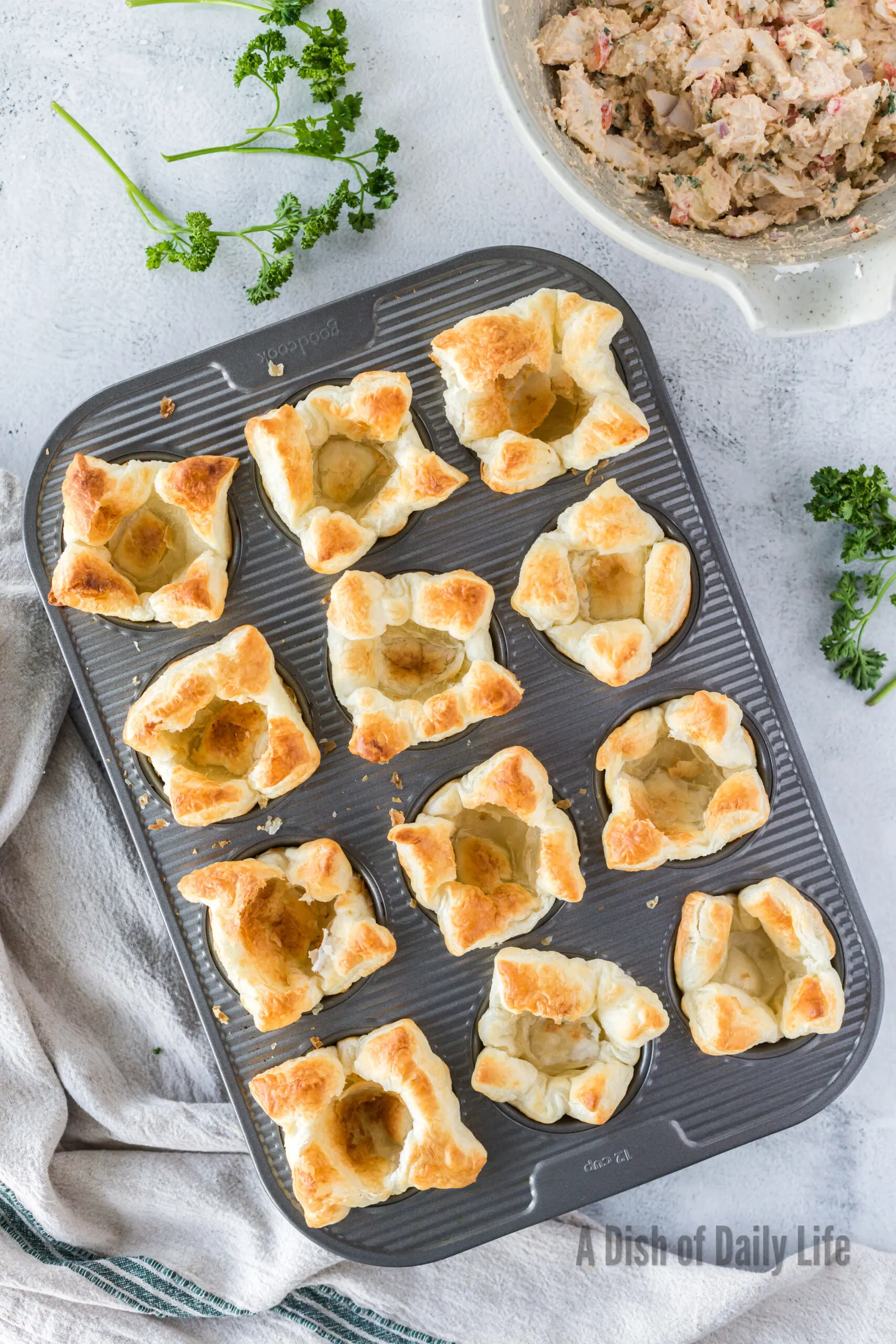 What ingredients are in Crab Imperial Appetizer?
Brioche Bread: gives the crab mixture a soft and buttery texture.
Heavy Cream: gives richness and creaminess to the imperial mixture.
Hot Sauce: adds a small kick of heat to cut through the cream.
Crab Meat: you don't need the most expensive crab, but choose high-quality crab meat for the best taste and texture.
Shallot: gives a small onion flavor to balance the flavors of the filling.
Mascarpone Cheese: this has a higher fat content than cream cheese which gives the filling texture so it is more solid and less of an imperial sauce.
Fresh Lemon Juice and Zest: this brings a bright fresh flavor to the crab mixture.
Kosher Salt: a little bit of salt makes everything else taste better.
Cape Cod Seasoning (or Old Bay Seasoning): the perfect blend of herbs and spices for any seafood dish.
Red Bell Pepper: adds a pop of color and a hint of sweetness to the filling.
Parsley: keeps the dish fresh and colorful.
Chives: this gives a mild onion-like flavor that blends perfectly into the imperial crab mix.
Pre-Baked Puff Pastry Cups: I love using these instead of baguette slices because the crab imperial filling doesn't fall out of the cups!
Pro Tip: You can buy puff pastry cups already baked, or you can make your own cups using puff pastry sheets. Use what you can easily find in the grocery store.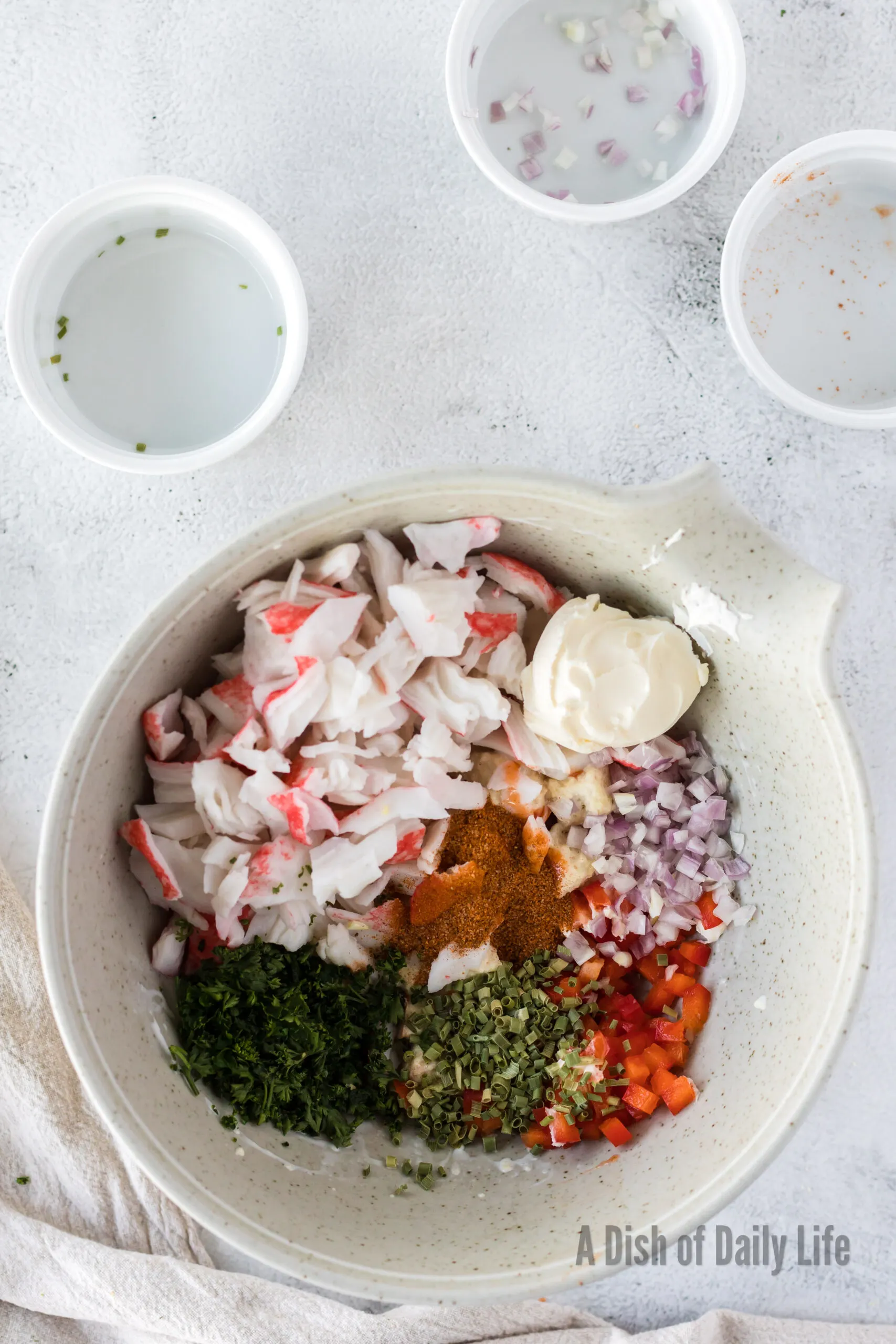 How to Make Crab Imperial Appetizer:
Bake the puff pastry cups.
Soak brioche bread cubes in Heavy Cream and hot sauce in a large bowl.
Combine all ingredients into a large mixing bowl, including the brioche bread mixture.
Fill the puff pastry cups with the crab mixture.
Bake to warm the filling.
Serve immediately!
Pro Tip: You will want to create small cavities in the puff pastry cups before filling them to make room for the crab mixture.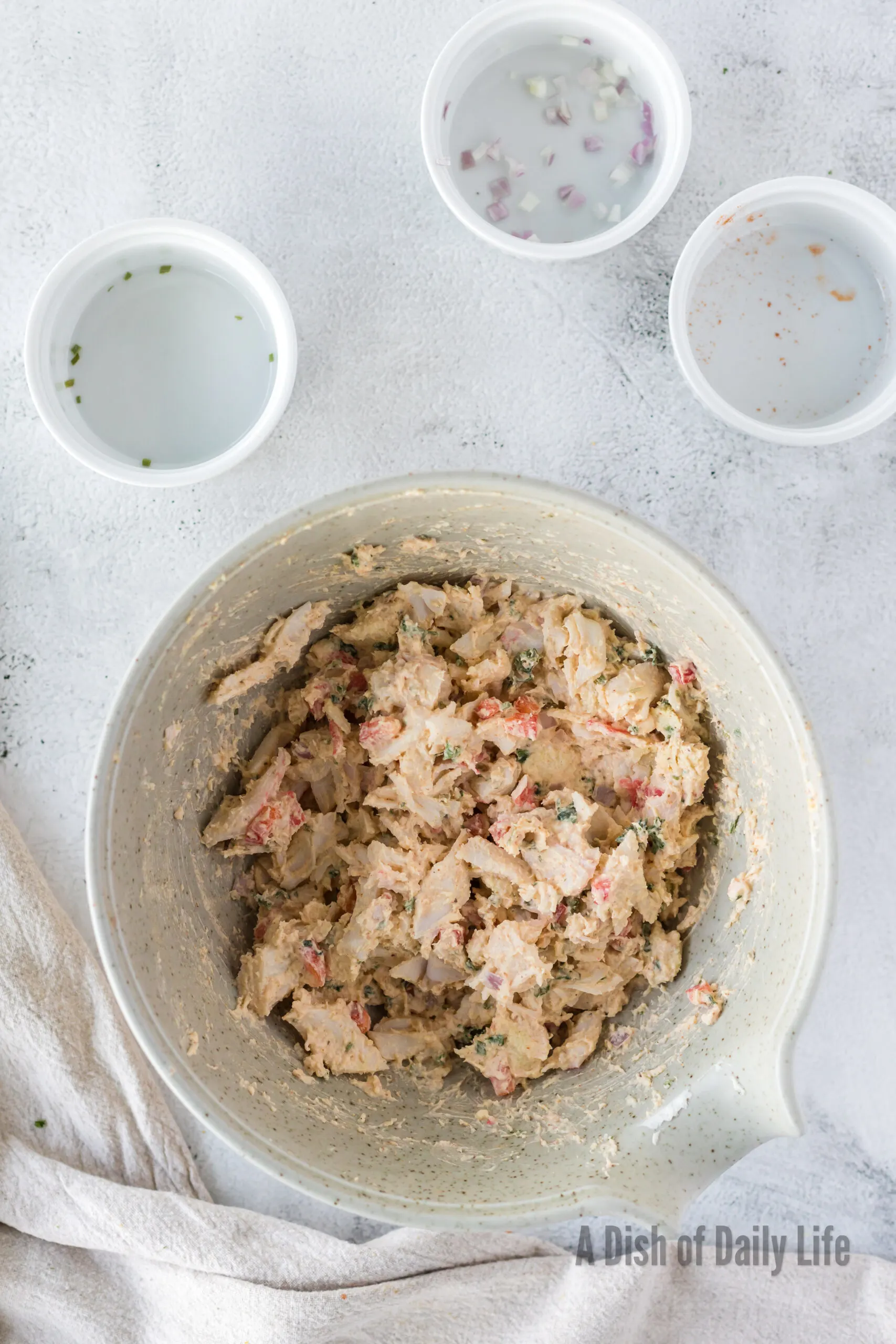 Can I Make Crab Imperial Appetizer Ahead of Time?
It is best to serve Crab Imperial Appetizerimmediately after baking, but you can prepare the filling and pre-bake the puff pastry in advance.
The filling can be made and refrigerated for up to 24 hours before using. Then, fill the puff pastry cups and bake before serving.
How Long Does Crab Imperial Appetizer Last?
Crab Imperial Appetizer does not last at my house. I think I could eat it all by myself. But if you do have leftovers, they can be refrigerated in an airtight container for up to 2 days.
Pro Tip: Reheat leftovers in the toaster oven or air fryer to get a similar texture as the fresh crab cakes appetizer.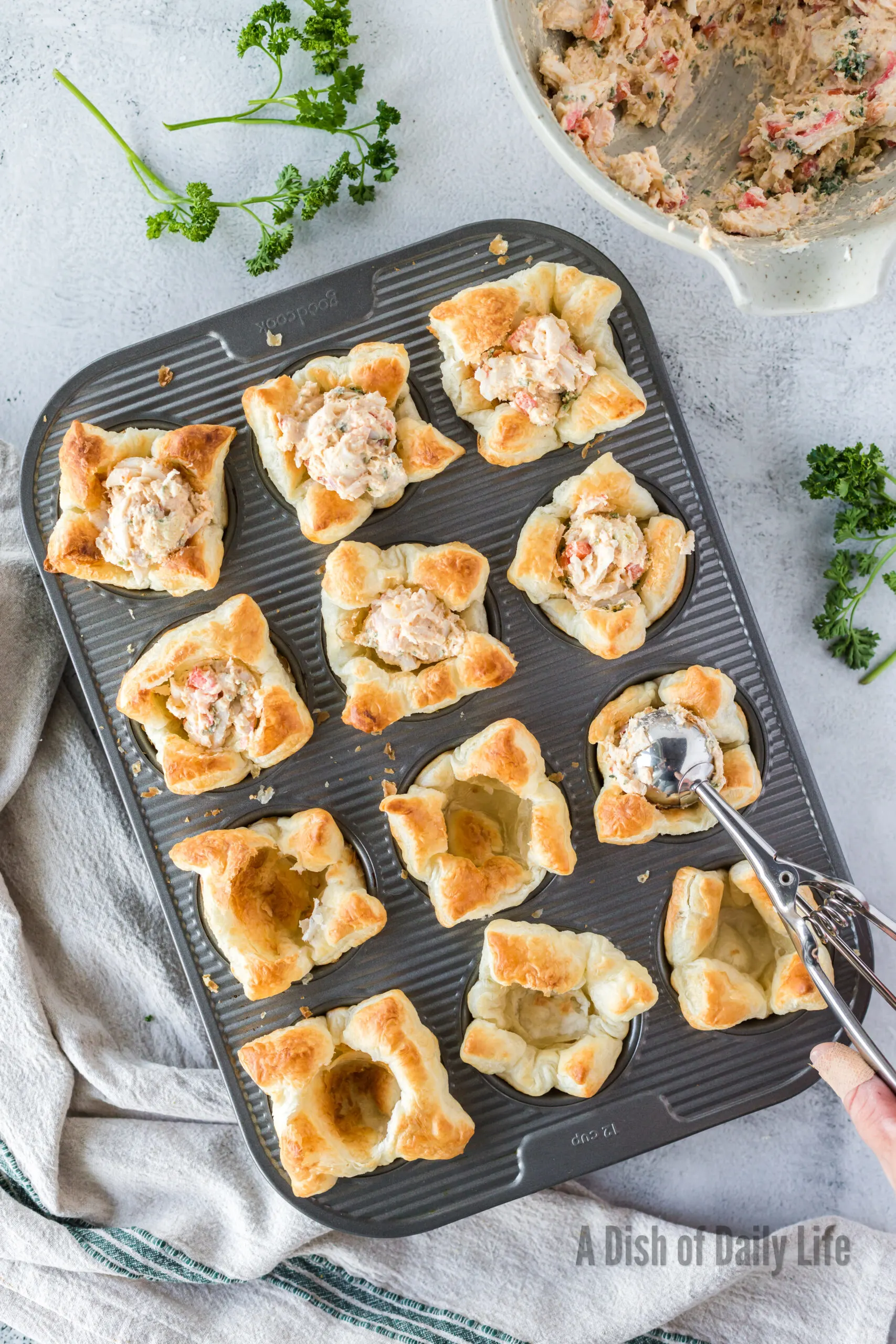 How to Store Crab Imperial Appetizer:
Store Crab Imperial Appetizer in an airtight container in the refrigerator. It will be good there for up to 2 days.
Can You Freeze Crab Imperial Appetizer?
No, you cannot freeze this crab puff. The imperial sauce will break when frozen, and the sauce isn't strong enough to protect the main ingredient crab meat from the freezing process.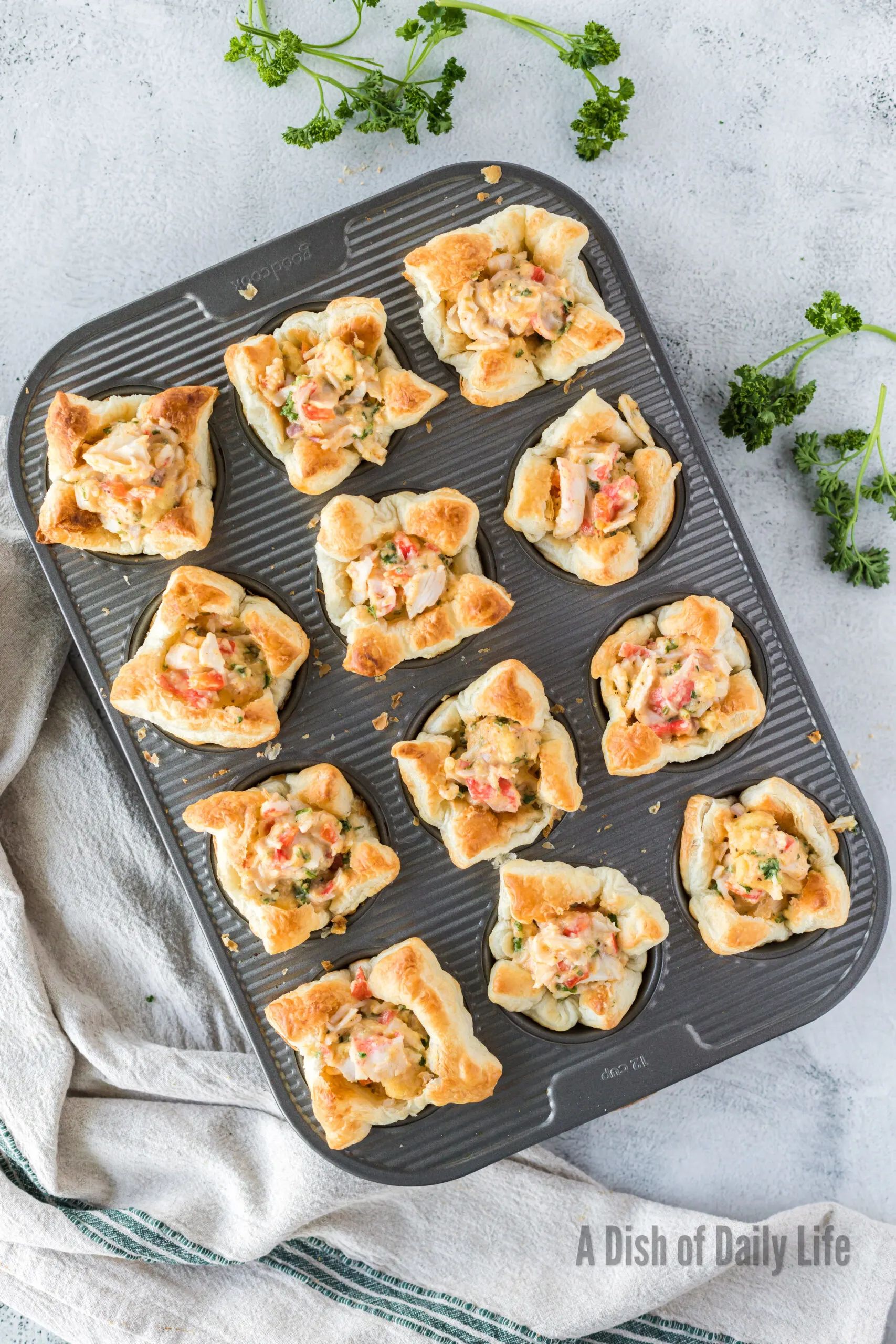 What to Serve with Crab Imperial Appetizer:
Crab Imperial Appetizeris an easy recipe that you can serve with so many different things. I love serving this with a fresh green salad or a baking dish full of roasted vegetables. You can serve it with most of your favorite foods.
When to Serve Crab Imperial Appetizer:
Crab Imperial Appetizer is perfect for any special occasion, whether it's an intimate dinner party or a festive gathering. It is a crowd-pleasing appetizer, which makes it a popular dish to serve when you are having parties or appetizer and dessert dinner nights.
You really cannot go wrong serving this crab imperial with puff pastry anytime.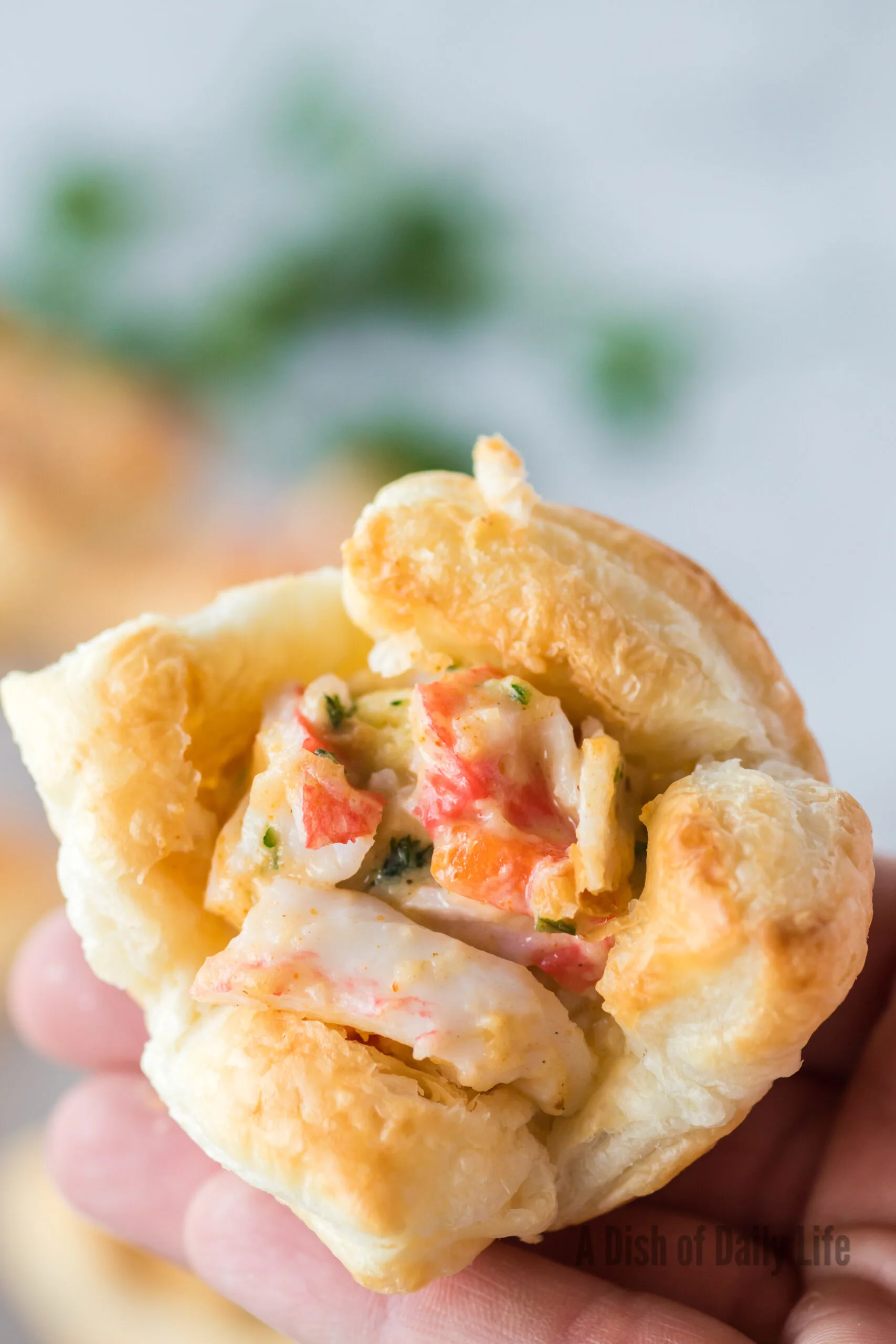 More Delicious Appetizers You'll Love…
This Crab Imperial Appetizer recipe combines creamy crab meat with a touch of citrus and spice, all contained inside buttery puff pastry cups. A perfect appetizer that will impress your guests!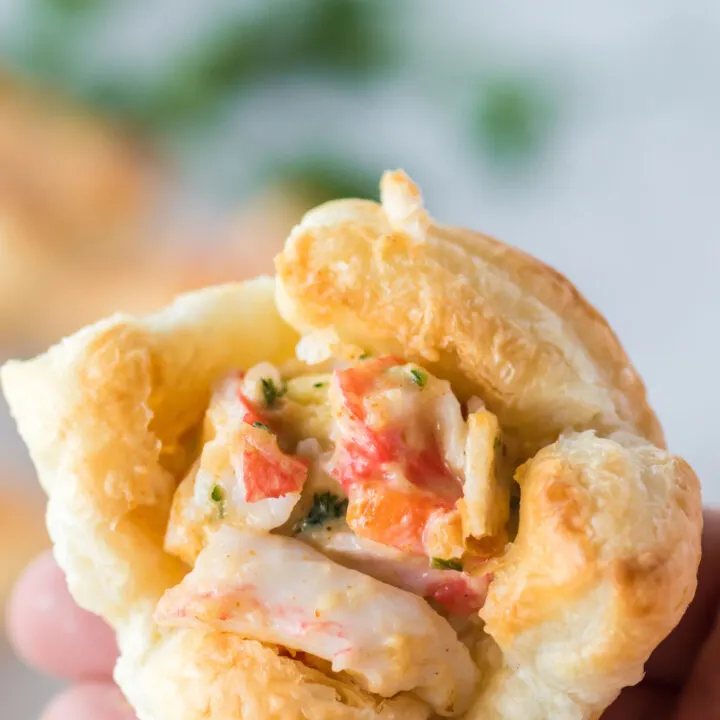 Crab Imperial
This Crab Imperial Appetizer is a classic Maryland seafood recipe full of perfect savory flavors that will leave you wanting more. Puff pastry cups are filled with a hot crab dip mixture making them perfect finger food appetizers.
Instructions
Preheat oven to 400*F
Lay puff pastry sheets out and cut each sheet into 9 squares.
Place 1 puff pastry square in each hole of a muffin tin. and gently press into the muffin tin.
Prebake empty pastry shells, about 15-18 minutes.
Lower your oven temp to 300*F
In a large bowl, combine your brioche bread cubes and Heavy whipping cream. Let mixture sit for 10 minutes at room temperature. Add hot sauce and mix thoroughly.
Add remaining ingredients. Make sure to check the crab meat for bits of shell or cartilage. Mix well.
Using a small cooking scoop, or two spoons, scoop 1-2 Tablespoons of crab filling into each prebaked puff pastry cup.
Bake for 5-10 minutes to warm the filling.
Serve immediately as an appetizer.
Nutrition Information:
Yield:

18
Serving Size:

1
Amount Per Serving:
Calories:

3432
Total Fat:

202g
Saturated Fat:

32g
Cholesterol:

166mg
Sodium:

6491mg
Carbohydrates:

293g
Sugar:

43g
Protein:

111g
Originally Posted: December 1, 2016
Photos & Text Updated: August 9, 2023