Inspired by a Southern Warm Pimento Cheese Dip, this Hot Peppadew Cheese Dip is an easy crowd-pleasing appetizer! The mixture of savory cheeses along with the sweet heat of Peppadew peppers and a few other condiments and spices is the perfection combination…one bite and you will be hooked!
I created this recipe for the dairy farm families of New England as part of an ongoing partnership. All opinions are my own. Thank you for supporting the organizations and brands that make A Dish of Daily Life possible!
Have you ever had a warm pimento cheese dip? No? You're definitely missing out!
Pimento cheese dip is mostly a Southern thing. It's not very common to see a pimento cheese dip served in the Northeast, which is where I live. In my opinion, that is truly unfortunate!
We have family in Tennessee, which is where I was originally introduced to pimento cheese way back when. Then my youngest son decided to go to college at the University of Tennessee in Knoxville. When I was there visiting with a friend during his orientation, I fell in love with this yummy combination again! I had a delicious Warm Pimento Cheese Dip with toasted Naan bread at Café 4, which was absolutely scrumptious.
I haven't been able to stop thinking about it since returning home, and so that dip was my inspiration for this Hot Peppadew Cheese Dip. Notice I said inspired by. In my opinion, food is a lot more fun when we feel free to adapt from the traditional recipes!
Part of the reason I wanted to try this adaption is that I am completely addicted to Peppadews. I love the sweet heat taste. Usually I stuff them with a soft cheese and cook them in the oven until the cheese is melty. I also put them in Paninis or chicken salad. And sometimes, they just get eaten by themselves because they are so irresistibly yummy!
If you're not familiar with Peppedews, this small round bright red pepper originated in South Africa. They look similar to hot cherry peppers and do have an element of heat, but they're sweeter, and you purchase them pickled in brine. You can buy them in jars, and they're often available at the olive bar as well. If you haven't had them, I highly recommend trying them!
Since Peppadews are pretty much a staple in my house, I decided to try making a Hot Peppadew Cheese Dip for my fall recipe for New England Dairy. This dip is perfect for game day, and you can keep it warm while tailgating using one of these helpful tips from Southern Living. A butane powered hot plate would work as well.
I served my dip at an early fall evening BBQ for my husband's birthday. I wanted to serve it directly from the oven, so I made it in a cast iron pan. Cast iron is slow to heat up and slow to cool down, but it retains heat well. I also love the fact that I can cook with cast iron pans in the oven easily.
The verdict from our friends? A resounding thumbs up! My Hot Peppadew Cheese Dip went quickly!
HOW TO MAKE HOT PEPPADEW CHEESE DIP
Preheat your oven to 400 degrees.
Mix together grated cheeses and cream cheese in a food processor.
Transfer to a bowl, and add the chopped Peppadews, mayonnaise, ground mustard, Worcestershire sauce, hot sauce, salt and pepper and stir by hand to combine until smooth.
Transfer to a cast iron skillet, garnish with chopped green onions if you'd like, and cook for 20 minutes or until bubbly.
Serve with crackers, Naan bread or cut vegetables like celery sticks and carrots.
Easy peasy. That's how I roll here. Elaborate dishes are not my thing.
WAYS TO USE HOT PEPPADEW CHEESE DIP (BESIDES AS A DIP)
While Hot Peppadew Cheese Dip is super yummy when paired Naan bread, crackers or veggies, it's also a great way to dress up a burger or a pulled pork sandwich!
THE IMPORTANCE OF BONE HEALTH
Much as I try to wish it away, I have hit middle age. I turned 50 a couple of months ago. After 50, bone health becomes very important. Bone mass peaks by the time we are about 30 years old. As we age, we lose bone mass and osteoporosis becomes a very real risk. Approximately ten million Americans have osteoporosis, and eighty percent of those are women.
One way to promote formation of new bone and protect against bone loss is strength training and weight bearing exercises. I've been a runner most of my life, and during high school and college when I was running competitively, I did do some weight training. However, in later years, I fell off the wagon, weight training only sporadically.
After a few falls in my forties, one that resulted in a concussion, and another that resulted in a trip to the ER because I needed stitches, I got a wake up call. I started to worry about the strength of my bones and my loss of balance. So, I've added an element of weight training into my workout regimen three times a week. I also train on the Pilates Reformer machine once a week, which not only helps me increase my strength but also helps me improve my balance and range of motion.
THE LINK BETWEEN BONE HEALTH AND DAIRY
But what we eat is also really crucial to strong bone health. I feel like my diet is for the most part healthy now, but I can't say I've always been perfect here. The best way to prevent osteoporosis is to develop strong healthy bones before age 30. I went through a phase in my childhood (most of it) where I refused to drink milk, and other than cheese, I don't remember eating a lot of dairy. Unfortunately, I may have done myself a disservice back then. During my late teens and twenties though, I started to become more health conscious about the food I ate, and hopefully built up enough strength in my bones to hold off osteoporosis with the changes I have made in my lifestyle.
Dairy-rich foods help maintain strong bones because of the calcium, protein and vitamin D content.
Calcium is vital for strong bones, blood clotting, and muscle contractions (including our heartbeats). Most calcium is stored in our bones and teeth. So if we don't get enough of it in our diets, the body will "steal" it from our bones, which leads to weakened bones.
Adequate protein is also key for strong bones, and dairy foods like milk, cheese and yogurt are high in protein. A low protein intake will decrease calcium absorption. Protein is also good for muscle recovery after a workout. Chocolate milk, anyone?!
Vitamin D is important because it helps our bodies absorb calcium. While our bodies produce Vitamin D naturally when exposed to sunlight, there aren't a lot of foods where Vitamin D naturally occurs. Milk, however, is fortified with Vitamin D to help the absorption process along.
OTHER GREAT RECIPES FEATURING DAIRY
For the past couple of years, I've been working with the New England Dairy. I've shared a lot of delicious recipes that I hope you've enjoyed, as well as talked about the health benefits of cooking with different types of dairy. Please take the time to check out their website! There is so much great information there, and you'll find some wonderful recipes as well.
Here are some of my favorite recipes I've created for them: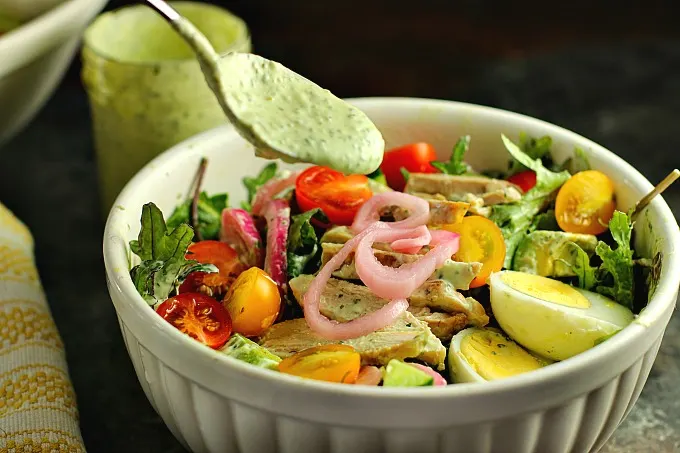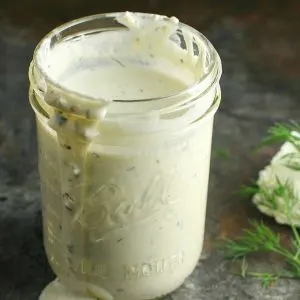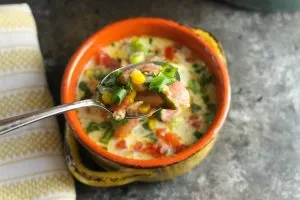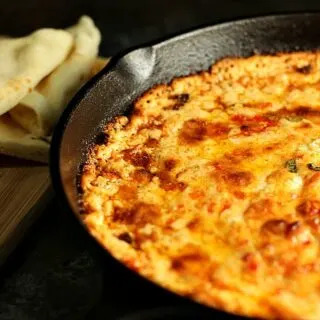 Hot Peppadew Cheese Dip
Hot Peppadew Cheese Dip, with its delicious mixture of savory cheeses and the sweet tang of Peppadew peppers, is an easy crowd-pleasing appetizer!
Ingredients
8 oz sharp Cheddar cheese
8 oz Monterey Jack cheese
8 oz cream cheese
1/4 cup mayonnaise
14 oz jar of Peppadews (drained and chopped, about 3/4 cup)
1 teaspoon Worcestershire sauce
1 teaspoon hot sauce (like Cholula)
1/2 teaspoon ground mustard
1/2 teaspoon salt
1/4 teaspoon pepper
2 tablespoons green onions, chopped, if desired
Instructions
Preheat oven to 400 degrees.
Mix together grated cheeses and cream cheese in food processor.
Transfer to bowl; add the chopped Peppadews, mayonnaise, Worcestershire sauce, hot sauce, ground mustard, salt and pepper and stir to combine.
Transfer to a cast iron skillet; top with chopped green onions if you'd like.
Cook for 20 minutes or until bubbly.
Serve with crackers, Naan bread or cut vegetables like celery sticks and carrots.
Nutrition Information:
Amount Per Serving:
Calories:

246
Total Fat:

22g
Saturated Fat:

11g
Cholesterol:

59mg
Sodium:

347mg
Fiber:

0g
Sugar:

1g
Protein:

10g