Cottage Cheese Salsa…dress up your salsa with cottage cheese, black beans, avocado, and cilantro. This protein packed snack is the perfect post workout snack or healthy lunch!
I mentioned recently in a previous blog post that my husband and I, along with two other couples, purchased a health club. We've all been working non-stop to get us up and running. We just hit a big milestone…1000 members!
During the weeks before and right after we opened, I have to admit my eating habits were not all that great. I wasn't cooking much, and my family was eating a lot of take-out. When you eat like that day after day, it takes a toll. Your body just doesn't feel right.
And, quite honestly, I've missed cooking too. Thankfully, things are starting to feel a little more under control, and I'm back in the kitchen more these days.
We're big salsa fans here, and I was thinking the other day that adding Hood® Cottage Cheese with Chive would give one of our favorite snacks an added boost of protein. Cottage cheese is really so versatile. I just recently started eating it more because it's so healthy. My Healthy Chicken Salad Recipe with Cottage Cheese was a huge hit in our house! Besides being packed with protein, Hood Cottage Cheese is also one of the top sources of casein. Casein is a slow digesting milk protein that provides a steady stream of amino acids that help rebuild and repair muscles, which is essential after a workout.
And we work out a lot here! It's kind of hard not to when you own a health club! Plus two of my kids run as well. My daughter is running this fall for college, and she's away from home, so I'm not cooking for her anymore, but my youngest is still at home, running cross country for his high school. It's important to me to make sure he is fueling properly during the season.
You might be wondering why Hood Cottage Cheese. Hood is one of the largest branded dairy operators in the United States, and the number-one dairy brand in New England! That's not by accident. They're committed to making high quality dairy products. I've been cooking with their products since I moved to the Northeast to marry my husband 25 years ago. My husband knows if he is going to the grocery store that he only is to buy Hood products in the dairy section. There truly is a difference in taste and how they hold up in cooking, and if you've ever cooked with their products, then you know what I am talking about.
As I said, I only started eating cottage cheese again recently. I'm not sure why I stopped because it is so healthy. But when I was a kid, I used to eat it all the time with pineapple on top. Now Hood has all sorts of sweet and savory flavors, pre-made for your convenience. I actually don't often cook with sweet flavors but I picked up the Hood Cottage Cheese with Pineapple to use in a smoothie. The savory flavors are more up my alley for dips or casseroles.
COTTAGE CHEESE SALSA
I used the Hood Cottage Cheese with Chive for this Cottage Cheese Salsa, but the Hood Cottage Cheese with Garden Vegetables would have worked just as well. The grocery store nearest me doesn't actually carry the Hood Cottage Cheese with Garden Vegetables so I'd have had to drive a little further to get it. With the new health club, I'm working so much that it's easiest to shop as close to home as possible right now.
Start with a cup of Hood Cottage Cheese with Chive, and add a cup of chunky salsa. I like to drain the excess juices from the salsa so it doesn't get too watery. Then add a quarter cup of rinsed black beans, a half of a chopped avocado and a tablespoon of chopped cilantro. I mix in most of the salsa in the Hood Cottage Cheese, and then I dump the rest of the salsa and the ingredients on top.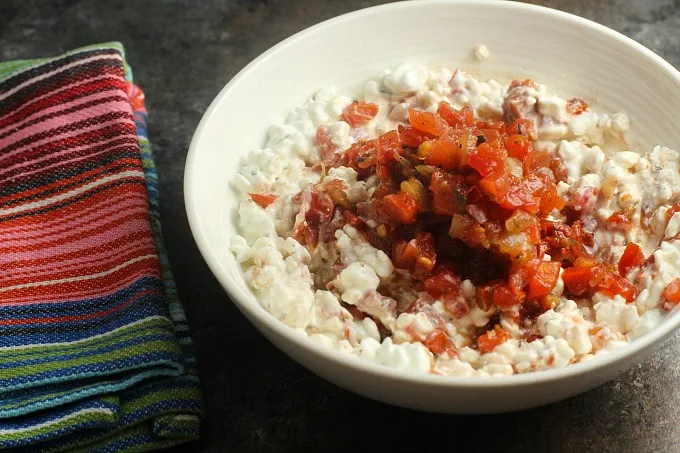 This easy snack is perfect for post workout, but it's also great for game day or you can make it into a healthy lunch too!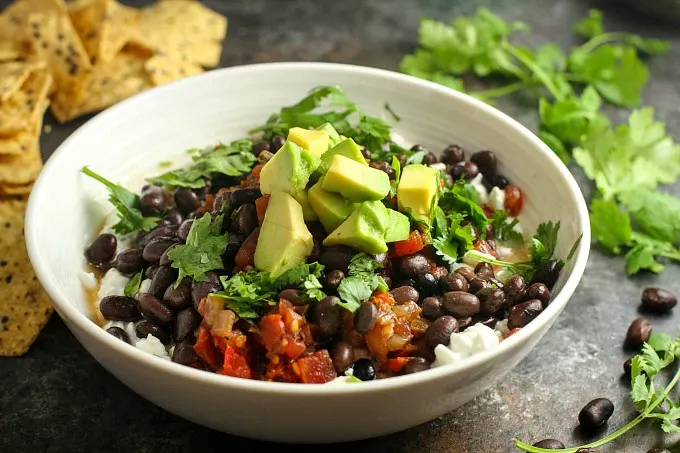 OTHER HEALTHY SNACKS YOU MAY ENJOY
Ready for this Cottage Cheese Salsa recipe now? It only takes a few minutes to put together!
Cottage Cheese Salsa
Cottage Cheese Salsa...this protein packed snack is the perfect post workout snack or healthy lunch!
Ingredients
1 cup Hood Cottage Cheese with Chive
1 cup chunky salsa, drained (homemade or fresh)
1/4 cup canned black beans, rinsed
1/2 avocado, chopped
1 tablespoon cilantro, chopped
Instructions
Mix the Hood Cottage Cheese with most of salsa.
Top this mixture with the rest of the salsa and the other ingredients.
Serve with multigrain chips or crackers, or eat with a spoon.