A farmer's market favorite, this fast and easy Vegetable Risotto recipe is an elegant dish, perfect for weeknight meals or special occasions.
Easy Vegetable Risotto
My husband is half Italian and half Lebanese, so I've been lucky to have experience some amazing foods from both cuisines.
But risotto has always been one of my favorites. In fact, when we go out to eat at my favorite Italian restaurant, I ALWAYS order risotto. I don't think I have ever ordered anything else. Their risotto is just so good, I can't resist.
The vegetable risotto I am sharing with you today is elegant, but quite easy. Risotto itself can be a bit labor intensive, in that you have to constantly stir it. But it's not difficult to make at all.
This farmer's market favorite is made with Stella® Parmesan, a delicious Italian cheese. Paired with a green salad, it's perfect for date night!
For us, with three teenagers and busy sports schedules, date nights are far and few between.
The other night though, after our vegetable risotto dinner, my husband and I sat down to enjoy a rare movie together. We're both big fans of inspirational sports movies, and we have a son that runs cross country, so my husband suggested McFarland, USA.
It did not disappoint…if you are a runner, have a child that runs, or just like sports movies, I highly recommend it!
But back to the recipe!
Risotto is usually served as a first course before the main course, but when I make it, it is the main course.
A good Parmesan is important to this recipe. I chose Stella® Parmesan because I enjoy the slightly nutty flavor, and it pairs nicely with vegetables as well. However, I will admit, while I was cooking, I was snacking on the Stella® Italian Sharp and Fontina cheeses, which are really delicious artisan cheeses as well. I just love artisan cheeses!
Chop up your vegetables and shred your cheese first so everything is ready to go when you start cooking.
While you're doing that, heat up your vegetable broth.
Once your broth is boiling, parboil your vegetables until just crisp-tender and then remove them with a slotted spoon. After you remove the vegetables, add your wine to the stock.
Saute your onion in a couple tablespoons of olive oil until translucent. Then add your Arborio rice to the onion and saute until a little white dot appears in the middle of the rice.
This will probably take less than a minute so be prepared.
Add a cup of the vegetable broth and wine mixture to the rice, and stir until liquid is absorbed. You're going to continue to do this until all of the liquid is gone.
By the time you are finished using all of the liquid, your rice will be tender and creamy.
Then remove your risotto from the heat, stir in your Parmesan cheese, and then add the vegetables back in. Season with salt and pepper, and dinner is served!
How easy was that?!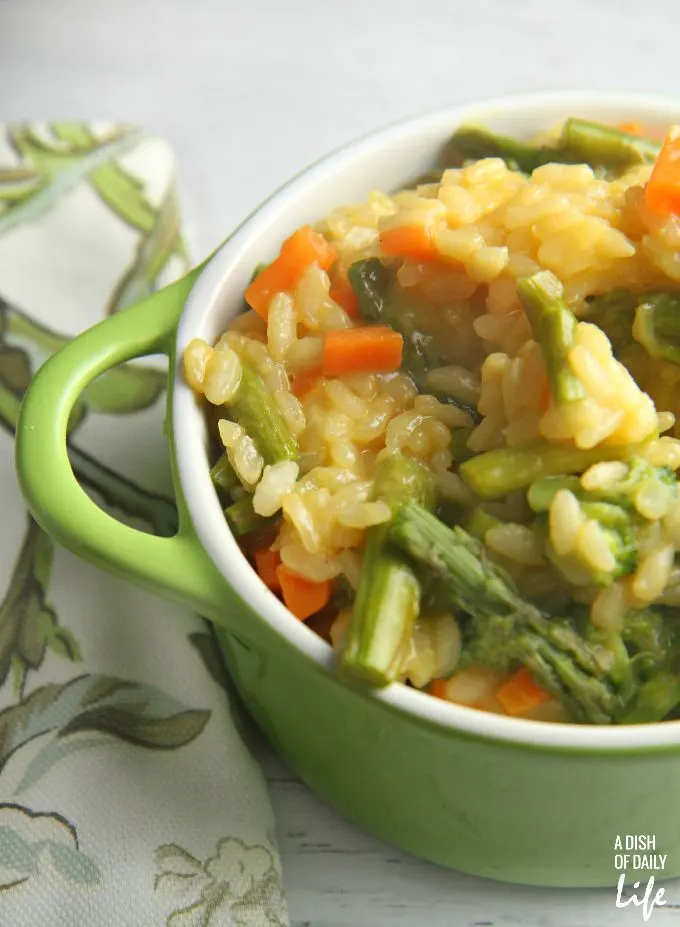 Easy Vegetable Risotto
Ingredients
8 cups vegetable stock
1 cup white wine
2 cups Arborio rice
1 cup yellow onion, chopped
1 heaping cup of asparagus, chopped
1 heaping cup of carrots, chopped
2 heaping cups of broccoli florets
2 cups freshly grated Parmesan
Salt and pepper to taste
Instructions
Heat vegetable broth over high heat and bring to a boil.
Add asparagus to pot and boil until just tender, about 2 minutes. Remove with slotted spoon, and repeat with other vegetables. Set vegetables to the side for now.
Add the wine to the stock and lower the heat to a simmer.
In a large saucepan, heat olive oil and saute onion until translucent, about 3-5 minutes.
Add rice to onion. Stir until you see a white spot in the center of the rice grain...this happens quickly, about 30 seconds.
Add 1 cup of the vegetable broth to rice and onion mixture and stir until liquid is absorbed, keeping the heat on low. Continue to add the liquid a little bit at a time, allowing it to absorb before adding more liquid.
Once you have used all the liquid, the rice will be tender and the mixture creamy.
Remove from heat, stir in 2 cups of freshly grated Parmesan cheese, then add the vegetables.
Season to taste with salt and pepper.
Mix well.
Nutrition Information:
Serving Size:

1
Amount Per Serving:
Calories:

2588
Total Fat:

49g
Saturated Fat:

25g
Cholesterol:

138mg
Sodium:

6976mg
Carbohydrates:

409g
Sugar:

44g
Protein:

96g
I hope you enjoy this easy vegetable risotto recipe as much as my husband and I did!