You will love this nutty and wholesome Farro Salad Recipe. Packed with tender Farro, vibrant spinach, sweet cranberries, creamy feta cheese, and toasted hazelnuts it's got all the flavor you could want. Cover all that with a tangy Balsamic Vinaigrette and this delicious farro salad will quickly become one of your favorite dishes!
I really think this is the best ever Farro salad. It has a whole list of things that will make you love this dish.
First, it has so much flavor. Dried cranberries and feta cheese are a classic creamy-sweet-tart combination that always work well together. But then add the nutty farro and toasted hazelnuts, and you have a perfect salad.
Second, it is so fast and easy. You can mix it up and serve it at room temperature or put it in a large serving bowl in the fridge until you are ready to use it.
Third, this recipe is really good for you. Farro recipes are popular because Farro is an ancient grain with a high nutritional value. It has fiber, protein, and essential vitamins. That means it will leave you feeling full longer and you are getting amazing nutrients.
And since it is a salad, if you don't have all the exact ingredients, you can swap out things you have on hand.
Maybe you want to use a peppery arugula instead of the mild spinach. Maybe you love red onion and want it in every salad. Or maybe you just want a perfect topping of parmesan cheese. All of those flavors can be added to make this the best farro salad with feta recipe.
Finally, this really is perfect any time of the year. You can serve it as a fall farro salad as is or by adding toasted pumpkin seeds next to the hazelnuts.
You can serve it as a greek farro salad for a perfect summer dish. In spring it makes a great light lunch or side dish. And I have even set it on the table for the winter feast days, and everyone loves it too.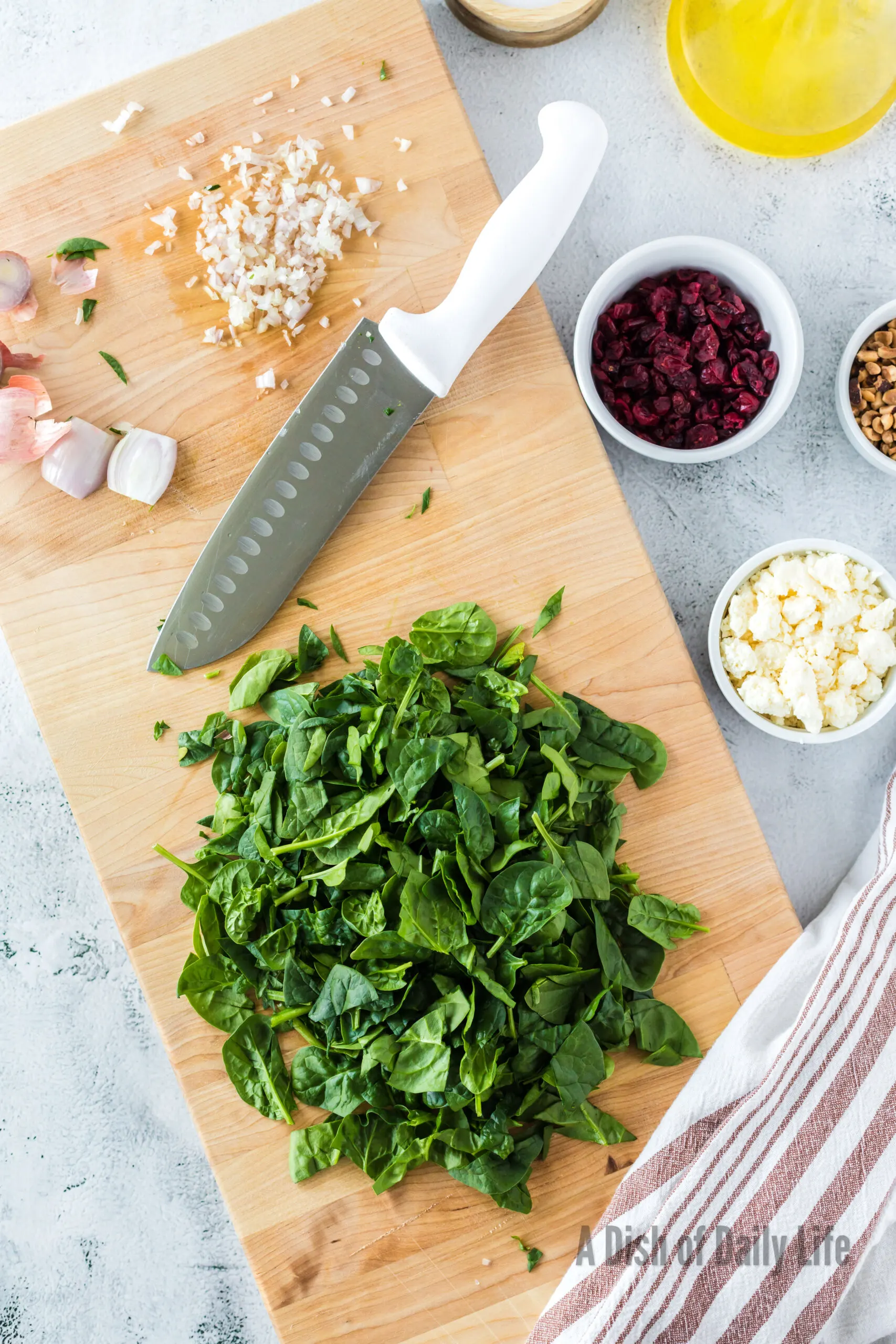 What is Farro Salad?
Farro salad with feta and cranberries is a dish made with cooked Farro, a hearty and chewy ancient grain, combined with a variety of fresh ingredients. It often includes vegetables, dried fruits, cheese, nuts, and a salad dressing.
Spinach Farro salad is known for its textures and flavors, as well as its great nutritional benefits. It is always a great option for a light meal or easy side dish.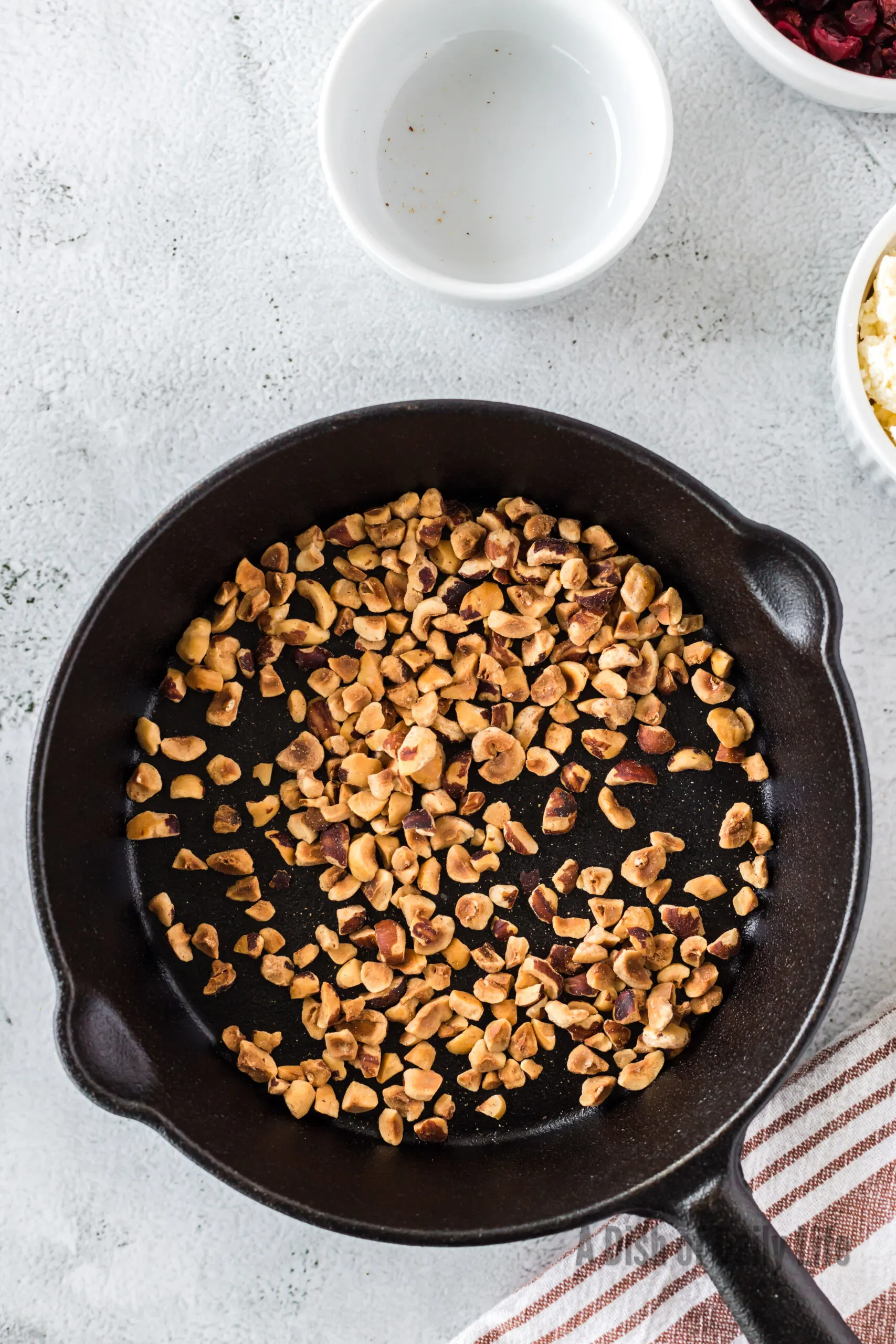 What ingredients are in Farro Salad Recipe?
Farro: an ancient whole grain that adds a chewy texture and nutty flavor.
Spinach: green leaves packed with nutrients that give flavor and color to the dish.
Dried Cranberries: sweet and chewy, this adds a burst of flavor in each bite.
Feta Cheese: creamy and salty feta cheese complements the other ingredients.
Hazelnuts: this adds crunch and brings out the natural nutty farro flavor.
Honey: the sweetness balances the acidity of the dressing.
Dijon Mustard: Adds depth and a hint of tanginess to the dressing.
Shallot: gives the dressing a mild onion-like flavor.
Balsamic Vinegar: the star of the dressing, it has a rich and tangy taste.
Extra Virgin Olive Oil: a perfect salad dressing base helping to make a smooth dressing.
Salt and Pepper: this balances the overall taste and seasoning of the salad.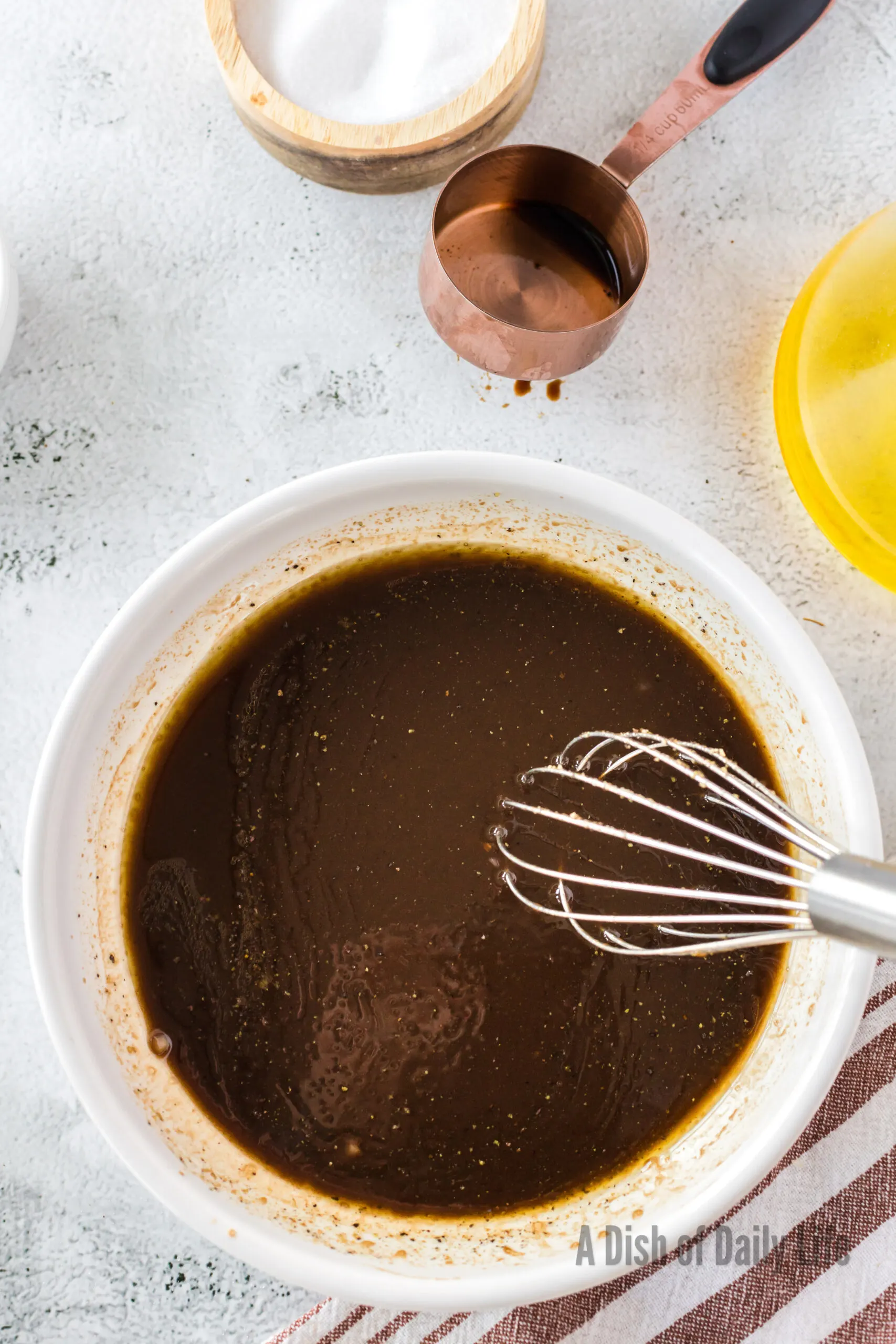 How to make Farro Salad Recipe:
Cook Farro according to package directions and allow it to cool completely.
Toast hazelnuts in the oven until slightly darkened.
Whisk balsamic vinaigrette ingredients together.
In a large bowl, combine Farro, chopped spinach, dried cranberries, crumbled feta cheese, and toasted hazelnuts.
Drizzle balsamic vinaigrette over the salad and toss gently to coat.
Serve!
Pro Tips:
For added flavor, toast the Farro in a dry skillet for a few minutes before cooking it.
Customize the salad by adding your favorite vegetables such as juicy tomatoes, red peppers, or cucumber slices.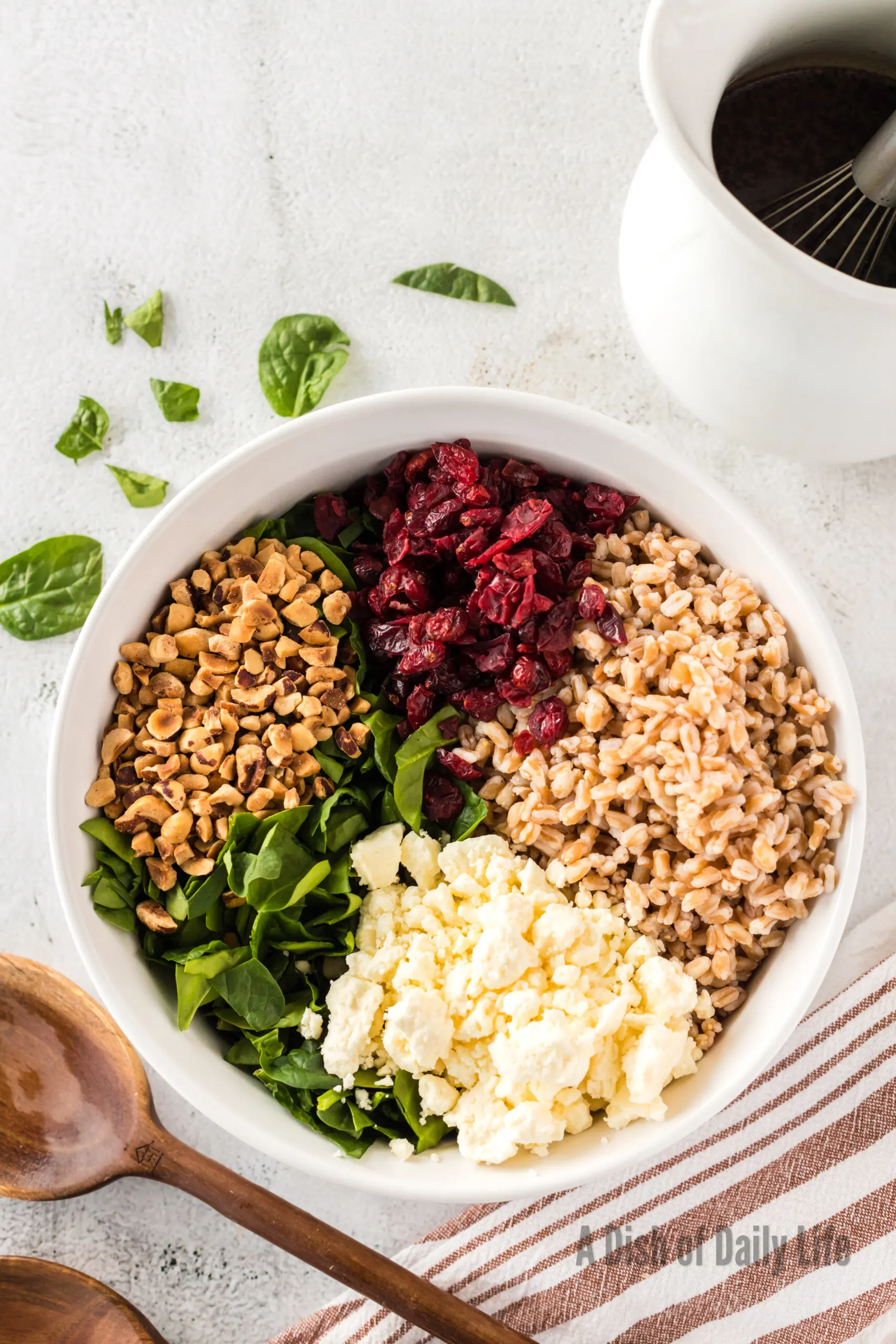 How to Cook Farro:
Cook Farro according to the instructions on the package. Usually that means boiling the Farro in water or vegetable broth until it becomes tender yet still slightly chewy. Drain the cooked Farro and allow it to cool before using it in the salad.
What to Serve with Farro Salad Recipe:
Farro Salad with Cranberries can be served as a main course or as a delicious side dish to other foods.
It goes well with grilled chicken, roasted vegetables, or baked fish. You can also serve it alongside fresh veggies or your favorite leafy greens.
Try serving it as a Mediterranean Farro salad next to other options like hummus, pita bread, and olives.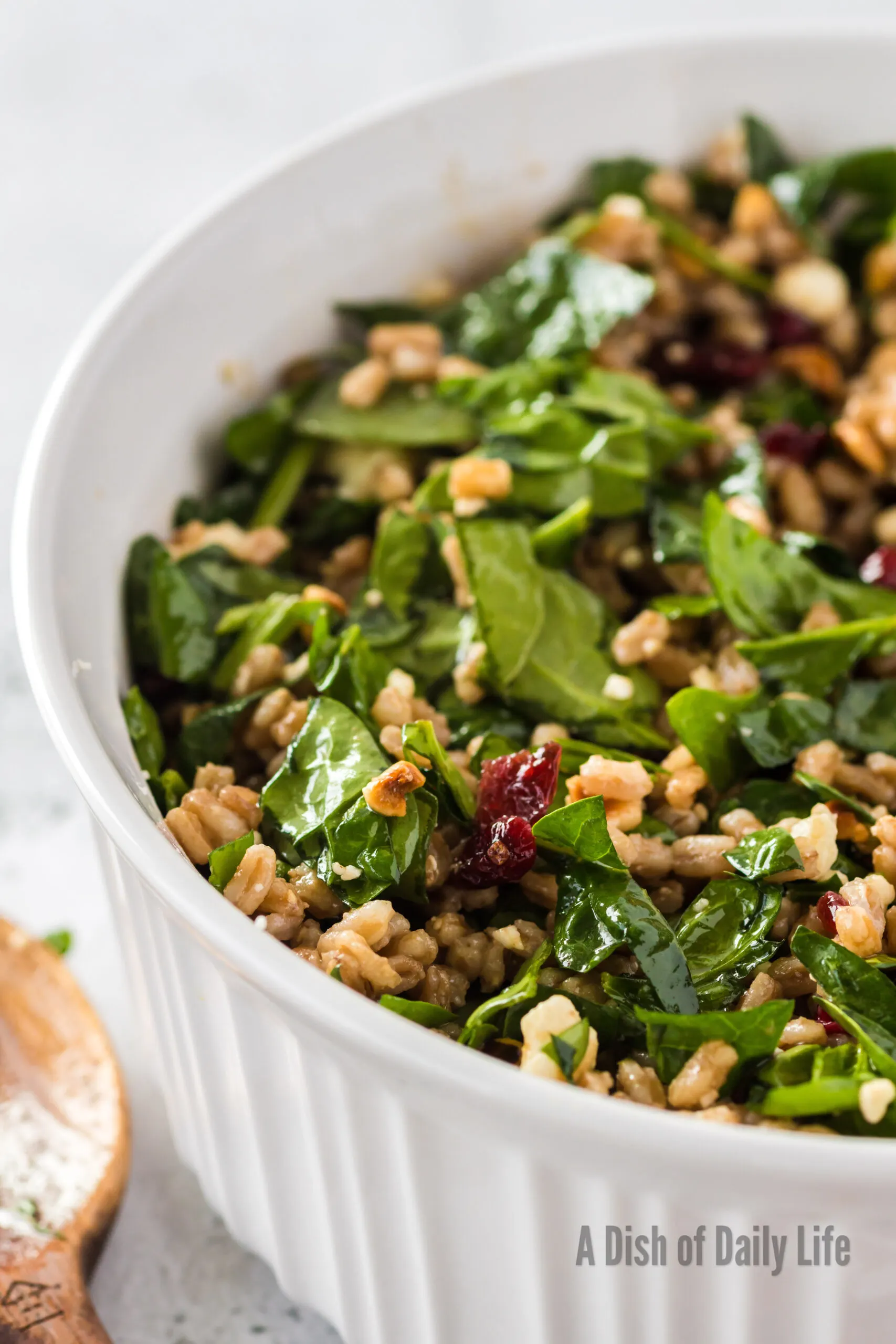 Is Farro Salad Recipe Healthy?
Yes, this Spinach and Farro salad is really healthy. The main ingredients of this dish are nutrient packed foods that are really good for you.
Farro is one of my favorite grains that has dietary fiber, protein, vitamins, and minerals. Spinach is a superfood loaded with antioxidants and vitamins that is so good for you. The dried cranberries and hazelnuts are also great nutrient dense foods.
Even feta is a cheese that gives great creamy flavor in small quantities, making it perfect for people following a healthy lifestyle.
I will make a large bowl of this one night and then eat it the next day as my go to healthy lunch. You could even portion it into individual containers for easy on the go lunch meal prep.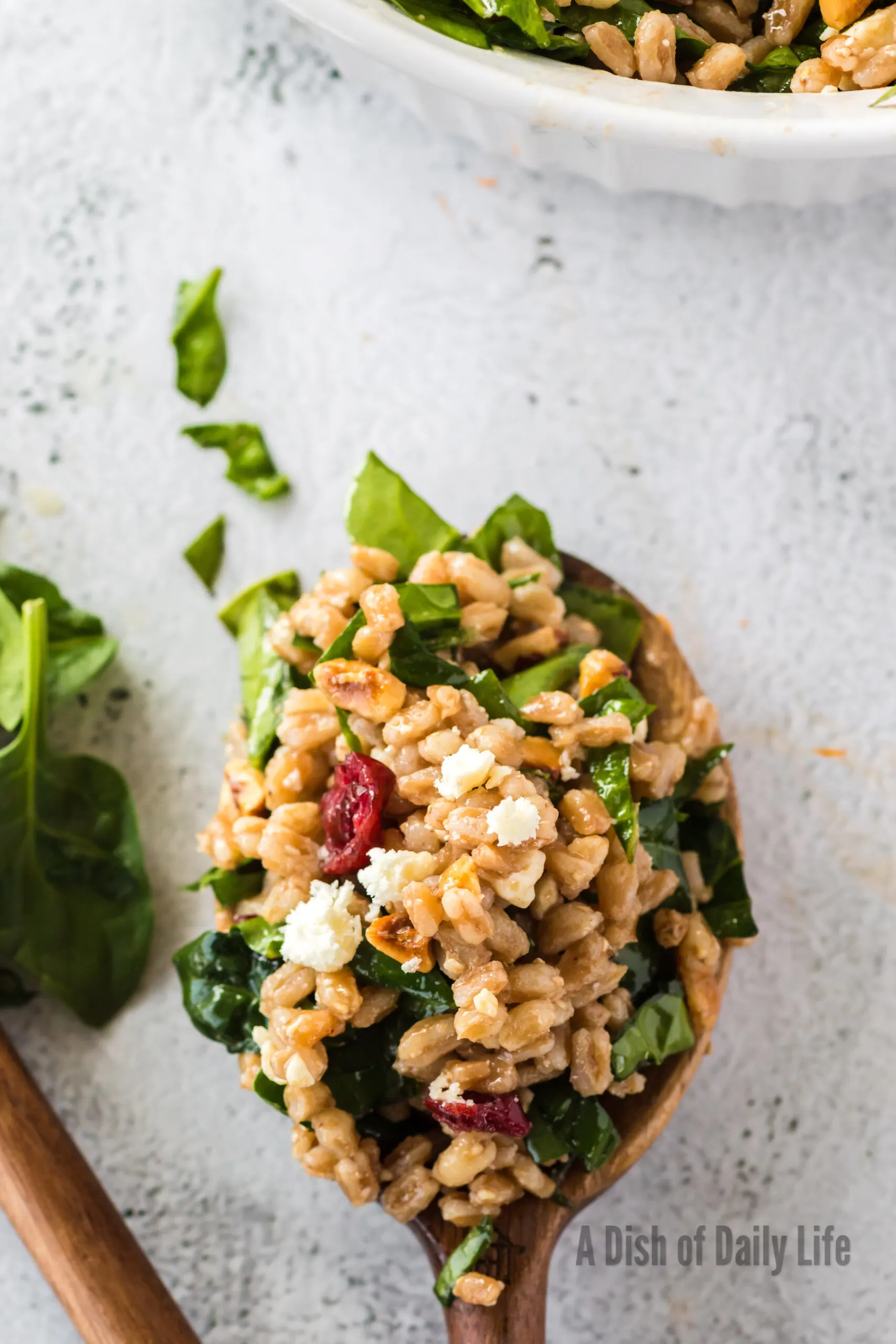 How to Store Farro Salad Recipe:
To store this Farro cranberry salad recipe, place it in an airtight container and keep it refrigerated. It can be kept there for up to 5 days.
Can I Freeze Farro Salad Recipe?
This Farro salad recipe has ingredients that do not thaw well once frozen. Feta cheese, dried cranberries, and toasted hazelnuts will have a different texture once they are mixed into this salad, frozen, and thawed again.
For best results, make and eat this Farro salad with feta fresh each time.
What Protein Can I Add to Farro Salad Recipe?
Add your most favorite protein choice to this Farro salad recipe. I like adding grilled chicken, roasted shrimp, chickpeas, or grilled tofu.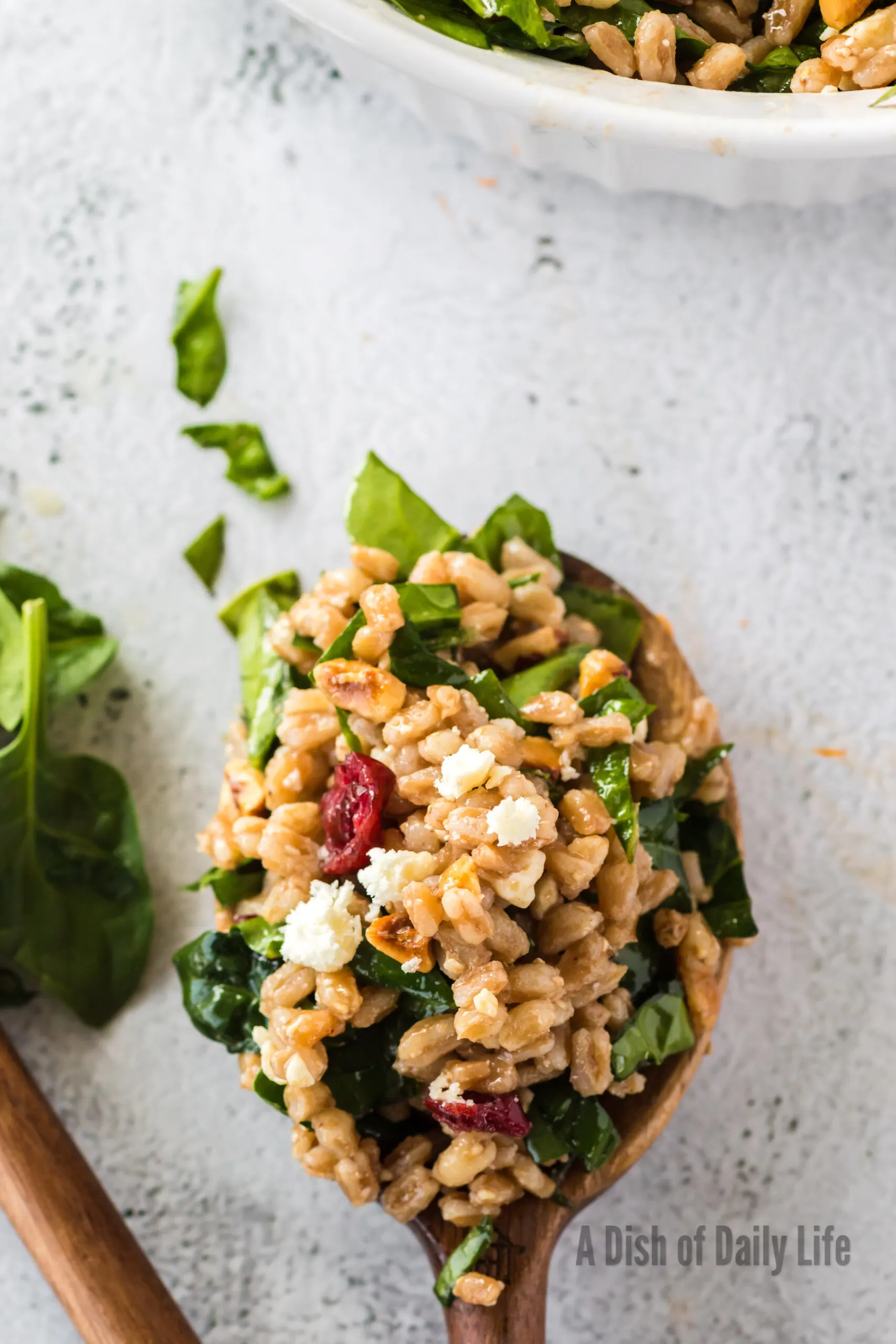 Additional Salad Recipes You'll Love…
You will love the nutty and wholesome flavors of this tasty Farro Salad Recipe, packed with spinach, cranberries, feta cheese, and toasted hazelnuts. It is always a perfect side dish or easy light lunch option.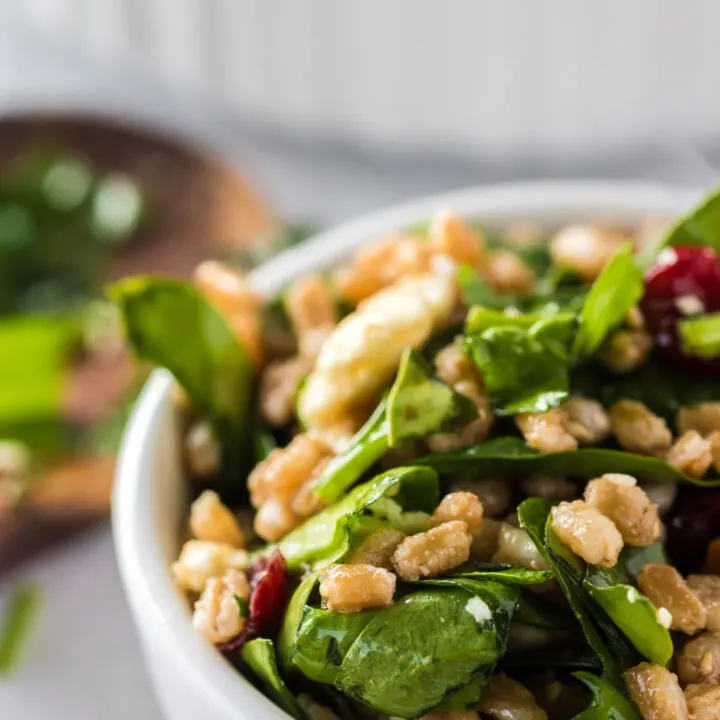 Farro Salad Recipe
This easy Farro Salad with spinach, cranberries and feta, topped with balsamic dressing, is a delicious addition to your menu any time of year. You're going to love how healthy it is too!
Ingredients
Farro Salad
Balsamic Vinaigrette
Instructions
Cook your farro according to package directions.
Once cooked and drained, allow the farro to cool completely before using it in the salad.
While your farro is cooling, you can chop your spinach and toast your hazelnuts.
To toast your nuts, preheat your oven to 350*F. Spread your nuts out in a single layer on a rimmed baking sheet or cast iron skillet. Bake for 5-10 minutes until nuts just slightly darken.
Make the balsamic dressing while you're waiting. Mix together the honey and Dijon mustard.
Add in the chopped shallot, balsamic vinegar and olive oil. Whisk the mixture together until it starts to thicken and season to taste with salt and pepper.
Once the farro has cooled, combine it with the chopped spinach, dried cranberries, feta, hazelnuts and drizzle a couple tablespoons of the balsamic dressing over the top and mix well. If you prefer more dressing, simply add it in a little at a time.
Nutrition Information:
Yield:

4
Amount Per Serving:
Calories:

757
Total Fat:

51g
Saturated Fat:

9g
Cholesterol:

17mg
Sodium:

436mg
Fiber:

9g
Sugar:

26g
Protein:

13g
Originally Posted: December 5, 2017
Photos & Text Updated: August 19, 2023