This colorful Blueberry Salad is made with spring mix salad greens, blueberries, feta and thinly sliced red onions. Add some candied nuts to it to dress it up a little! Tossed with a Balsamic Maple Syrup Vinaigrette, it's like a taste of summer in every bite! Of course, you can definitely enjoy this salad any time of year. It's just extra special with farmers market salad greens and blueberries!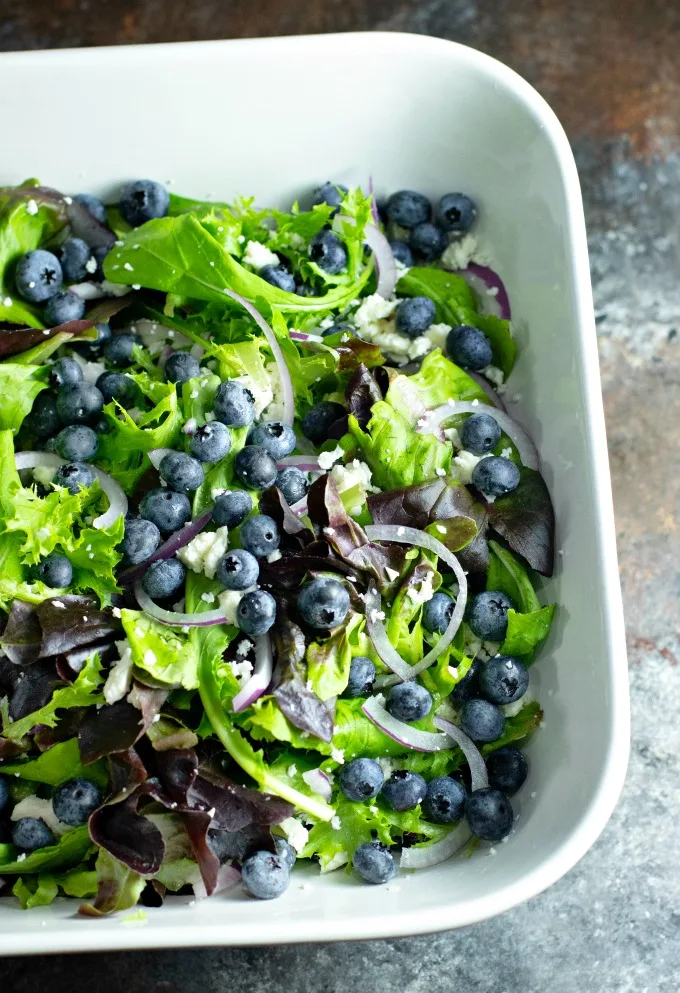 I made this Blueberry Salad at least six or seven times this summer for some small gatherings before people started asking me when I was posting the recipe. It was my go-to salad all summer long, especially with fresh spring mix and blueberries at the farmers market.
I make all of my own salad dressings. I have for as long as I can remember. They're easy to make and healthier than the store bought jars. You know exactly what is going in them. When I look at the back of a bottle of salad dressing from the grocery store, there are usually names of all sorts of preservatives and things I can't pronounce. If I can't pronounce it and I don't know what it is, I don't really want to put it in my body either.
I buy most of my oils and vinegars from Omega Nutrition online or a store in my downtown that has all sorts of fabulous oils and vinegars, Nutmeg Olive Oil. The balsamic that I use in this recipe though comes from Omega Nutrition.
HOW TO MAKE BLUEBERRY SALAD WITH BALSAMIC MAPLE SYRUP VINAIGRETTE
This salad recipe is about as simple as they come. The salad itself is a mixture of spring mix, blueberries, thinly sliced red onions, and crumbled feta tossed together. If you're adding nuts, add those in now too. I've used sliced almonds and chopped walnuts and pecans, both regular and candied. Any of them will work.
For the dressing, whisk together the maple syrup and Dijon mustard first. Then add the olive oil and balsamic vinegar and mix well.
Drizzle the dressing over the salad to your liking right before serving and store the leftover dressing in the refrigerator. It will keep for about a week.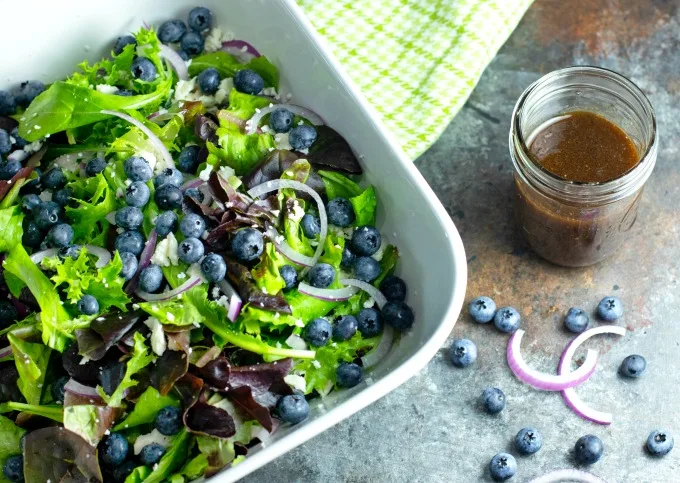 ADDITIONS AND SUBSTITUTIONS FOR BLUEBERRY SALAD
Try a different type of cheese. Goat cheese would work well, or you might also consider a mild blue cheese like Danish Blue or Gorgonzola.
Add nuts! I often toss candied walnuts, pecans or almonds in this salad. You could also use any of these uncandied as well.
Cucumbers pair well with blueberries. Feel free to add cucumber slices!
You could also pair strawberries with the blueberries.
As you can see, you can easily change up the ingredients in this Blueberry Salad!
OTHER SALAD RECIPES YOU MAY ENJOY
I love salads. I crave them. And I'm constantly trying old new ones. Here's a few of my favorites from my blog!
Balsamic Beet Salad with Arugula, Goat Cheese and Walnuts
This is one of my most popular salad recipes on the blog. It always gets rave reviews and it's been pinned over 200,000 times. Right now, beets are plentiful at the farmer's market if you want to try it!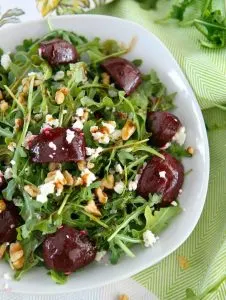 This colorful salad is packed with lots of great health benefits. And best of all, it will actually keep for several days in the refrigerator as the kale holds up well with the dressing!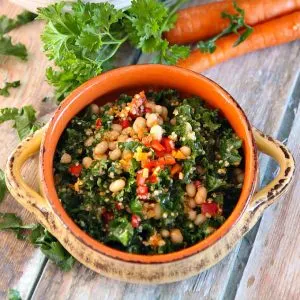 Farro Salad with Spinach, Cranberries, Feta and Balsamic Dressing
This easy Farro Salad with spinach, cranberries and feta, topped with balsamic dressing, is a delicious (and healthy!) addition to your menu any time of year. My husband really loves this one.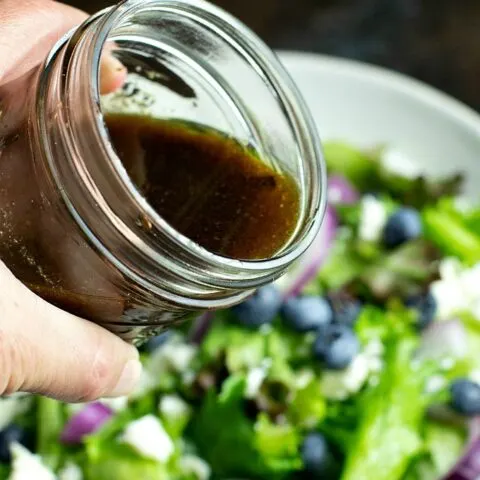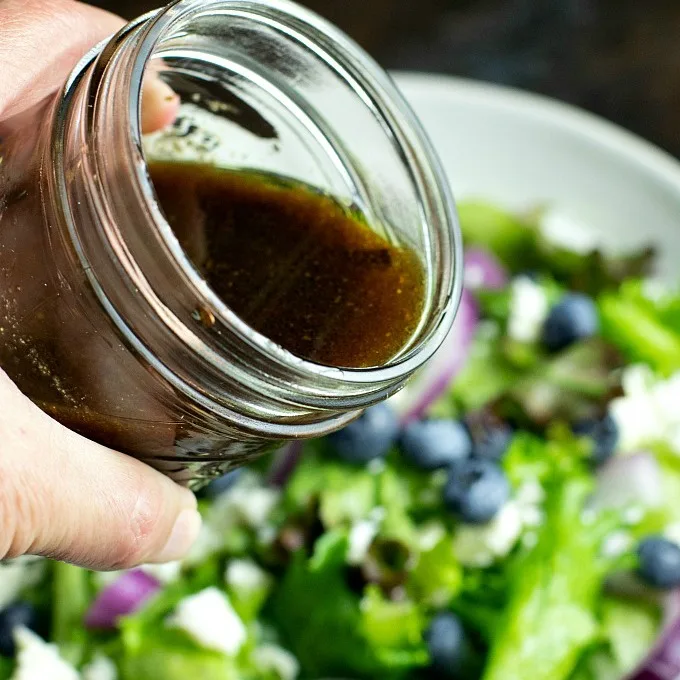 Blueberry Salad with Balsamic Maple Syrup Vinaigrette
Ingredients
Blueberry Salad
8 cups spring mix
1 cup blueberries
1/2 cup feta, crumbled (about 2 oz)
1/2 medium red onion, sliced thin in rounds, cut into half moons
1/3 cup nuts (chopped pecans or walnuts or thinly sliced almonds, can be candied)
Balsamic Maple Syrup Vinaigrette
1/4 cup extra virgin olive oil
1/4 cup balsamic vinegar
2 tablespoons maple syrup
1 tbsp Dijon mustard
Instructions
Toss together spring mix, blueberries, feta, sliced onions, and nuts (if using).
For dressing, whisk together the maple syrup and Dijon mustard. Then add the extra virgin olive oil and balsamic vinegar and mix well.
Dress salad to your liking right before serving. Any extra salad dressing will store in the refrigerator to up to a week.
Nutrition Information:
Amount Per Serving:
Calories:

294
Total Fat:

23g
Saturated Fat:

5g
Cholesterol:

13mg
Sodium:

180mg
Fiber:

2g
Sugar:

13g
Protein:

5g