Looking for fast and easy dinner ideas? You can put together this Citrus Shrimp with Jasmine Rice in less than 30 minutes! Gluten free recipe.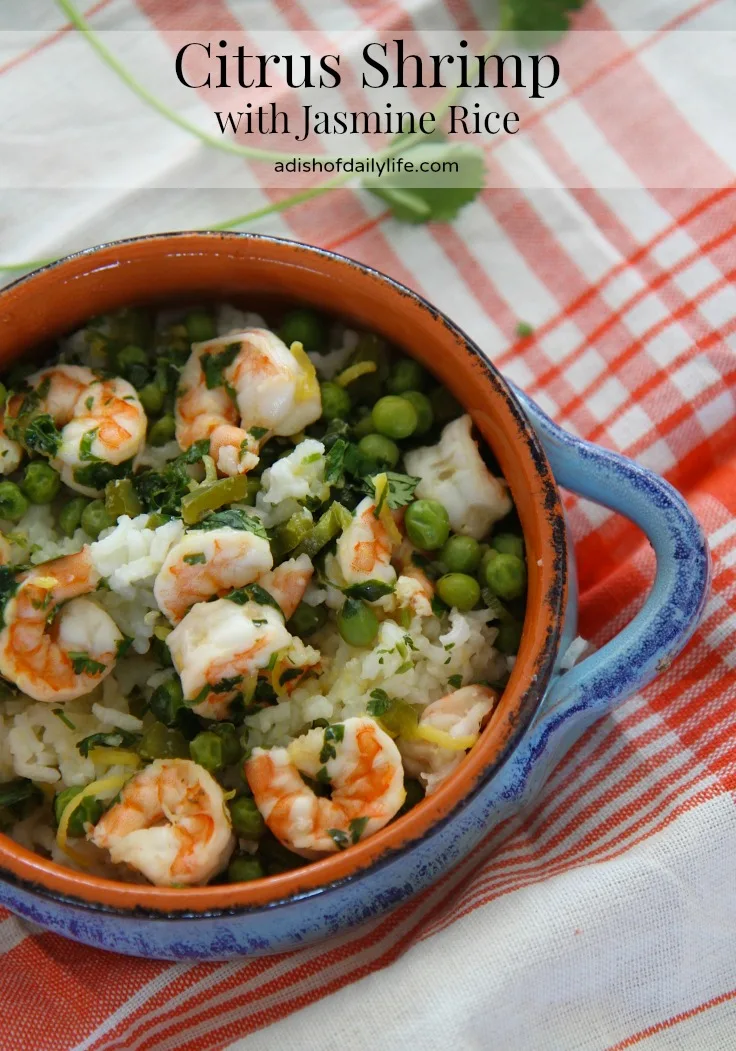 This Citrus Shrimp recipe is the second of my recipes in the Della Rice #CreateAStir campaign.
In case you didn't catch my first recipe, Middle Eastern Yogurt Chicken with Cilantro Basmati Rice (which you should definitely check out), and you're wondering what a Stir is…
Think of a Stir as your favorite rice bowl with toppings. Your rice is the canvas…add meat, vegetables, sauce…make something quick and easy, or create a Stir worthy of a special occasion.
Our schedule during the week is super hectic. In the spring, I have two kids running track, and one playing lacrosse at school and travel soccer on top of that. Our evenings are always filled with practices and sometimes meets or games as well.
Because of that, I am always looking for recipes that I can make as quickly as possible. I like this one because the prep and cook time literally takes minutes…the rice is the longest part, and the rice cooker takes care of that! If you don't have a rice cooker…keep reading…Della Rice is giving one away below!
Citrus Shrimp with Jasmine Rice
Basically all you do is combine your shrimp with some lemon, lime and orange juice, a chopped jalapeño and some lemon zest, and marinate it for a bit while your rice is cooking. When your rice is just about finished, add your marinade and shrimp to a saucepan, and bring it to a boil. Cooking your shrimp is only going to take two to three minutes, so be careful not to overcook it. With about a minute left to go, add a cup of frozen peas to the mix. After three minutes, once the shrimp is cooked through, remove from heat and add the cilantro.
Spoon over your jasmine rice, and you're done. It's that easy.
Feel free to change things up too. Sometimes I use orange juice instead of fresh oranges, and I've made it without as well. I don't always put the peas in.
It's pretty hard to mess this recipe up. Especially if you have a rice cooker! My rice cooker has made my life so much easier. All you have to do is add your rice, water, and a dash of salt to the cooker, close the lid, pick white or brown rice, and hit start. The rice cooker does the rest! It beeps when it is done and keeps the rice warm until you're ready for it. Piece of cake!
Citrus Shrimp with Jasmine Rice
If you're looking for fast and easy dinner recipes, you can put this delicious Citrus Shrimp with Jasmine Rice together in less than 30 minutes!
Ingredients
1 lb shrimp, shells removed
1 cup jasmine rice, cooked according to package directions
1/2 cup fresh squeezed lemon juice
3/4 cup fresh squeezed orange juice
1/4 cup fresh squeezed lime juice
1 tablespoon lemon zest
1 jalapeño, chopped
1 cup frozen peas
1/2 cup cilantro, chopped
Instructions
Cook rice according to package directions.
Zest one of your lemons until you have one tablespoon of zest.
Squeeze lemons, oranges, and limes. I used two of each. Combine juice.
Chop jalapeño.
Add chopped jalapeño and zest to juice.
Add shrimp and let marinate while rice is cooking.
When rice is a few minutes away from being done, add the shrimp and marinade to a saucepan and bring to a boil. Cook shrimp for 2-3 minutes.
With one minute left on shrimp, add cup of frozen peas.
Remove from heat.
Add chopped cilantro.
Spoon over jasmine rice.
I hope you enjoy this Citrus Shrimp as much as we do!