This easy and delicious 15 minute Chili Lime Mexican Corn Salad recipe can be used as an appetizer for game day or tailgating, or as a side dish for any Mexican dinner or your next cookout!
MEXICAN CORN SALAD
Have you ever tried Mexican street corn?
Lime, chili powder, and cilantro with either a butter or mayonnaise base slathered on grilled corn…it's a flavor combination that is oh, so good! Usually Mexican street corn also includes Cotija cheese. My Mexican corn salad recipe does not, but you can easily add it.
For a cookout, I think a salad is easier to make (and eat) than corn on the cob.
Plus Mexican corn salad is really quite versatile. You can eat it as a side dish or with chips…either way, it's always a hit!
My son is leaving for college in less than two weeks. He wanted to have a few friends over before they all leave for college, so we had a few kids over tonight for a cookout.
Instead of hot dogs and hamburgers and the traditional sides, I went with a healthy angle. We made a nice marinated flank steak, roasted vegetables, my Lemony Kale Quinoa Salad that our daughter loves, and this delicious Mexican corn salad.
I was wondering how the boys were going to react to my healthy meal, but they actually tried everything, and ate most of it. But the Mexican corn salad went first!
HOW TO MAKE MEXICAN CORN SALAD
This is a super easy recipe to make. Ten to fifteen minutes is all you need.
You can either boil or grill the corn. Grilling actually takes longer so I usually boil mine. You only need 3-4 minutes to cook it when you are boiling it. Once your corn is ready (and cooled…I generally run mine under cool water so I can cut the kernels off without burning my hands), cut the kernels off the cobs and mix them with some cilantro.
Then mix some mayonnaise, freshly squeezed lime juice and chili powder together, and combined it with the corn and cilantro mixture.
Done! How easy was that?!
If you're making Mexican corn salad during the summer, fresh corn is easy to find. But if you want to use this as a game day or tailgating recipe during other times of the year, you'll probably need to use frozen corn. One ear of corn is approximately 3/4 of a cup, so you'll need about 7 1/2 cups of corn for the recipe.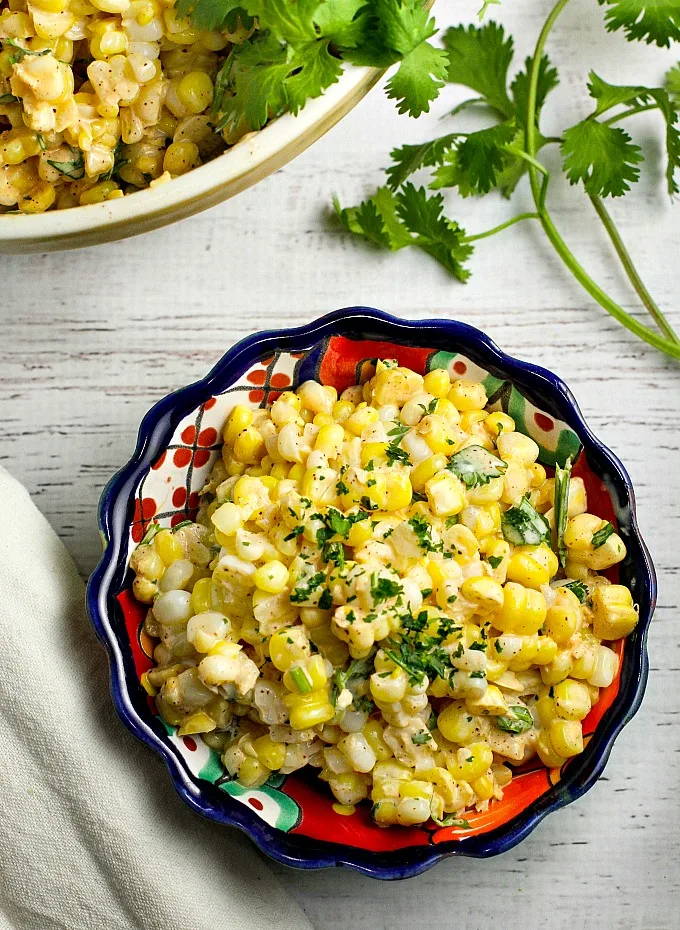 OTHER SALAD RECIPES YOU MAY ENJOY
Summer Pasta Salad…this delicious salad is packed with farmer's market vegetables, is the perfect side dish for any potluck or summer BBQ. It's like a burst of summer in every bite! Everyone will be asking you for the recipe!
Creamy Deviled Egg Layered Pasta Salad…this delicious recipe combines deviled eggs and pasta salad in a dish that is perfect for any potluck get together. The dressing is creamy, egg-y and bold…you're going to love it!
Tomato, Basil and Feta Salad…Colorful, healthy, and packed with flavor, this easy salad is a wonderful side dish for any summer dinner, and even makes for a wonderful light lunch as well. Go ahead and customize it by adding in cucumber or even summer corn…the basil dressing goes well with everything!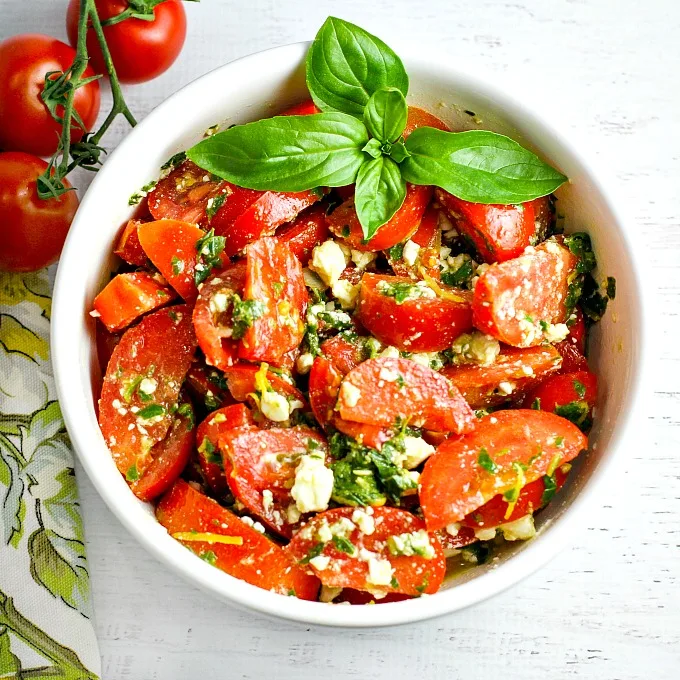 Now for the recipe!
Mexican Corn Salad
This simple and delicious 15 minute Chili Lime Mexican Corn Salad can be used either as an appetizer or side dish for any Mexican dinner or your next cookout.
Ingredients
10 ears corn
3 tablespoons fresh cilantro, chopped
1/2 cup mayo
1 teaspoon chili powder
2 tablespoons lime juice
Instructions
Shuck and cook corn, cut kernels from corn. Boiling will take you 3-4 minutes.
Mix corn and chopped cilantro together, set aside.
Combine mayonnaise, chili powder and lime juice. Mix well.
Add mayonnaise mixture to corn mixture.
Refrigerate until ready to serve.
Nutrition Information:
Serving Size:

1
Amount Per Serving:
Calories:

1255
Total Fat:

20g
Saturated Fat:

5g
Sodium:

296mg
Carbohydrates:

272g
Sugar:

91g
Protein:

48g
Photos and recipe updated on August 27, 2106.