Introducing the ultimate comfort food: this Smothered Cheesy Sour Cream Chicken! Tender, juicy chicken breasts smothered in a creamy, cheesy sauce and baked to perfection.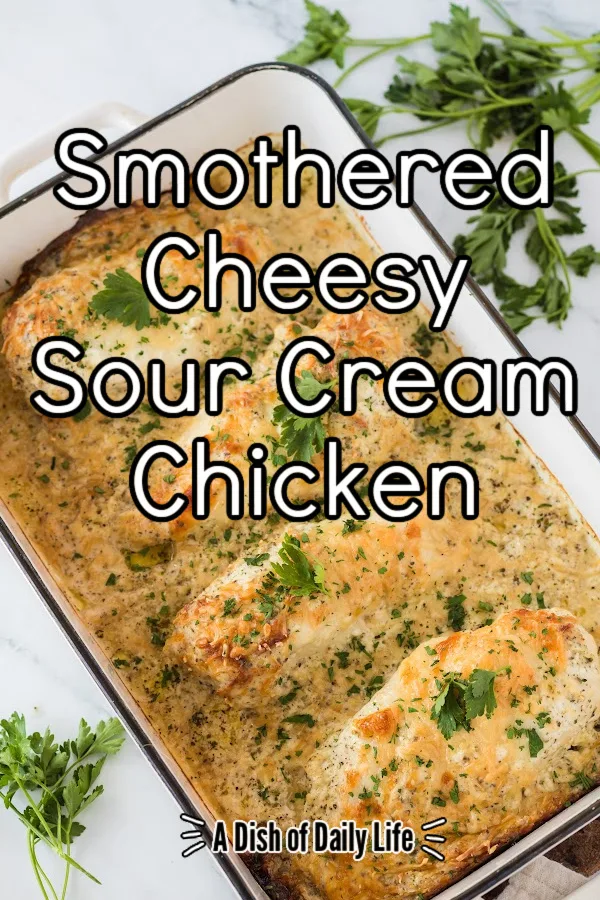 Trust me, this is the kind of dish you'll want to make again and again.
Picture this: perfectly cooked chicken breasts, topped with gooey mozzarella cheese and covered in a rich, flavorful sour cream sauce, all baked together in one dish.
Smothered chicken is easy to make, with simple ingredients you probably already have in your kitchen.
The creamy sauce adds amazing flavor and keeps the chicken moist and tender.
It's an easily customized meal that can be served over rice, pasta, or even on its own.
The smothered chicken recipe can easily be doubled or even tripled to serve a crowd.
It's perfect for a weeknight dinner or a special occasion.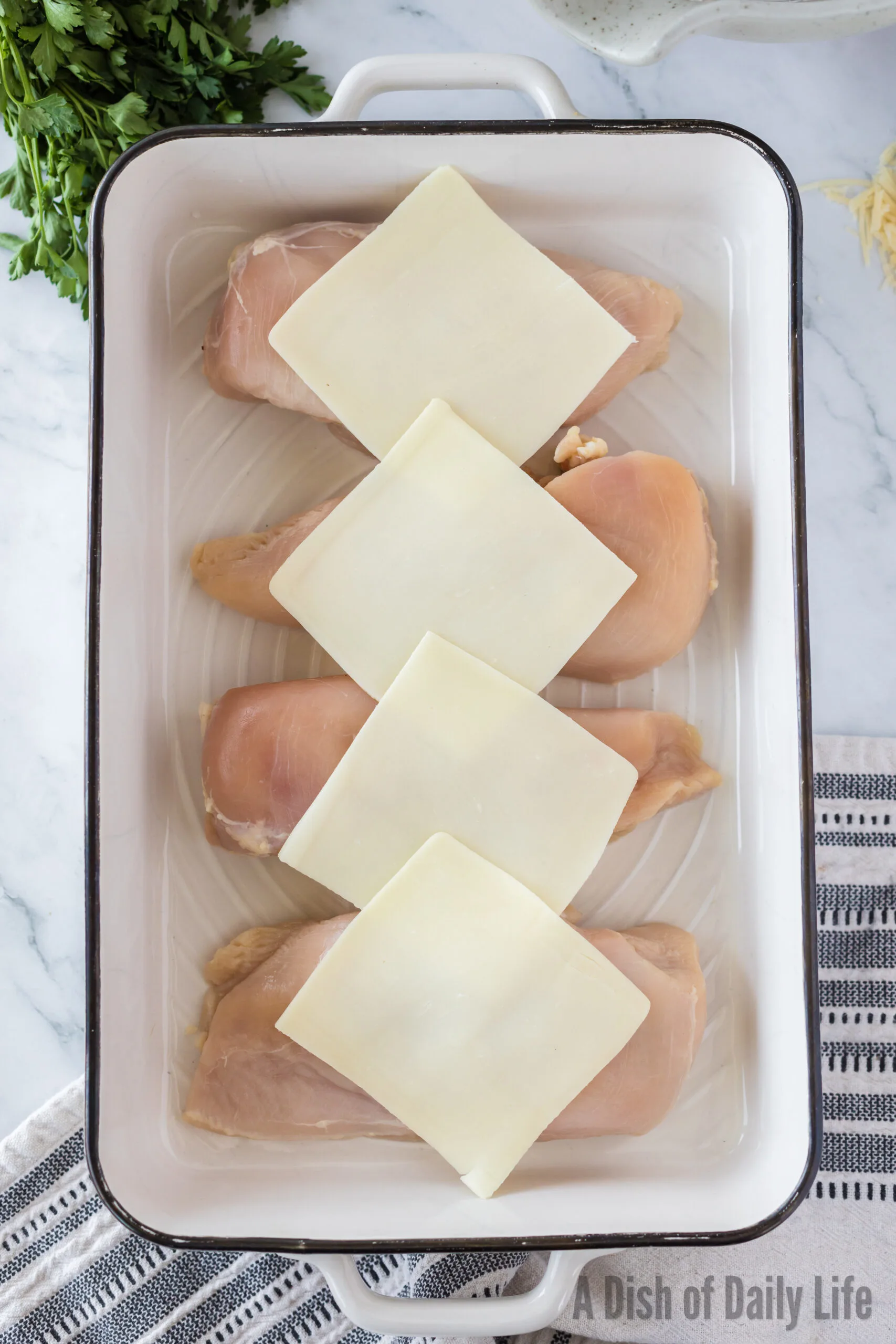 What is Smothered Cheesy Sour Cream Chicken?
This Baked Smothered Chicken Recipe is a delicious and comforting meal made by baking chicken breasts topped with cheese and a creamy, flavorful sauce.
It's a versatile dish that can be served with various side dishes, making it perfect for family dinners or special occasions.
What ingredients are in this Smothered Cheesy Sour Cream Chicken Recipe?
This comforting dish is a great recipe to serve any time and all the time! It's real soul food!
Here's what you'll need to get from the grocery store:
Boneless, skinless chicken breasts: the star of the dish, providing a lean protein base
Mozzarella cheese: adds a layer of gooey, melty goodness
Sour cream: creates a rich, creamy sauce
Parmesan cheese: adds a nutty, savory flavor to the sauce
Corn starch: helps thicken the sauce
Dried oregano, basil, and garlic powder: adds flavor to the sauce
Salt and black pepper: for seasoning
Parsley: for garnish
Pro Tips:
Make sure to use freshly grated Parmesan cheese for the best flavor and texture, rather than pre-grated or powdered versions.
Boneless chicken thighs can be substituted for chicken breasts if desired ( though I don't recommend bone-in chicken thighs).
For more heat, add some chili powder or red pepper flakes. The more you add, the more heat.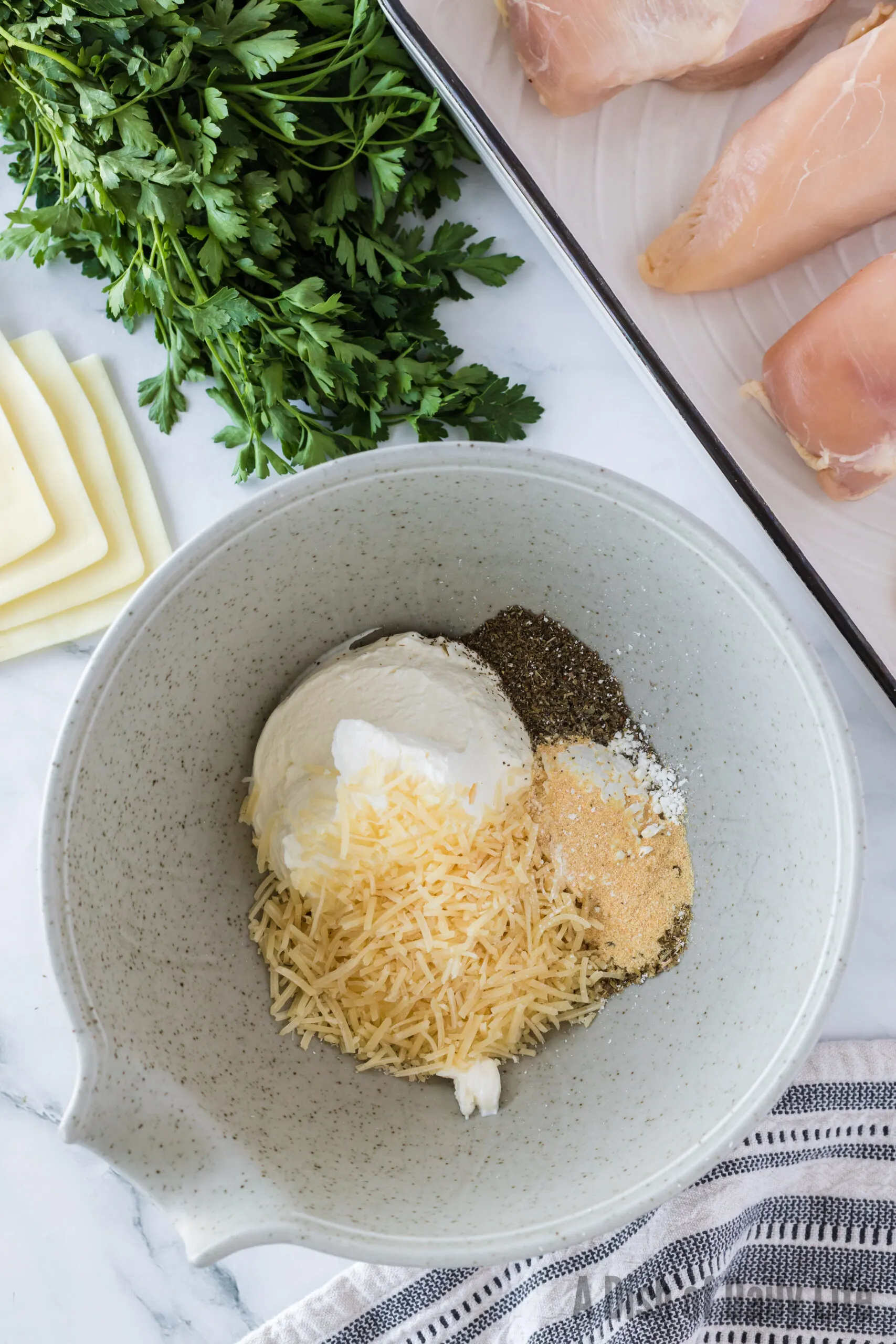 How to Make this Smothered Cheesy Sour Cream Chicken Recipe?
You'll have a complete meal with this smothered sour cream chicken breast recipe!
Juicy fried chicken breasts with a rich gravy? Just say yes please to this classic comfort food!
Here's how to make it:
Prepare the shallow dish and preheat the oven.
Mix the sauce ingredients together.
Arrange the chicken breasts in the baking dish and top with mozzarella.
Smother the chicken with the sauce and sprinkle with Parmesan cheese.
Bake the dish until the chicken is cooked through and golden brown.
Pro Tips:
Try to use chicken breasts of similar size and thickness.
If the chicken breasts are very thick, you can gently pound them to an even thickness using a meat mallet or a rolling pin.
The internal temperature of the chicken should be 165 when checked with a meat thermometer.
You can also prepare in a safe skillet or dutch oven that you could put into the oven.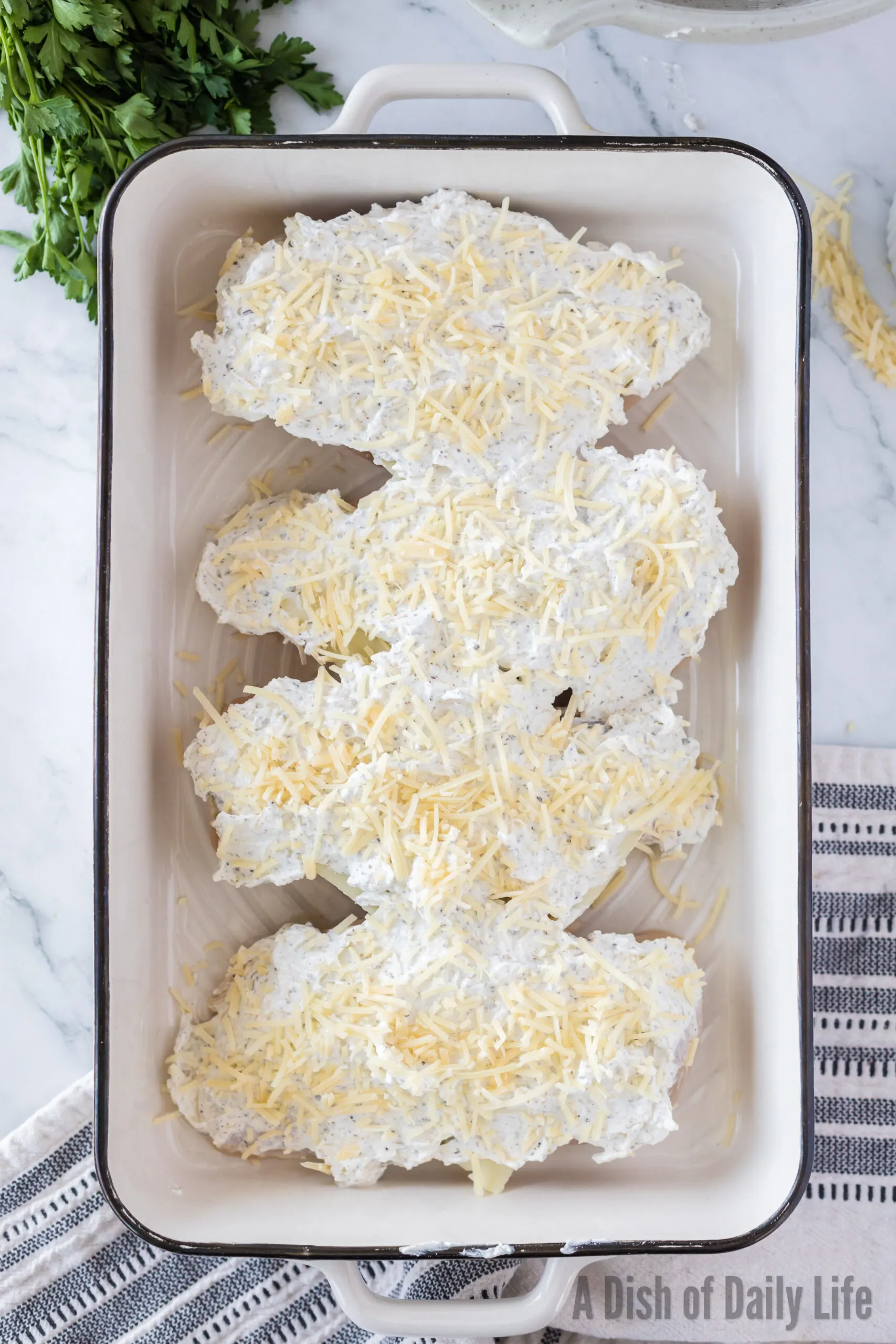 What is Sour Cream?
Sour cream is a dairy product made by fermenting cream with lactic acid bacteria.
It has a slightly tangy flavor and a thick, creamy texture.
It's commonly used in a variety of dishes, including dips, sauces, and baked goods.
You'll use it in this recipe to create a smooth gravy sauce over the top of the tender chicken.
Is Sour Cream Healthy?
Sour cream can be a part of a healthy diet when consumed in moderation.
It's a good source of calcium and contains some protein, but it's also high in saturated fat and calories.
Opt for a low-fat or fat-free version to enjoy the flavor with fewer calories.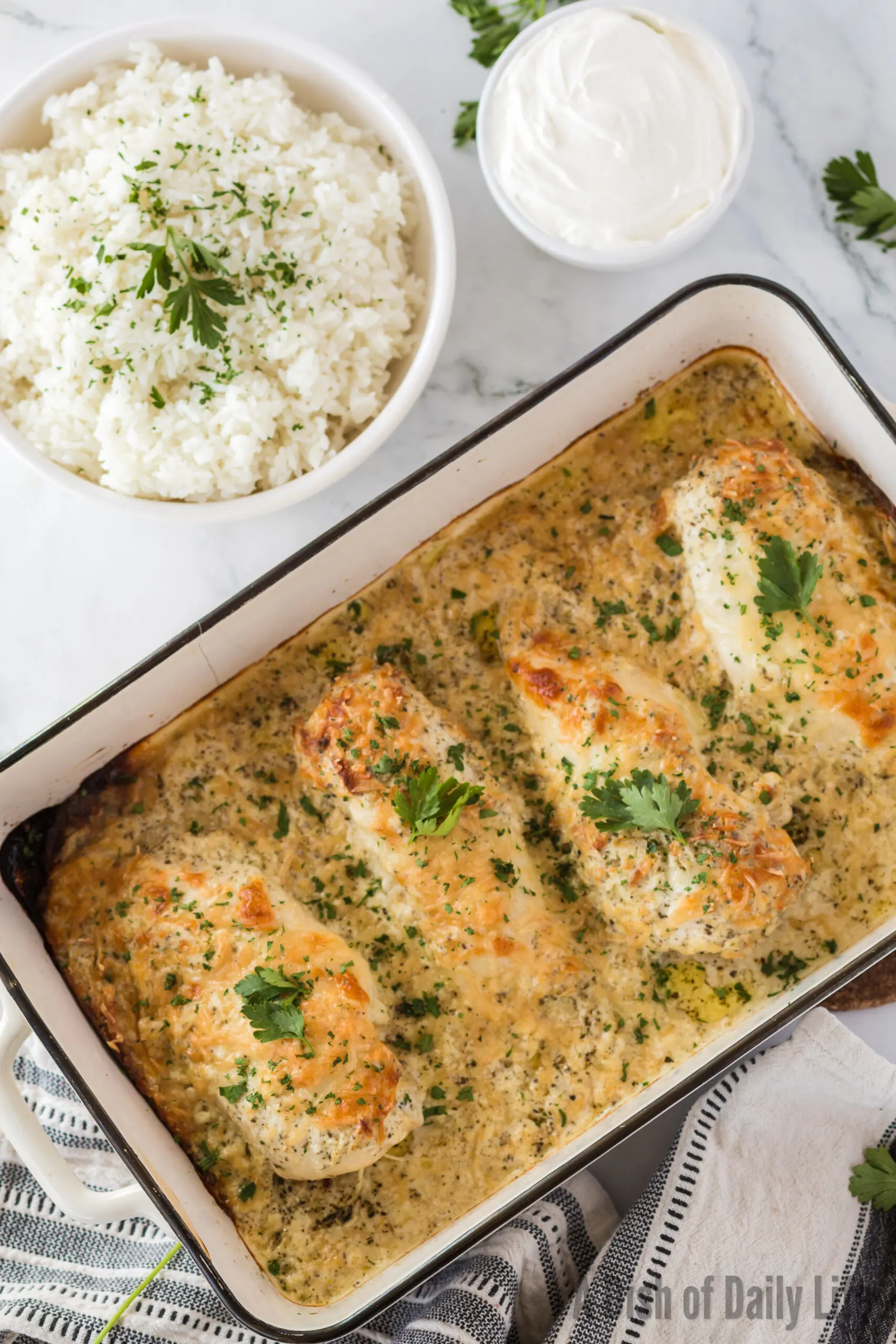 Can You Make This Smothered Cheesy Sour Cream Chicken Recipe Ahead of Time?
Yes, you can assemble this delicious smothered chicken recipe ahead of time, cover it with plastic wrap, and refrigerate it for up to 24 hours before baking.
You may need to add 3-4 minutes or 4-5 minutes extra to the baking time since the dish will be cold when it goes into the oven.
I don't recommend letting it warm up to room temperature on the counter first.
I find that with meat, the less time it sits out, the better it is.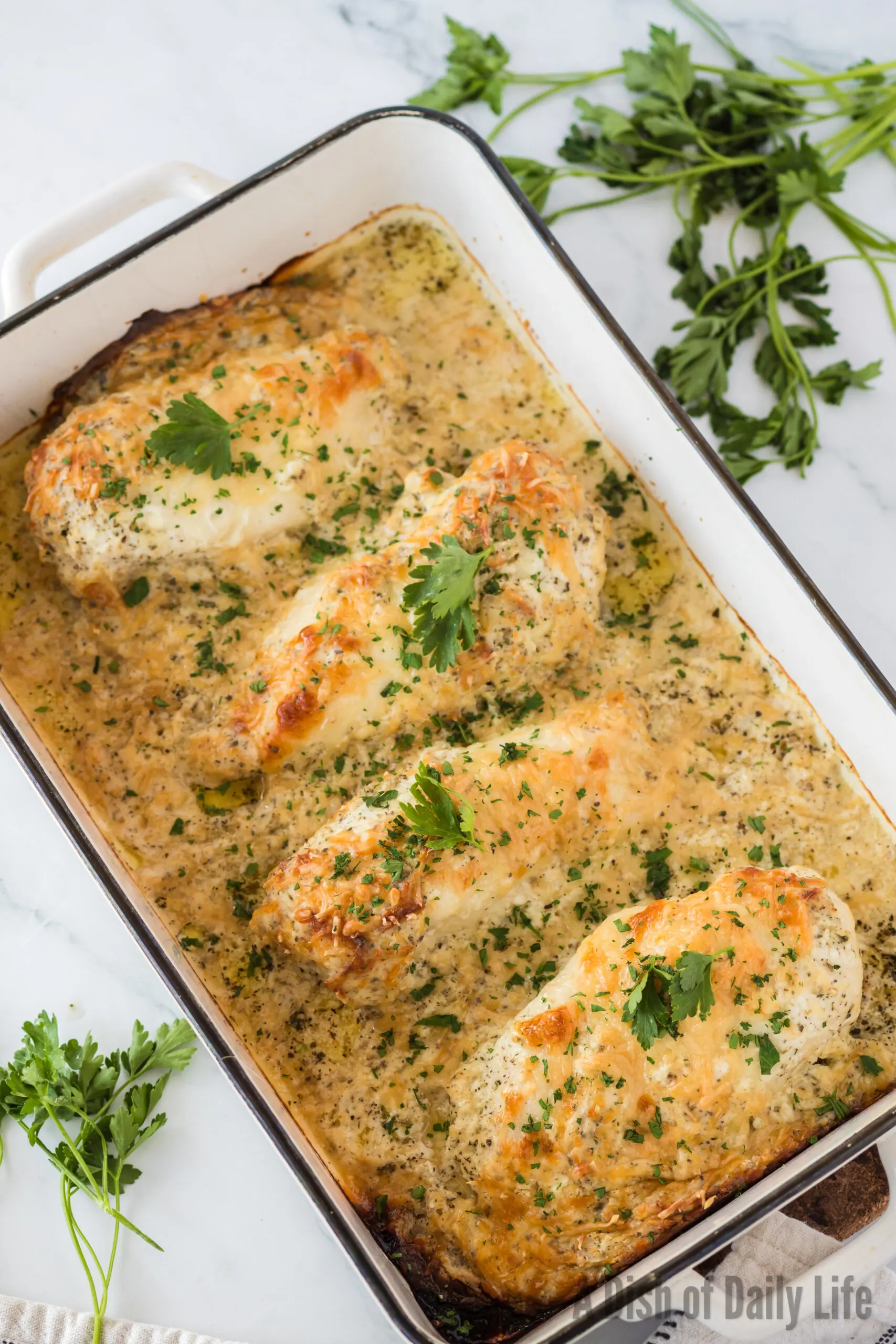 How to Store Leftover Smothered Cheesy Sour Cream Chicken?
Leftover baked smothered chicken can be stored in an airtight container in the refrigerator for up to 3 days.
Reheat leftover chicken the microwave or oven until heated through.
Don't recook it though or it'll dry out the chicken. Just heat until warmed all the way through and then devour.
Can You Freeze This Smothered Cheesy Sour Cream Chicken Recipe?
Yes, you can freeze this baked sour cream chicken in an airtight container or freezer bag for up to 2 months.
Thaw in the refrigerator overnight, then reheat in the oven or microwave until heated through.
You could also reheat with a bit of heat on the stove top but be careful not to overcook the chicken.
Remember not to leave the chicken pieces sitting out on the counter. This can cause bacteria to grow and is not what you want.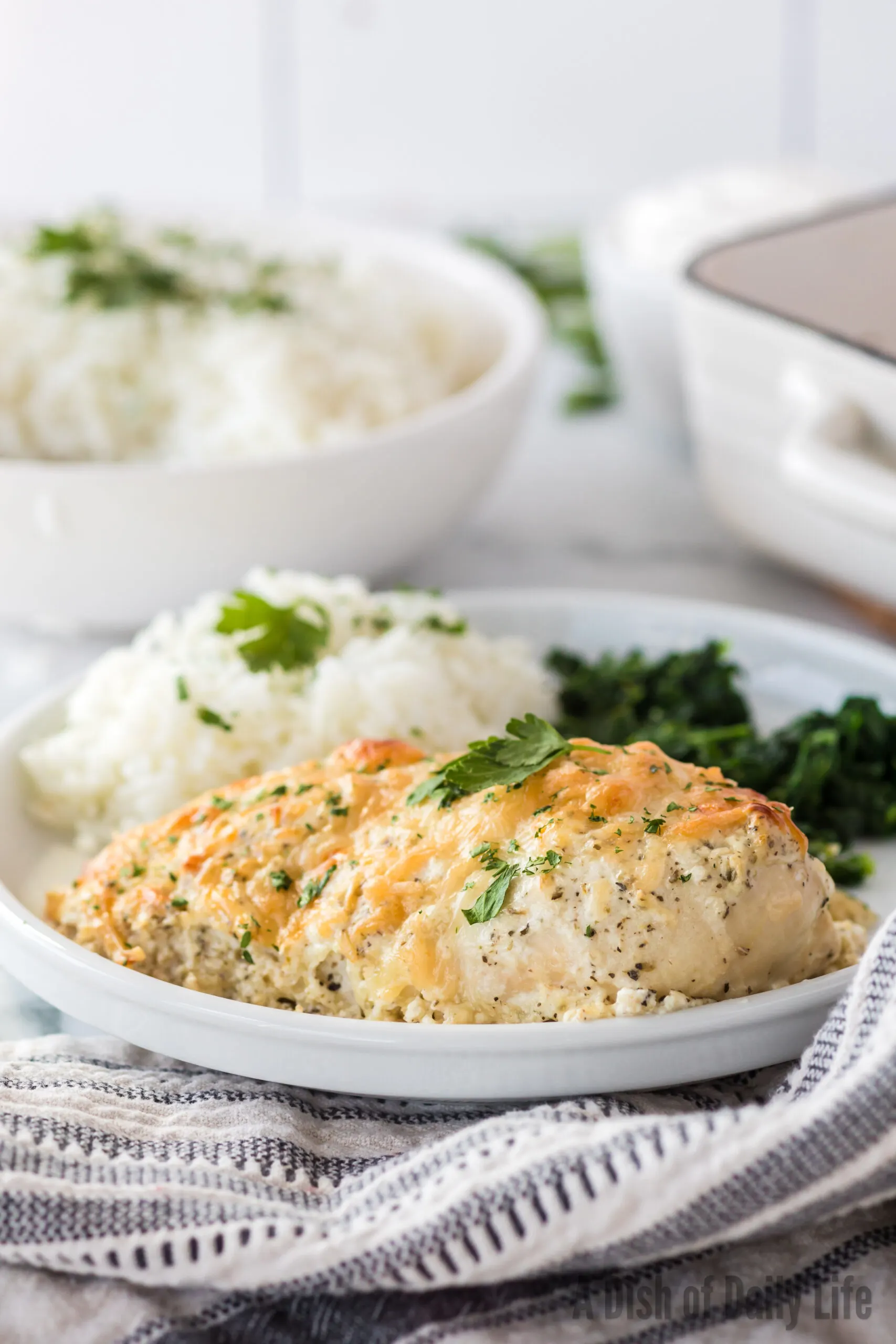 How Long Does This Smothered Cheesy Sour Cream Chicken Last?
When properly stored, southern smothered chicken will last for up to 3 days in the refrigerator or up to 2 months in the freezer.
Always keep cooked chicken (or raw for that matter) stored in an airtight container.
Don't let the chicken with creamy gravy for long periods of time on the counter, though you should let it cool to room temperature before transferring it.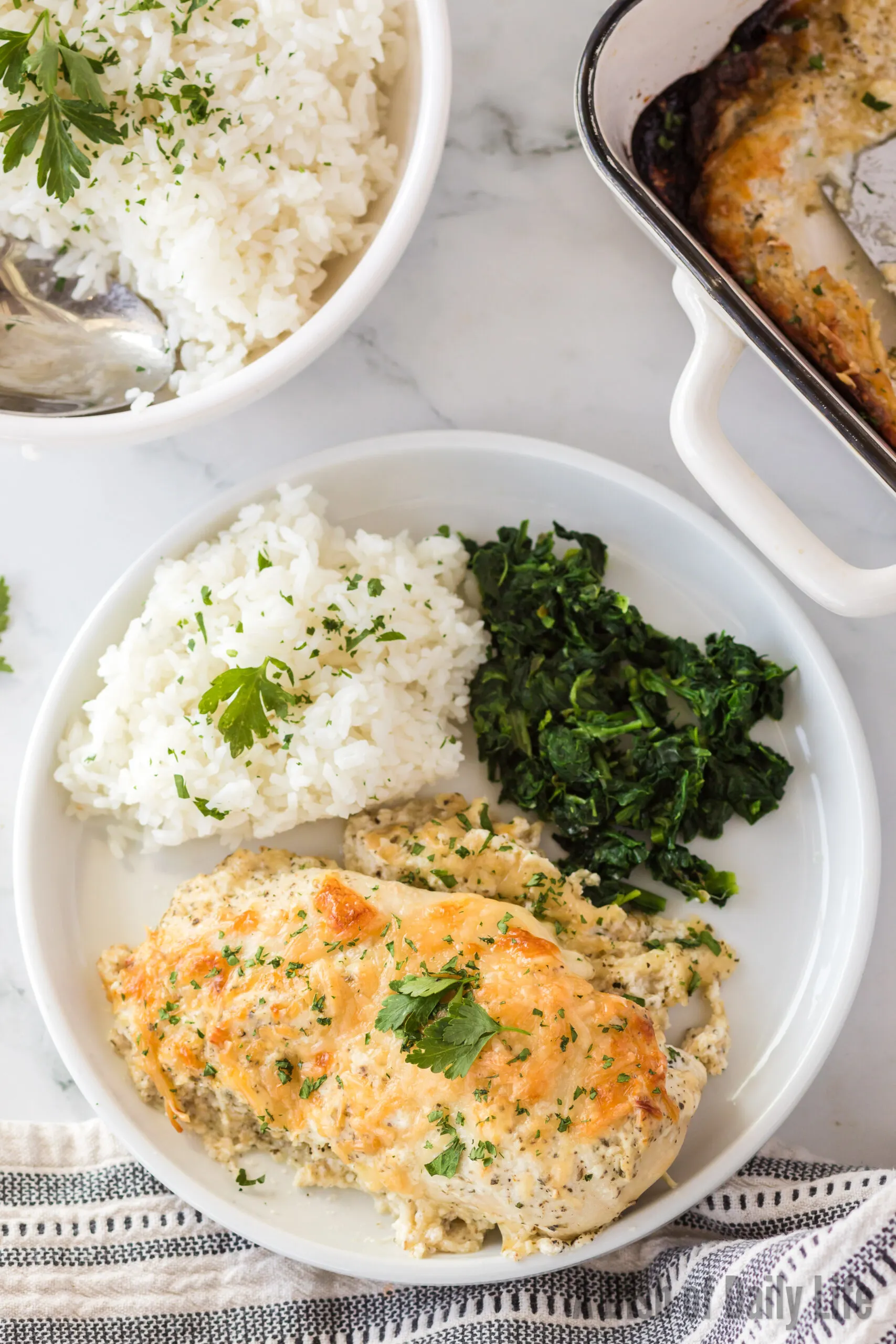 What Goes With Smothered Cheesy Sour Cream Chicken?
This yummy southern cuisine pairs well with a variety of side dishes, such as: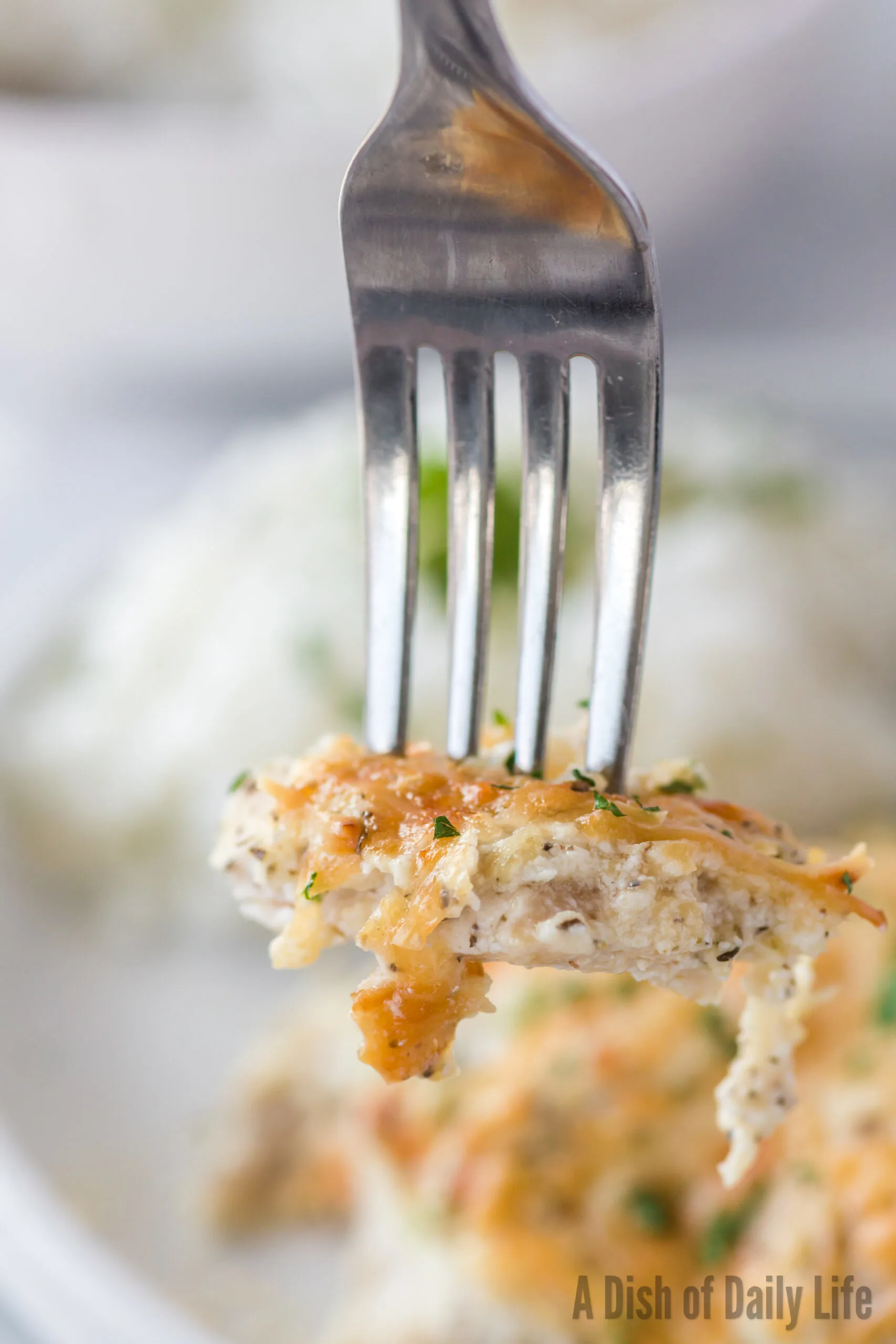 By following this easy chicken casserole recipe, you'll have a mouthwatering, comforting meal that your whole family will love.
Give this Baked Smothered Chicken Recipe a try and enjoy the delicious flavors and textures it has to offer.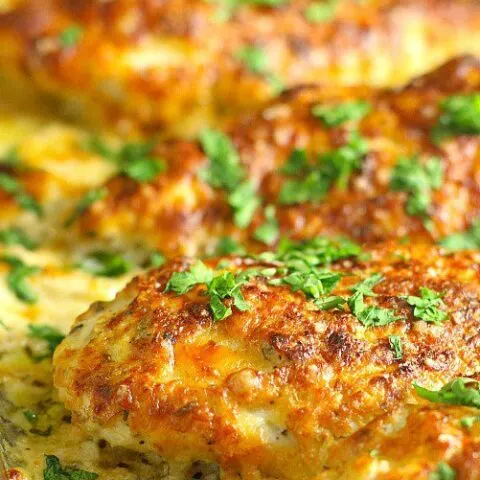 Smothered Cheesy Sour Cream Chicken
Fast, easy, delicious, this Smothered Cheesy Sour Cream Chicken is one dish that the whole family will LOVE! 10 min prep time!
Ingredients
4 boneless, skinless, chicken breasts
4 slices mozzarella cheese
1 cup sour cream
1/2 cup Parmesan cheese, grated, not powdered
1 tablespoon corn starch
1 teaspoon dried oregano
1 teaspoon dried basil
1 teaspoon garlic powder
1/2 teaspoon salt, freshly ground
1/2 teaspoon pepper, freshly ground
Parsley, chopped, for garnish
1/4 cup Parmesan Cheese, grated (not powdered)
Instructions
Preheat oven to 375*F
Coat a 9x13 rectangular baking dish with cooking spray.
Mix sour cream with a half cup of Parmesan, salt, pepper, oregano, basil, garlic powder and corn starch together.
Lay your chicken breasts in baking dish
Top each with a slice of mozzarella.
Smother the chicken with the sour cream mixture.
Top with 1/4 cup remaining Parmesan.
Bake uncovered for 45 minutes to 1 hour, depending on the thickness of your breasts.
Serve chicken over rice. Top with chopped parsley for garnish.
Nutrition Information:
Yield:

4
Amount Per Serving:
Calories:

584
Total Fat:

39g
Saturated Fat:

18g
Cholesterol:

178mg
Sodium:

662mg
Fiber:

0g
Sugar:

2g
Protein:

52g
Originally Posted: June 21, 2018
Photos and Text Updated: September 6, 2023