Say goodbye to store-bought mixes and hello to this scrumptious homemade Fajita Seasoning recipe!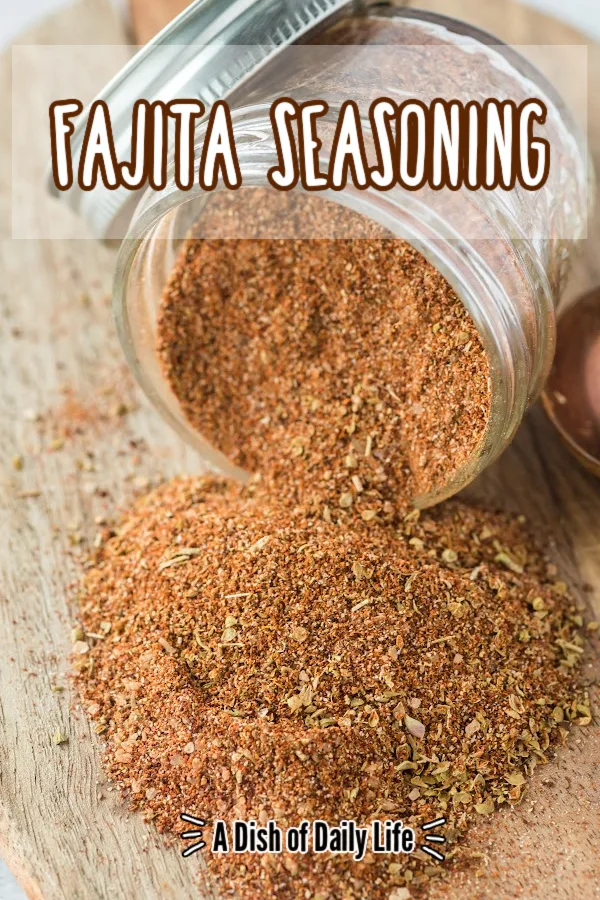 With a blend of bold, aromatic spices, this seasoning will turn your fajitas and other dishes into mouthwatering, flavor-packed feasts.
This recipe for gluten free fajita seasoning is incredibly simple to make, taking only a few minutes of your time. Easy recipe for the win!
The mixture of spices creates a delectable, savory taste that's perfect for fajitas and beyond.
And since it's gluten free, it's great for those with dietary restrictions.
You can easily adjust the heat level by modifying the amount of cayenne pepper.
Making your own fajita spice mix allows you to avoid preservatives and additives found in store-bought versions.
What Is Fajita Seasoning?
Fajita seasoning is a flavorful blend of spices used to marinate and season fajitas, a popular Mexican dish featuring grilled meat and vegetables.
The seasoning usually consists of chili powder, cumin, oregano, and other spices that give fajitas their unique, savory taste.
Occasionally fajita seasoning is swapped for taco seasoning.
They are similar in flavor and you could easily use fajita seasoning for fish tacos on any Taco Tuesdays.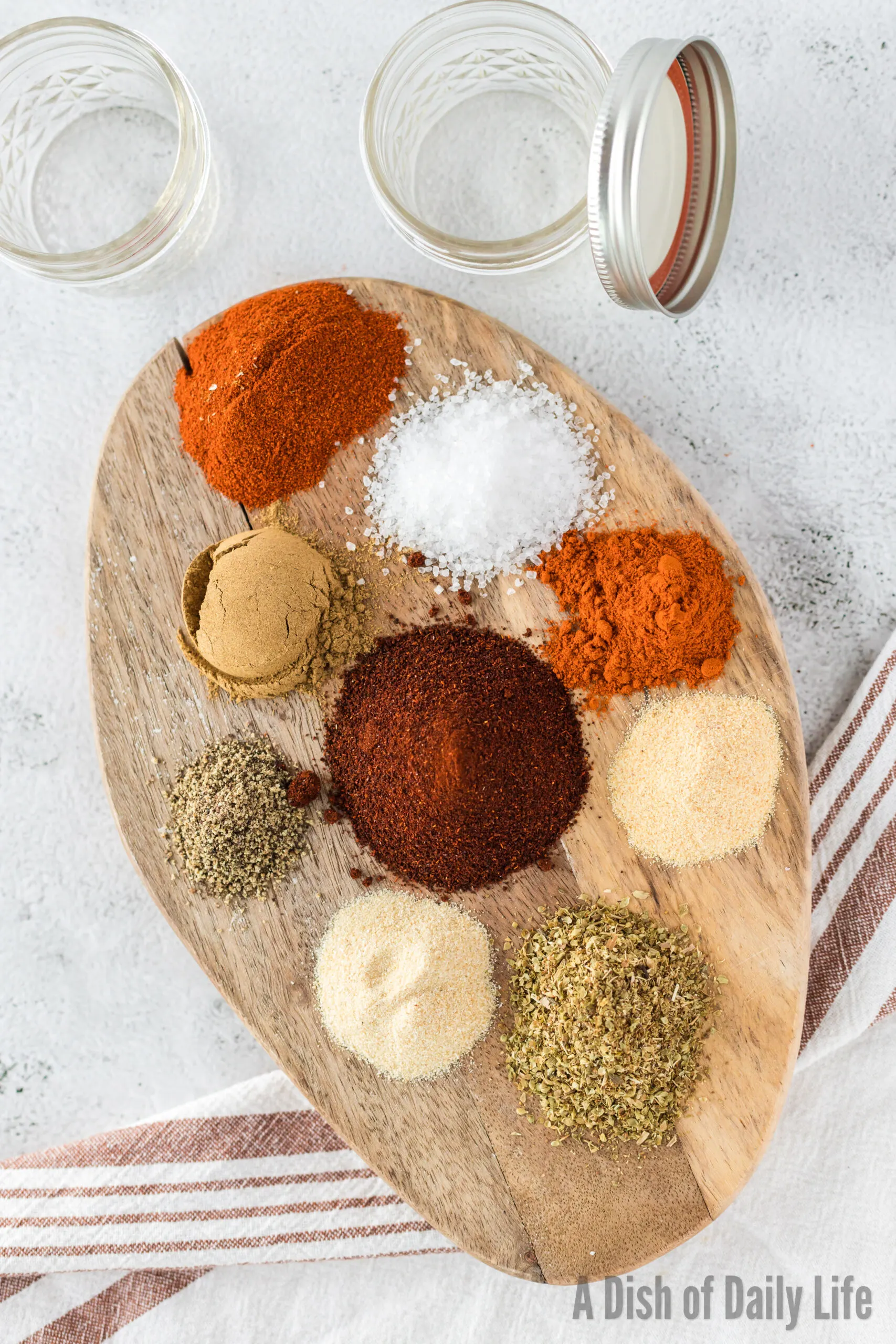 What Is in Fajita Seasoning?
This easy homemade fajita seasoning has the following ingredient list.
You can grab all of these ingredients at the grocery store but you may find you've already got them all in your spice cabinet.
Chili powder: adds a touch of heat and smokiness
Sea salt: enhances the overall flavor
Cumin: imparts a warm, earthy taste
Oregano: contributes an herbal note
Smoked paprika: provides a smoky undertone
Onion powder: adds a subtle, savory onion flavor
Garlic powder: infuses the mix with a hint of garlic
Cayenne pepper: increases the heat level
Black pepper: rounds out the flavor profile with a gentle kick
Pro Tips:
Use the best brands of seasoning for a lot of flavor.
Make sure none of the individual seasonings are expired. It will affect the quality of the final seasoning.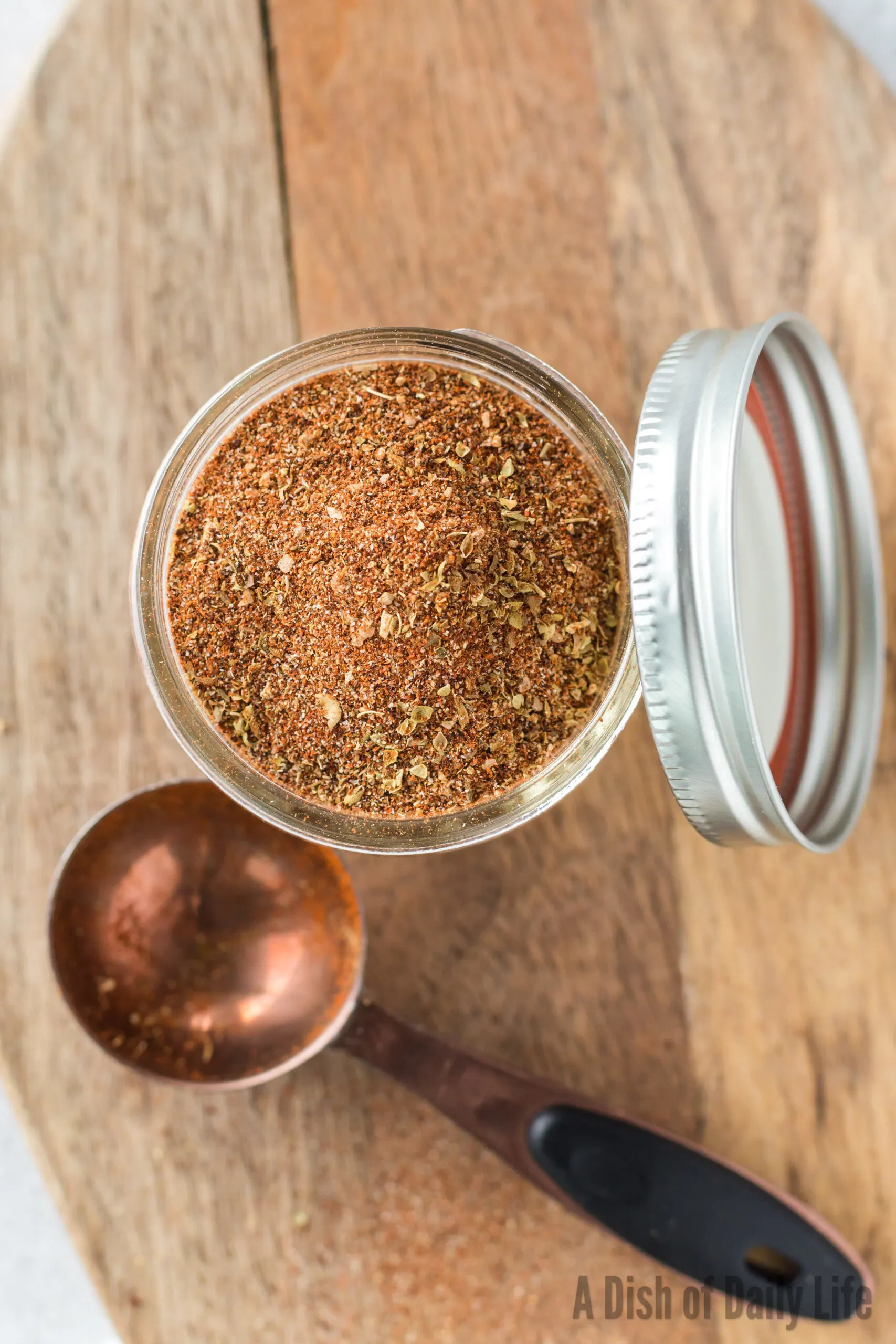 How to Make Fajita Seasoning
Grab your seasonings and a mason jar! This homemade fajita seasoning mix is so easy to make and tastes so good!
Combine the ingredients in a jar or container.
Mix well to ensure even distribution of spices.
Adjust the seasoning to your taste preferences, if desired.
Store the seasoning in an airtight container until needed.
Pro Tip:
For a finer consistency, you can blend the ingredients in a spice grinder or use a mortar and pestle to crush the spices together.
Serve with refried beans, sour cream, lime juice, red onion, a medium bell pepper and corn tortillas for an easy dinner recipe.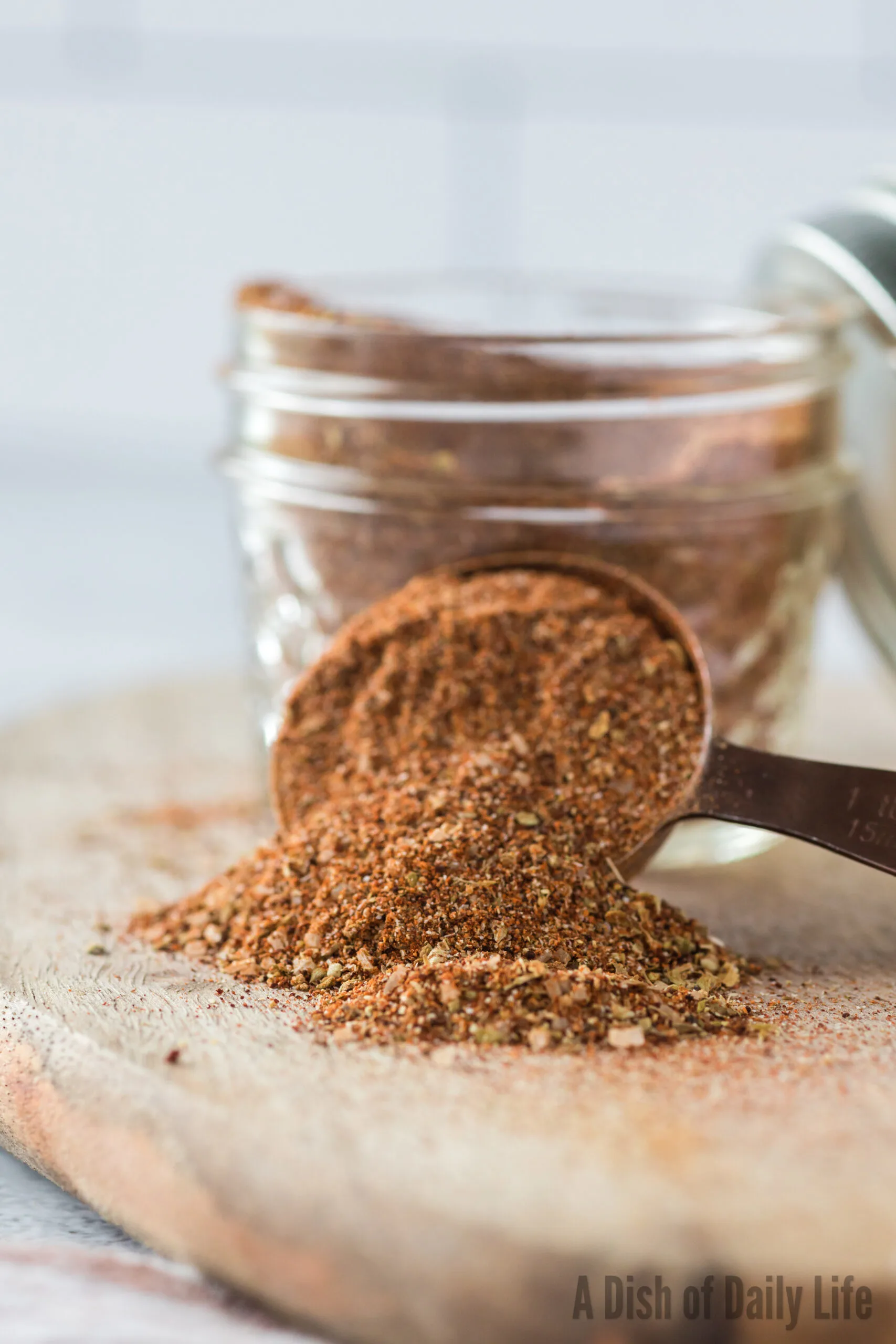 Is Fajita Seasoning Gluten-Free?
This particular fajitas spice mix recipe is gluten-free. So you can get the best fajitas and not worry about gluten!
However, always check the labels of individual spices and ingredients to ensure they are gluten-free.
Some brands contain gluten and other brands may have cross-contamination during production.
How Long Does Fajita Seasoning Last?
When stored in an airtight container and kept in a cool, dry place, fajita seasoning can last up to a year.
Make sure to check the expiration dates of individual spices, as their freshness will affect the overall quality of the seasoning blend.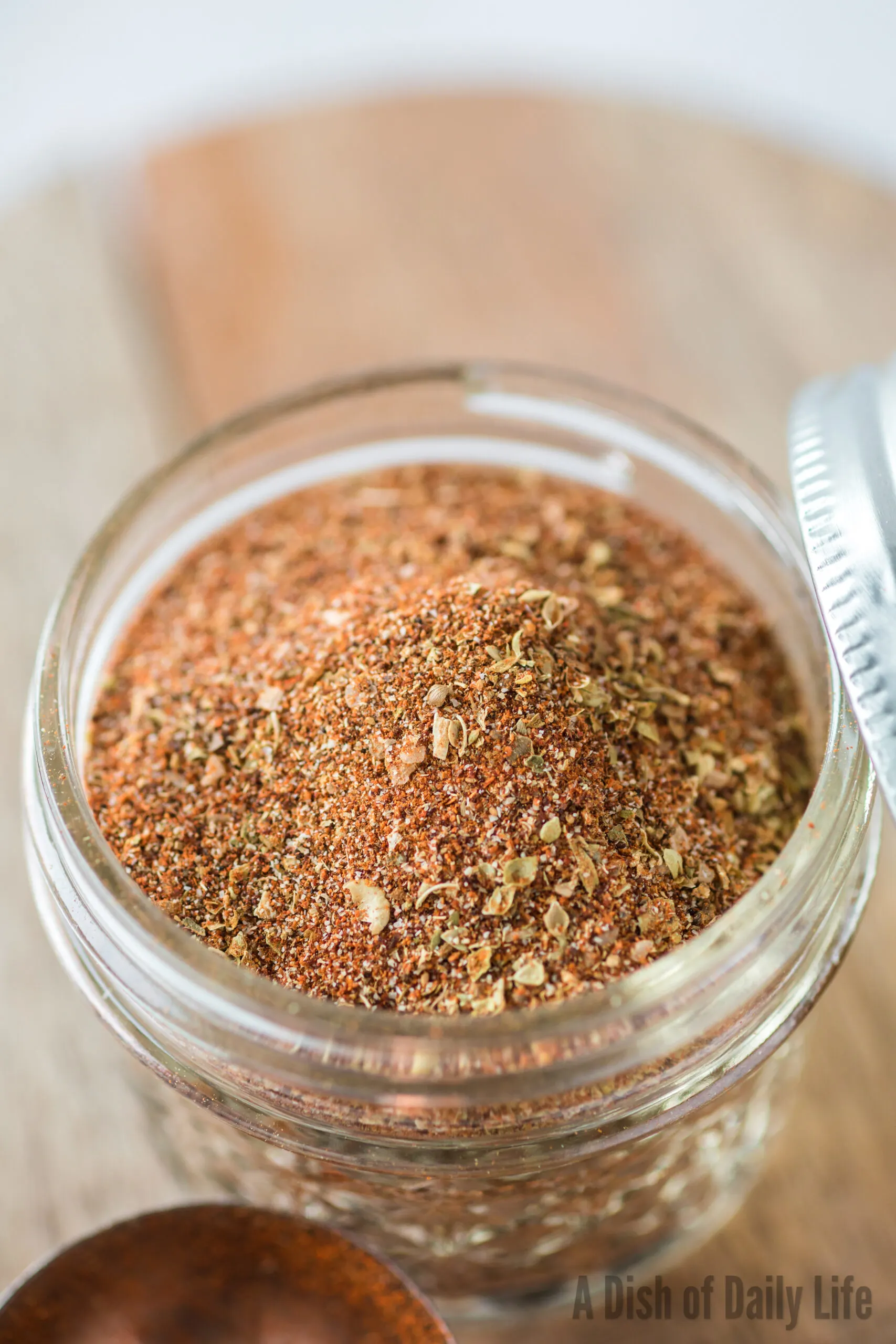 Does Fajita Seasoning Need to Be Refrigerated?
No, homemade fajita spice blend does not need to be refrigerated.
Simply store it in an airtight container in a cool, dry place, such as a pantry or cupboard.
How to Season Chicken Fajitas
This chicken fajitas seasoning is perfect on everything, but we really like it on chicken.
To season chicken fajitas, combine the Fajita Seasoning with a small amount of oil to create a paste.
Rub the paste evenly over the chicken and marinate for at least 30 minutes before grilling or cooking.
Follow this recipe for Sheet Pan Chicken Fajita Bowls. It's super delicious and full of great flavor!
You can use on whole chicken breasts, or thin strips of meat.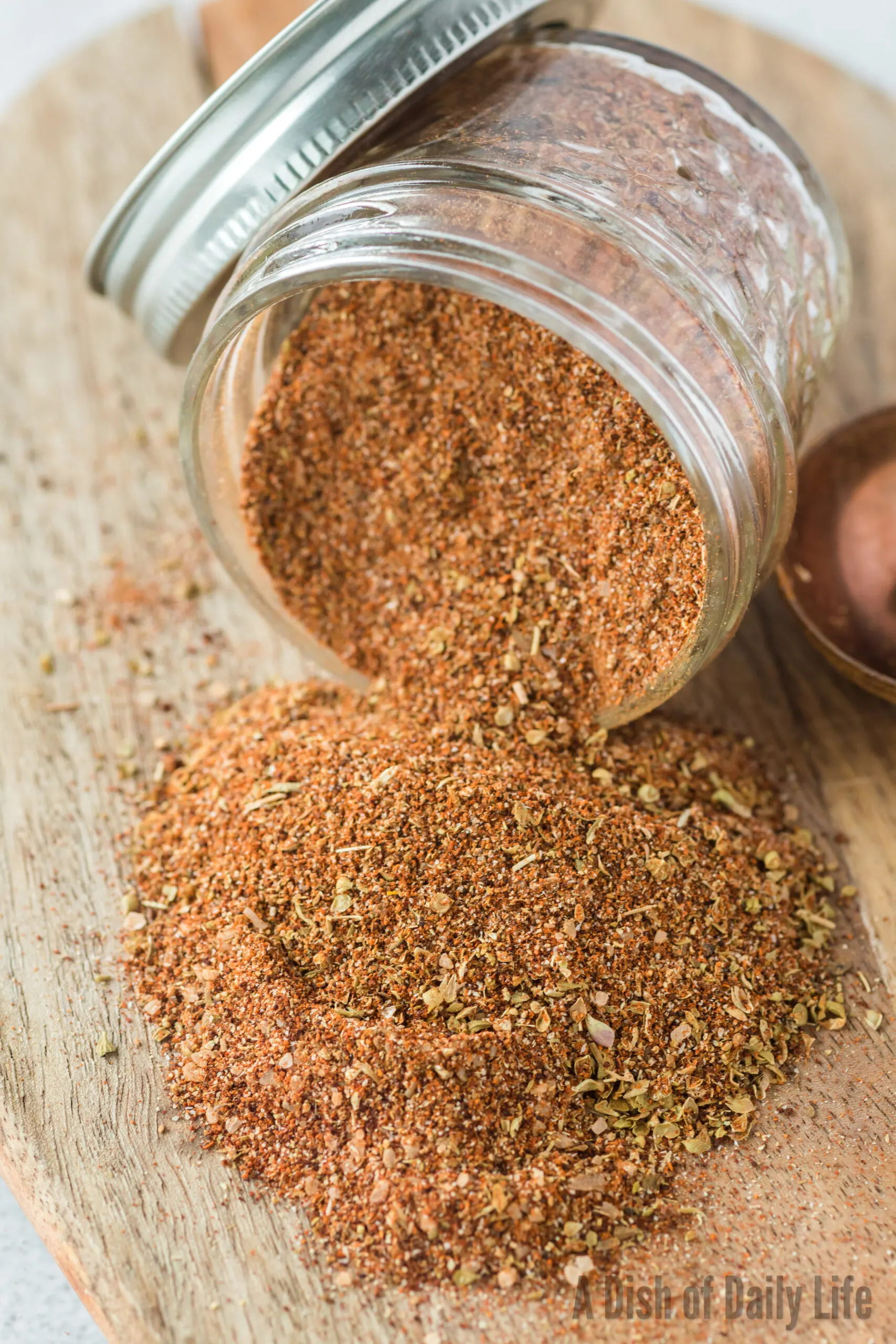 How to Season Fajita Veggies
To season fajita veggies, toss the vegetables in a small amount of oil and sprinkle the Fajita Seasoning over them.
Mix well to ensure even coverage and cook as desired.
A little bit of seasoning may be enough seasoning but you can always adjust to taste.
Pro Tips:
You can also use this seasoning for other meats, like beef or shrimp, and even for seasoning grains such as rice or quinoa for a burst of flavor.
Try in a lettuce wrap for some extra veggie love!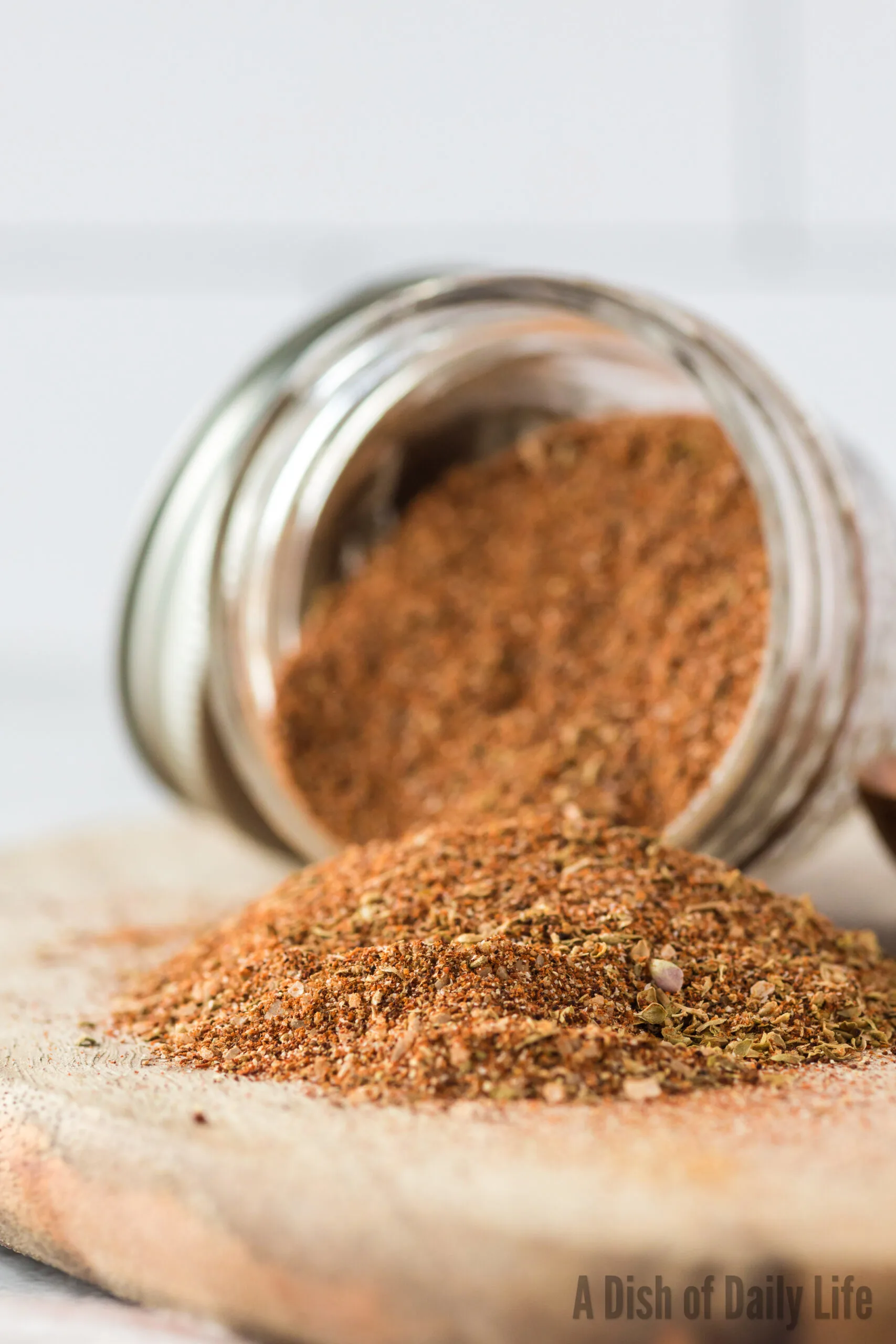 Delicious Main Dishes You'll Love…
Now that you have this fantastic homemade Fajita Seasoning in your culinary arsenal, you can add an extra layer of deliciousness to your fajitas and other dishes.
Whether it's a weeknight dinner or a special occasion, this seasoning will undoubtedly elevate your meals and impress your family and friends.
Plus, with the added benefit of being gluten-free, you can cater to a wide range of dietary needs without sacrificing taste.
So, go ahead and whip up a batch of this incredible fajita seasoning, and let the fiesta begin!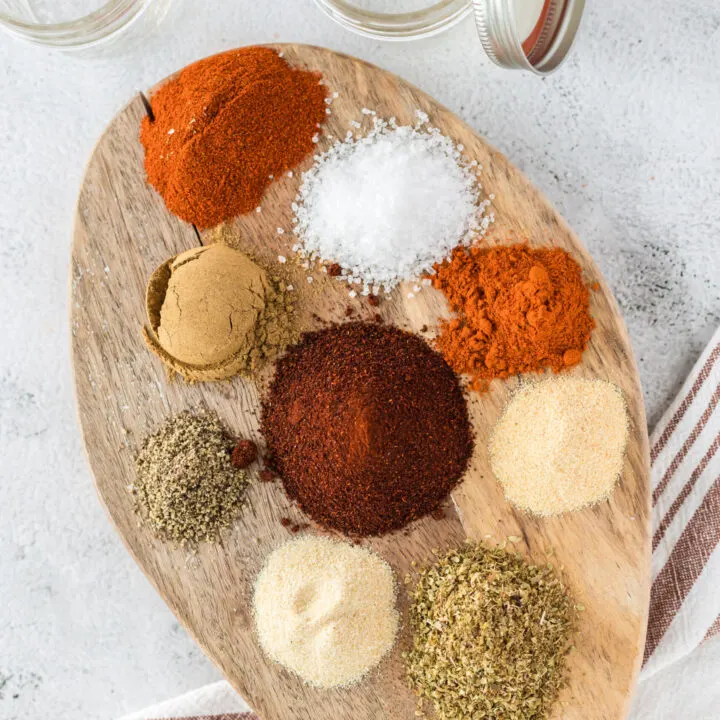 Fajita Seasoning Recipe
This 5 minute Fajita Seasoning Recipe is perfect for chicken, beef, shrimp, and vegetables, as a dry rub or a marinade! Paleo, gluten free!
Instructions
Combine all ingredients.
Store in an airtight jar or container.
2 tablespoons = 1 store bought packet
1/2 cup will season 6 pounds of meat /vegetables (2 Tablespoons per 1 1/2 pounds)
To use as a marinade: Mix 2 tablespoons of the fajita seasoning with 1/3 cup of olive oil and juice from 1/2 of a lime (1 Tablespoon) per 1.5 pounds meat / vegetables.
Nutrition Information:
Yield:

3
Serving Size:

1
Amount Per Serving:
Calories:

48
Total Fat:

2g
Saturated Fat:

0g
Trans Fat:

0g
Unsaturated Fat:

1g
Cholesterol:

0mg
Sodium:

2276mg
Carbohydrates:

9g
Fiber:

4g
Sugar:

1g
Protein:

2g
Originally Posted: March 1, 2017
Photos and Text Updated: September 20, 2023