This Melt in Your Mouth Tex-Mex Sour Cream Chicken is a fast, easy, delicious recipe the whole family will love!
I created this recipe for the dairy farm families of New England as part of an ongoing partnership. All opinions are my own. Thank you for supporting the organizations and brands that make A Dish of Daily Life possible!
I'm cooking more now than I have in years. I have three kids home for the semester from college, taking their classes online. Even over the past few summers, I haven't had everyone home because of internships. A few months ago, it was just my husband and I at home, and I had adapted our recipes so that our leftovers could be re-purposed into other meals. Nowadays, with five of us in the house, there is no leftovers.
I've also gotten into the habit of making our tried and true recipes over and over. With both my husband and I working long hours, I was only trying new recipes on the weekends when we were home. During the week, I was making those easy recipes that I know like the back of my hand.
Now I'm finding myself needing to cook with a little more variety again. This Melt in your Mouth Tex-Mex Sour Cream Chicken was adapted from my very popular Smothered Cheesy Sour Cream Chicken. That recipe is a huge favorite around here! It's such an easy dish, and the sauce is absolutely delicious. Even picky eaters love it!
I actually got the idea to try this from a friend who I ran into in the grocery store a while back who was purchasing the ingredients to make my Sour Cream Chicken — with a Mexican flair. Since we also love Southwestern and Mexican food around here, it got me to thinking, "why not adapt it?"
In case you're curious what makes it Tex-Mex versus Mexican, the reason is that I use yellow cheddar in this recipe, which really isn't a Mexican ingredient. True Mexican recipes only use white cheese. Cumin is also usually a Tex-Mex ingredient. Personally, I love both flavors, whether authentic Mexican or Tex-Mex.
After trying out a few different variations, I'm quite happy with my latest version! And another great thing about this recipe is that you probably have most, if not all, of the ingredients you need already in the house! Shop your pantry and freezer and stay home if you can!
COOKING WITH DAIRY
For a few years now, I've been working with New England Dairy. I've had the opportunity to create a number of recipes for them and talk about my own personal experiences about cooking with dairy. I hope you've had the chance to try some of my recipes! Here's a few of my recent favorites:
Gingered Butternut Squash Soup This delicious soup combines butternut squash, sweet potato, carrots, and apples with the delicate sweetness of ginger, and is finished off with rich, creamy crème fraiche and cilantro. With all the damp and rainy weather we're having right now, this would be a good one to put on the menu this week!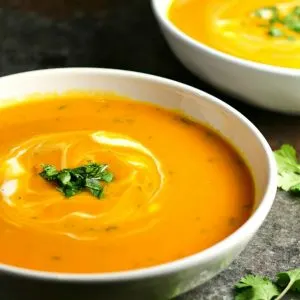 Green Goddess Dressing I used Greek yogurt in this "lightened" up version of Green Goddess Dressing. This dressing can easily double as a vegetable dip and literally takes only minutes to make!
Please take the time to check out New England Dairy's website and Facebook page! There is so much great information there, and you'll find a lot more fabulous recipes as well.
SOUR CREAM MAKES A DELICIOUS SAUCE
Obviously sour cream is the star of my sauce here. I love cooking with sour cream because of its tangy flavor. There is almost always a container in our refrigerator. It's a staple in our house. It's one of those items that I purchase every grocery trip…whether it's on the list or not, because it WILL get used.
When I buy sour cream, I always buy the full fat version. Full fat dairy products tend to fill my family up faster than the low-fat versions, which helps stop us from overeating.
I always buy local products whenever I can, and that includes dairy. There are about 1200 dairy farms in New England so there are lots of options. We even have several local dairy farms in my town and county! Buying local creates economic opportunities for our local economies and helps reduce the environmental impact, especially in terms of miles traveled. Local dairy doesn't require long truck trips, and that reduces our carbon footprint. I personally also like knowing where my dairy comes from!
MELT IN YOUR MOUTH TEX-MEX SOUR CREAM CHICKEN
This chicken might not literally melt in your mouth, but it's so moist, the name fits! You can use chicken thighs or breasts…for this particular recipe I used thighs. If you use chicken breasts, you'll have to cook them longer. Cooking times can vary, but you'll want make sure the internal temperature of your chicken is at least 170-175 degrees. Chicken is safe to eat at 165 degrees; however, the higher internal temperature will help make sure the thigh meat is tender and juicy.
Preheat your oven to 400 degrees. Coat a rectangular baking dish with a little olive oil so the chicken doesn't stick. Mix your sour cream with the cornstarch, oregano, garlic powder, cumin, chili powder, fire roasted tomatoes, and green chiles.
Lay your chicken thighs in the baking dish, and top with about half of your cheese. You can use cheddar, Monterey Jack or pepper jack – or a combination of the three. Pour your sour cream mixture over the top.
Put your chicken in the oven for about 25 minutes. With about ten minutes to go, sprinkle the remaining cheese on top, and allow the chicken to finish cooking.
When you are finished cooking, you can garnish with chopped tomatoes, green onions and , cilantro. Serve over rice…it'll soak up the yummy sauce.
Honestly, you can't get much easier than this for dinner!
MORE EASY FAMILY FRIENDLY CHICKEN DINNERS
Smothered Cheesy Sour Cream Chicken
Creamy Green Chile Chicken Enchiladas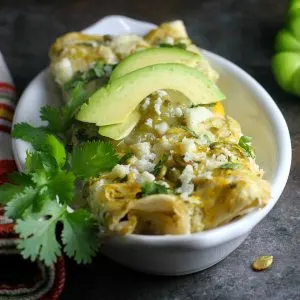 Melt in your Mouth Tex-Mex Sour Cream Chicken
Ingredients
8 boneless, skinless chicken thighs
1 cup sour cream
1 tbsp cornstarch
1 tsp oregano
1 tsp garlic powder
1 tsp cumin
1 tsp chili powder
1 can fire roasted tomatoes (10 oz)
1 can chopped green chiles (4.5 oz)
1/2 tsp salt
1/2 tsp pepper
1 cup cheese (mix of cheddar, Monterey Jack and Pepper Jack)
tomatoes, chopped (for garnish)
green onions, chopped, green parts included (for garnish)
cilantro, chopped (for garnish)
Instructions
Preheat oven to 400 degrees.
Coat rectangular baking dish with a little olive oil.
Mix sour cream with cornstarch, oregano, garlic powder, cumin, chili powder, fire roasted tomatoes, chopped green chiles, and salt and pepper.
Lay your chicken thighs in baking dish, top with half the cheese mixture, and pour the sour cream mixture over the top. Cook for about 15 minutes, and then sprinkle the rest of the cheese mixture over the top. Cook for another ten minutes. Check to make sure internal temperature of the chicken reaches 170-175 degrees.
Garnish with chopped tomatoes, green onions, and cilantro.
Serve over rice.
Nutrition Information:
Amount Per Serving:
Calories:

373
Total Fat:

19g
Saturated Fat:

9g
Cholesterol:

213mg
Sodium:

563mg
Fiber:

1g
Sugar:

2g
Protein:

43g