This recipe for sweet cranberry oat scones is easy, delicious, and perfect for any time of year. Whether you need a cozy breakfast for chilly mornings or an easy afternoon tea treat, this recipe will give you perfect scones every time.
You know I love a good bread recipe, and I am always looking for new recipes that I can fall in love with.
Well these oat cranberry scones are my new love. They taste like a little piece of heaven in each bite.
Each scone is filled with tangy dried cranberries that give you a pop of flavor.
But it's also a classic oat scone with a flour and oatmeal base that fills you while still giving you a tender and light scone.
And as a delicious twist, you brush the tops of these easy cranberry scones with cream and coarse sugar to give them a richness of flavor and perfect sugar crystals on top.
With their perfect flavor, texture, and how easy it is to make, you are sure to love these simple cranberry oat scones.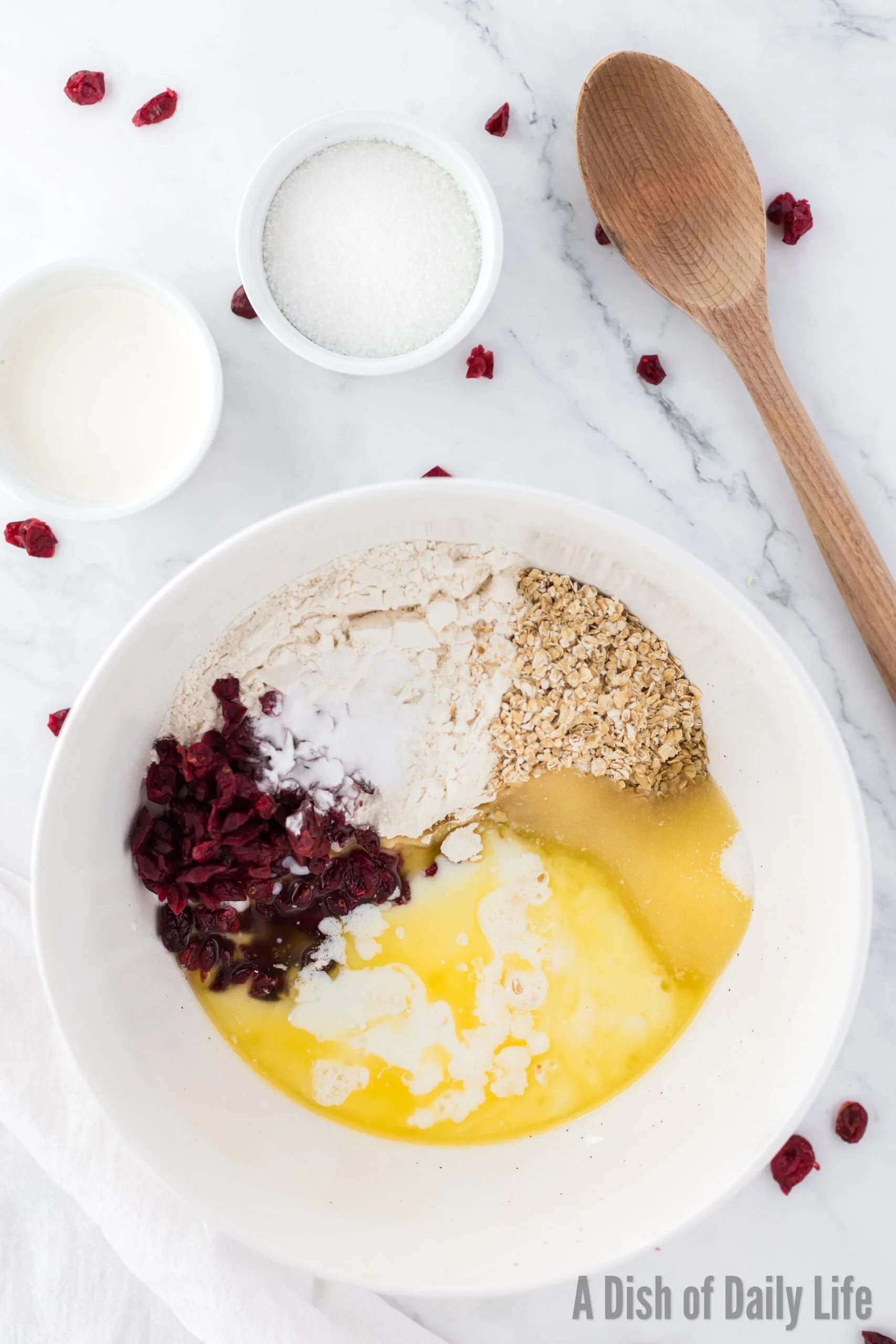 What are Cranberry Oat Scones?
Dried cranberry oat scones are pastries that combine the sweetness of dried cranberries with all the benefits of oatmeal. This scone recipe gives you triangular pieces of flavor that have a tender crumb and a slightly crisp exterior, which makes them the perfect companion to a steaming cup of tea or coffee.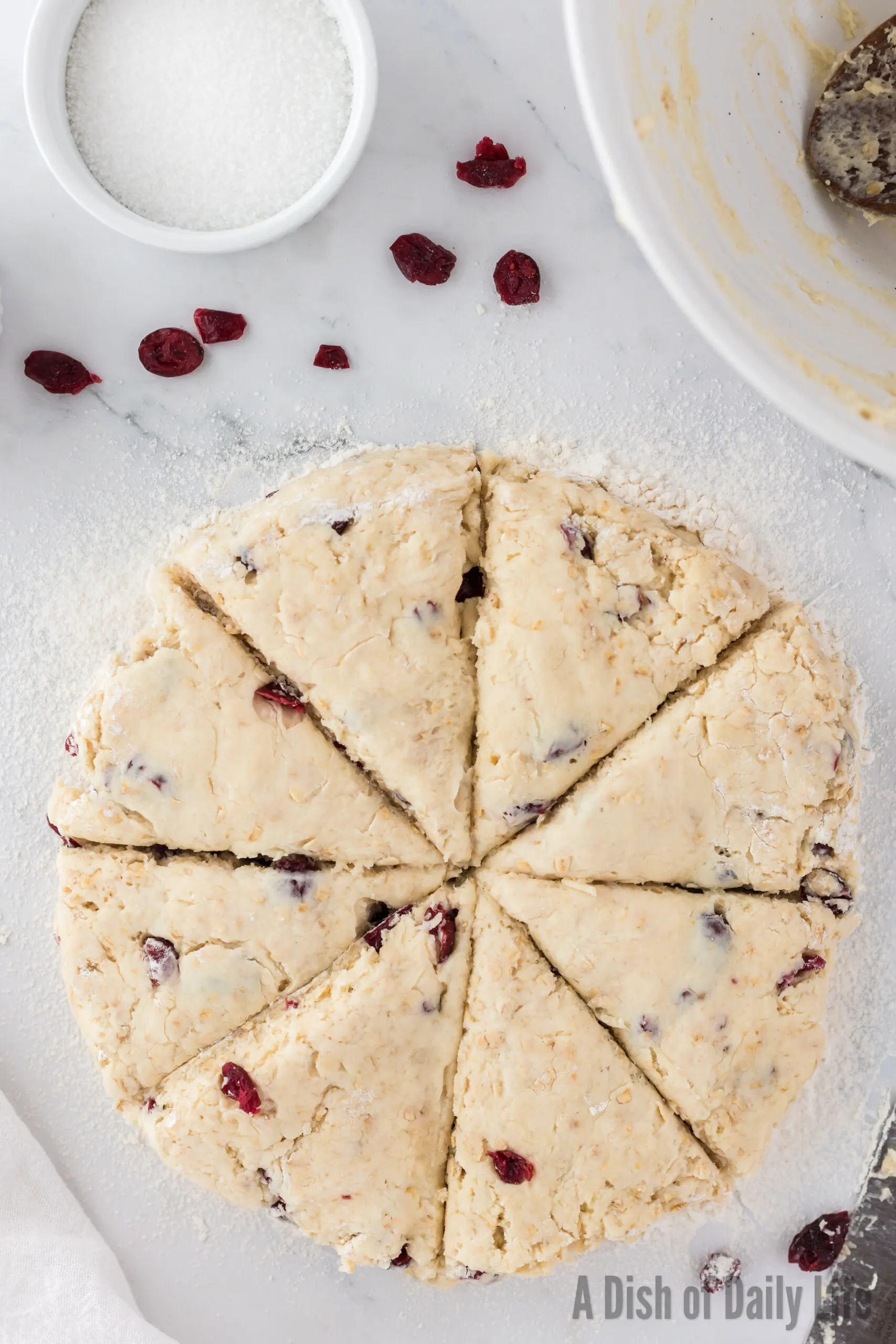 What are the ingredients for Cranberry Oat Scones:
All-purpose Flour: this gives you the base structure for the scones.
Oatmeal: adding this to the base gives you a great texture and nutty oat flavor.
White sugar: this sweetens the scones to balance the tartness of the cranberries.
Baking Powder: this helps the scones rise so they are nice and fluffy
Baking Soda: this mixes with the buttermilk to help the scones rise more
Salt: this improves the overall flavor of the scones
Butter: this melts into the dough, giving flavor and moisture to the scones; if you use unsalted butter, be sure to add a touch more salt for flavor
Buttermilk: this sour milk adds moisture and sweet (not sour) flavor to the scones.
Craisins (dried cranberries): these fill the inside of the scones with pops of sweet flavor
Heavy Whipping Cream: use this to brush tops of scones before cooking so that it gives you a great golden brown color when finished cooking
Turbinado Sugar (coarse sugar): this thicker crystal sugar gives you a delightful crunch and adds a hint of caramel-like sweetness
Pro Tip: While turbinado sugar is what will give you those beautiful large sugar crystals on your cranberry oat scones, in a pinch, you can sprinkle a little bit of brown sugar instead. That will give you the deeper molasses flavor with small crystals. So it will change the taste at the end, but you will have more flavor than using straight white sugar.
How to Make Cranberry Oat Scones from Scratch:
Heat oven and combine dry ingredients in a large bowl.
Mix in melted butter and buttermilk with the flour mixture.
Add craisins to the large mixing bowl, and gently fold them into the dough.
Shape the dough into a large circle on a lightly floured surface.
Cut the dough into wedges and transfer them to a prepared baking sheet.
Brush the tops of the scones with heavy cream and sprinkle with Turbinado sugar.
Bake until golden, then cool on a wire rack.
Kitchen Tips:
This dough is sticky, but do not over mix the dough! Quick breads get tough if they are mixed too much.
Use a sharp knife to cut the dough into wedges for clean, even slices, then use a bench scraper or metal spatula to gently lift the scone wedges onto the parchment-lined baking sheet.
Can I Use Frozen Cranberries for Cranberry Oat Scones?
Yes, you can use frozen cranberries for this cranberry oat scones recipe. However, frozen cranberries will release moisture into the dough.
That can change the texture giving you wetter holes of fresh cranberry. Make sure to thaw and drain them before adding them to the dough.
What Type of Oats are Best for Cranberry Oat Scones?
Old-fashioned rolled oats are the best choice for cranberry oat scones. They provide a hearty texture and add a pleasant chewiness to the scones.
Quick cooking oats will blend into the flour more, giving you less oat texture.
Do not use instant oats or steel cut oats. Instant oats are already cooked and can make the scones too soft.
Steel cut oats are the whole oat kernel slice instead of rolled out and take much longer to cook. If you use steel cut oats, you will not get a soft and fluffy scone. You will get one with hard bits mixed in.
Are Cranberry Oat Scones healthy?
Yes these are healthy cranberry oat scones. Cranberries and oats are filled with nutrients that are so important for a healthy lifestyle. While the sugar and white flour needs to be balanced in a healthy lifestyle, you can feel great eating one of these cranberry oatmeal scones as a snack each day.
How to Store Cranberry Oat Scones:
To store cranberry oat scones, place them in an airtight container or wrap them tightly with plastic wrap. Keep them at room temperature for up to 2 days.
You can also freeze these scones to use later. Just make sure they are wrapped twice in a freezer safe container. Let them come to room temperature, then reheat in a toaster oven before serving.
Can I Make Cranberry Oat Scones Ahead of Time?
Yes, you can make cranberry oat scones ahead of time! You can mix the scone dough, shape into a circle, cover tightly with plastic wrap, and refrigerate it overnight. When you're ready to bake, slice the chilled dough into wedges and follow the recipe as written.
Additional Breakfast Recipes You'll Love…
You can also bake these oatmeal scones with cranberries and keep them at room temperature for 2 days before serving. To freshen them, you can warm them in an oven before serving.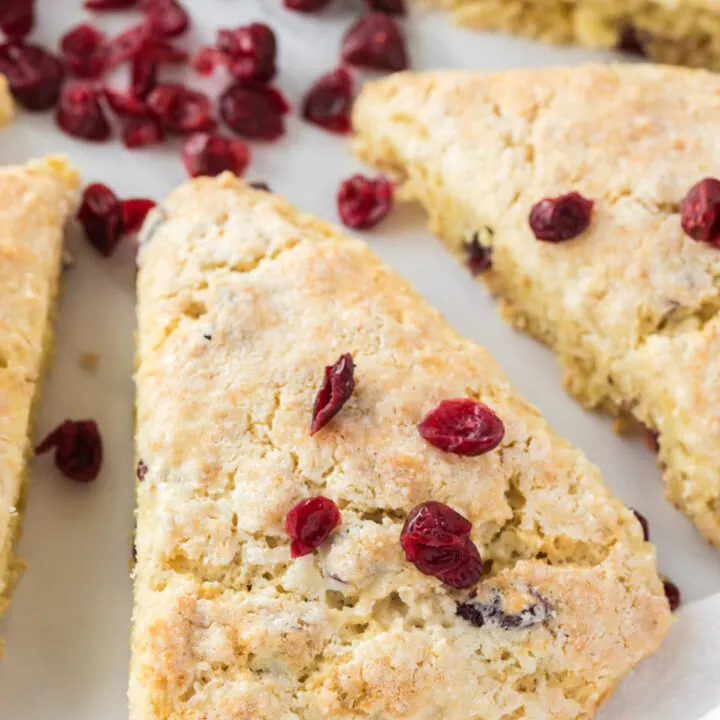 Cranberry Oat Scones
You are sure to love these cranberry oat scones. Bursting with craisins and cooked with a little cream and sugar on top - a perfect breakfast.
Instructions
Preheat oven to 375*F
Line a baking sheet with non-stick foil, parchment paper or a baking mat. Set aside
Combine flour, oatmeal, white sugar, baking powder, baking soda, salt, butter, buttermilk and craisins. Dough will be sticky. Do not overwork dough.
On a lightly floured work surface, pat the dough into a round circle 2" thick. Should be 10-12" wide.
Lightly dust top if needed to keep dough from sticking to your hands.
Cut dough into 8 wedges.
Transfer wedges onto the prepared baking sheet. Try to keep them in the circle shape but with ¼ inch between as the dough will expand.
Brush the tops with heavy whipping cream and top withTurbinado Sugar (or coarse sugar)
Bake for 22 minutes or until edges are a hint of golden.
Cool on pan for 5 minutes then transfer to a wire rack.
Nutrition Information:
Yield:

8
Serving Size:

1
Amount Per Serving:
Calories:

369
Total Fat:

18g
Saturated Fat:

11g
Trans Fat:

1g
Unsaturated Fat:

6g
Cholesterol:

47mg
Sodium:

312mg
Carbohydrates:

48g
Fiber:

2g
Sugar:

20g
Protein:

5g