Colorado Green Pork Chili combines some of the best flavors with shredded pork, zesty green chilis, and a blend of spices. This main course recipe will take your taste buds on a delicious journey and everyone will be happy to see it on the table.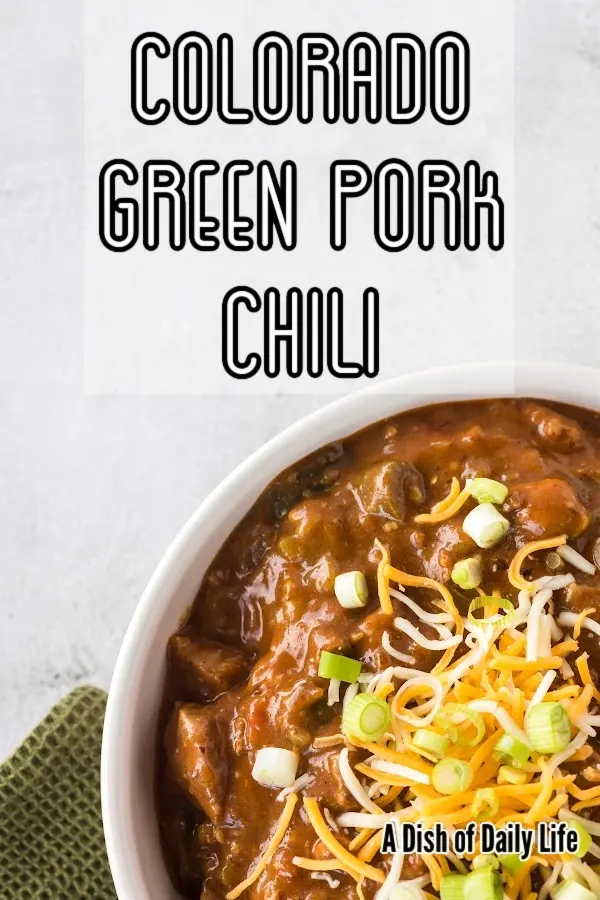 This Colorado Green Pork Chili is a perfect recipe for game days, easy make ahead freezer meals, and as a filling for burritos or enchiladas.
It is also really hearty with the layers of sausage, tender chunks of pork, all simmered in a large bowl of veggie broth.
And in case you are worried about it being too spicy, Colorado pork green chili stew is a recipe you can easily customize the heat level without changing the great flavors.
It can be cooked however you prefer whether you like chili recipes left all day in a slow cooker crock pot or just let it simmer on the stovetop.
This Colorado green chili pork recipe is one you will want a big bowl of again and again.
What Ingredients Are in Colorado Green Pork Chili?
Bone-in Pork Butt: this is your meat base; it's important to get bone-in pork since that has more flavor than meat off the bone.
Italian Sausage: this enhances the meaty profile of the chili.
Tomatillos: this makes the base of the soup and gives you a creamy broth for all the meat.
Canned Diced Tomatoes: this adds acidity to the sauce and nice tomato chunks to the chili
Canned Fire-Roasted Green Chilis: this is what gives you the smoky flavor and mild heat
Yellow Onion: this gives a beautiful savory taste to the base of the soup
Minced Garlic: this adds garlic notes to the chili
Jalapeño Pepper: gives just enough kick to the chile verde; keep more seeds in to make it spicy, remove them to keep it mild
Butter: everything tastes better when it is cooked in butter
Flour: use this to create a roux to thicken the chili
Chicken Broth: mixes with blended veggies to give you a flavorful base for the chili.
Chili Powder: this is the chili flavor in your chili; use fresh for stronger chili flavor
Cumin: this is what makes it smell like enchiladas or chili or southwest in every corner of your home as you cook
Salt and Black Pepper: these season the pork and balance the overall taste.
Cooking Oil: you only need a tablespoon of oil for browning the pork and sausage
Pro Tip: The biggest difference between canned diced green chiles and hatch green chiles is the spiciness. Regular canned chiles are usually anaheim or california chilis which are a mild pepper.
Hatch chiles are from the Hatch valley of New Mexico and are a lot spicier. You decide what ones you want to use in your green chile recipe.
How to Make Colorado Pork Green Chili from Scratch:
Blend half of the green chilis and tomatillos until smooth.
Combine chicken stock, diced tomatoes, remaining green chilis and tomatillos in a large dutch oven and heat over medium heat.
Sauté onion and garlic over medium-high heat, then add them to the large pot.
Season and brown the pork and sausage, then drain and add to the pot.
Create a roux with butter, flour, and meat remnants, then add it to the pot.
Season with chili powder, cumin, salt, and pepper. Simmer for 3 hours, adjusting seasonings to taste.
Remove the bone, break up large pork cubes, and stir until the chili reaches desired consistency.
Pro Tips:
Browning the pork and sausage adds depth of flavor to the pork green chili recipe.
Adjust the amount of chili powder and cumin according to your preferred level of flavors and spice.
Allow the chili to simmer uncovered to reduce the liquid and intensify the flavors.
Can I Use Beef Instead of Pork in Colorado Green Chili?
Yes, you can use beef as an alternative to pork in Colorado Green Chile. Keep in mind that the flavor and texture is different than the traditional pork version.
For best results, choose a tender cut of beef, such as chuck roast or beef shoulder, and adjust the cooking time to let the colorado-style green chile with beef become tender and flavorful.
What Is the Best Cut of Pork for Colorado Green Pork Chili?
The best cut of pork for Colorado Green Pork Chili is bone-in pork butt (also known as pork shoulder). This cut is ideal because it has marbling and connective tissue that breaks down during the long cooking process, resulting in tender and juicy meat that easily shreds into the chili.
Can I Make Colorado Green Pork Chili with Canned Green Chilies?
Yes, you can make Colorado Green Pork Chili with canned green chilies. This recipe calls for canned fire-roasted green chilies, which provide a smoky flavor to the dish. However, you can also use fresh roasted green chilies if they are available.
What Are the Different Ways to Serve Colorado Green Pork Chili?
Colorado Green Pork Chili can be enjoyed so many different ways. You can serve it by itself in a bowl, garnished with chopped green onions, sour cream, and grated cheddar cheese for added flavor and texture.
You can also use it as a filling for different recipes like burritos or enchiladas, spooned over rice or noodles, or enjoyed with warm tortillas or tortilla chips for dipping.
Pro Tip: Sometimes we save some to spoon over breakfast burritos. The delicious Mexican flavor goes great with eggs and cheese wrapped in a tortilla.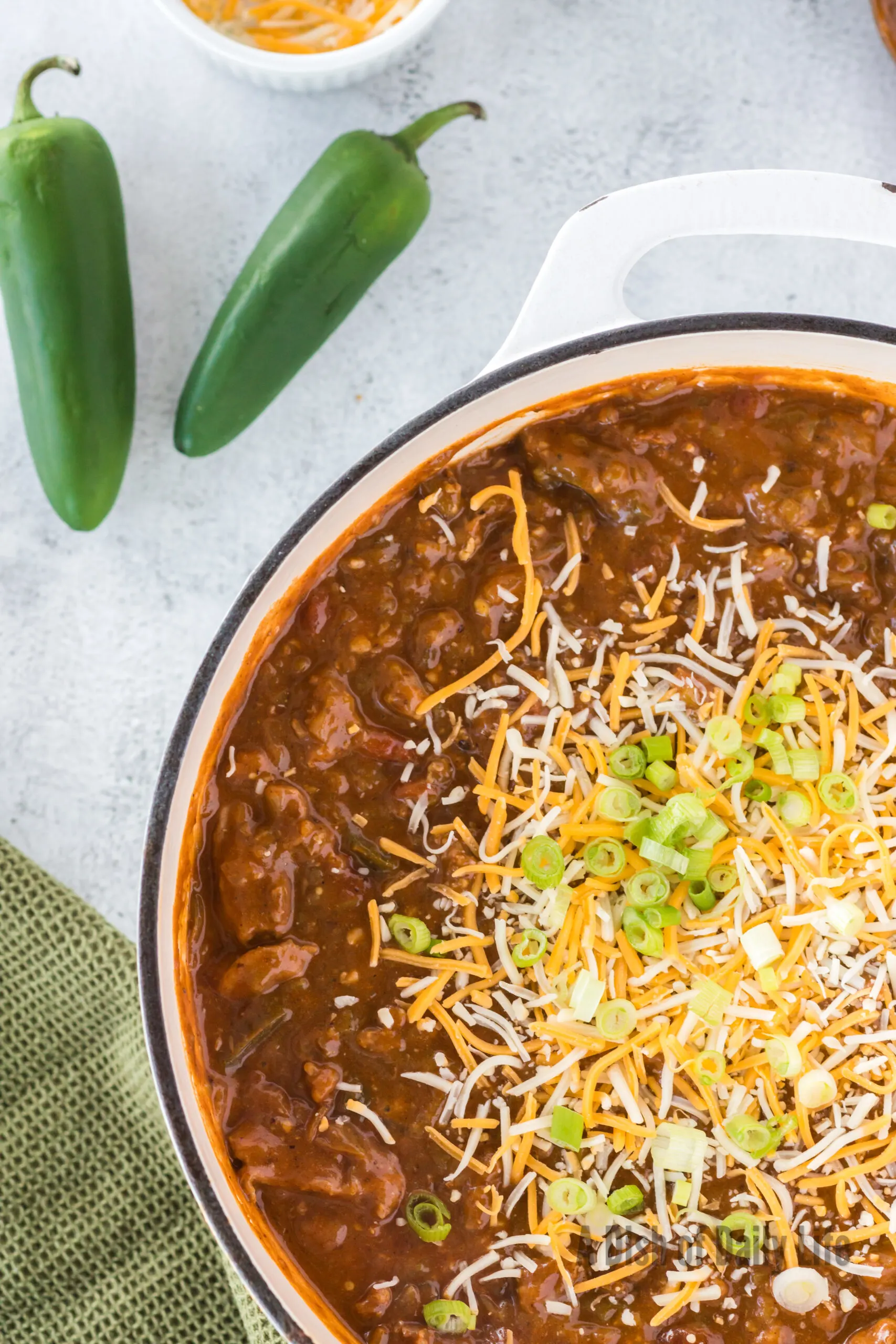 Can Dogs Eat Colorado Green Pork Chili?
No, do not feed your dogs Colorado Green Pork Chili. Some of the ingredients and spices used in the recipe, like onion, garlic, and chili powder, can be harmful to dogs. Save this dish for your human friends only.
How to Store Leftover Colorado Green Pork Chili:
Store leftover Colorado Green Pork Chili in an airtight container in the refrigerator. It will stay fresh for 3-4 days.
Reheat individual portions in the microwave or warm it up on the stove.
How Long Does Colorado Green Pork Chili Last?
Colorado Green Pork Chili will last for 3-4 days when stored properly in the refrigerator.
Pro Tip: If you are worried you won't eat it in time, freeze your leftover colorado pork greek chili recipe.
Can I Freeze Colorado Green Pork Chili?
Yes, you can freeze Colorado Green Pork Chili. Allow the chili to cool completely and then transfer it to airtight containers or freezer bags.
Label and date the containers before placing them in the freezer. Colorado green chili with pork can be safely stored in the freezer for up to 3 months.
Thaw in the refrigerator overnight before reheating on the stovetop or in the microwave.
Warm up with a bowl of Colorado Green Pork Chili! This hearty and flavorful recipe combines tender pork, fire-roasted green chilis, and aromatic spices for a zesty and satisfying dish. Perfect for chilly evenings or game day gatherings, this great recipe is sure to become a family favorite.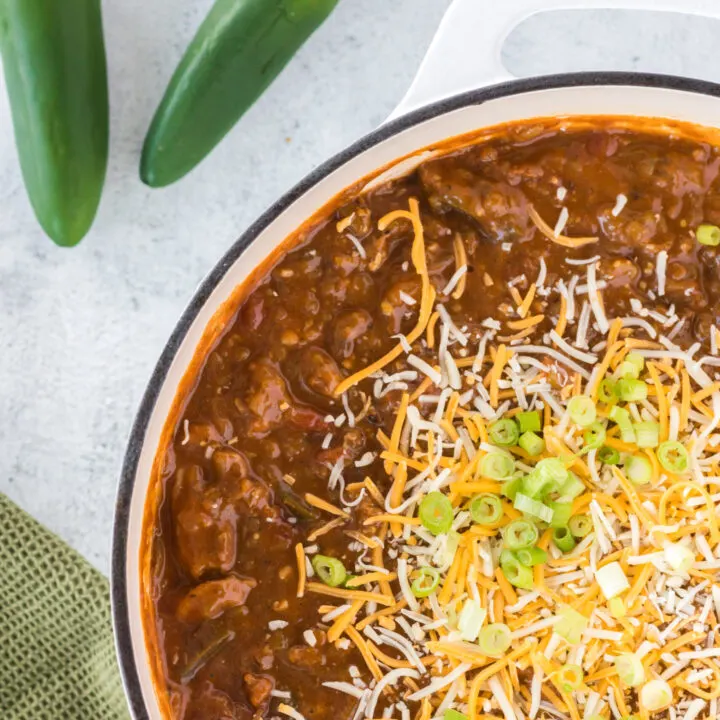 Colorado Green Pork Chili
Total Time:
3 hours
40 minutes
Colorado Green Pork Chili combines some of the best flavors with shredded pork, zesty green chilis, and a blend of spices. A delicious recipe the entire family will enjoy.
Instructions
In a food processor, blend half the green chilis and half the tomatillos until smooth. Place into a large pot.
Add chicken broth, tomatoes, jalapeños and the rest of the tomatillos and green chilis to the pot and heat over medium heat.
In a large skillet, heat oil over medium high heat. Cook onion for 2 minutes until tender, then add garlic for an additional minute. Add to pot.
Cut pork off bone, discarding as much fat as possible. Cut pork into 1-inch cubes. Keep the bone. Season the pork with salt and pepper.
In same skillet, brown pork (both cubes and bone) in oil over high heat. Remove and drain on paper towels. Add to pot.
Brown Italian sausage in same skillet. Break up sausage while doing so. Drain on paper towels and add to pot.
Again in same skillet where the pork and sausage were browned, place butter over medium heat and whisk in all of the leftover remnants from the meats. Slowly add flour, while constantly whisking, to create a light brown colored roux. Add to pot.
Add chili powder and cumin.
Bring the chili in the pot to a boil, then reduce heat to a simmer and cook uncovered for approximately 3 hours, adjusting chili powder, cumin and salt and pepper to taste.
Strip any meat from the bone in the pot, then discard bone.
Break up any large pork cubes and stir chili until no large chunks of meat remain.
Garnish with chopped green onions and grated cheddar cheese, if desired.
Enjoy with warm tortillas or corn chips.
Notes
A larger pork butt by a couple pounds will work fine with this recipe...you'll just end up having more portions or leftovers!
Nutrition Information:
Yield:

8
Serving Size:

1
Amount Per Serving:
Calories:

982
Total Fat:

72g
Saturated Fat:

26g
Trans Fat:

0g
Unsaturated Fat:

42g
Cholesterol:

249mg
Sodium:

1752mg
Carbohydrates:

15g
Fiber:

3g
Sugar:

5g
Protein:

67g
Originally Posted: February 24, 2017
Photos and Pictures Updated: October 13, 2023