Disclosure: I participated in an Ambassador Program on behalf of Influence Central for Hood Cream. I received product samples as well as a promotional item to thank me for my participation.
Creamy Pasta with Ham and Peas…so creamy, easy and simple! You can whip this up in 25 minutes from start to finish — perfect for busy weeknights! And if you're looking for recipes using leftover ham, this is an easy recipe that the whole family will love!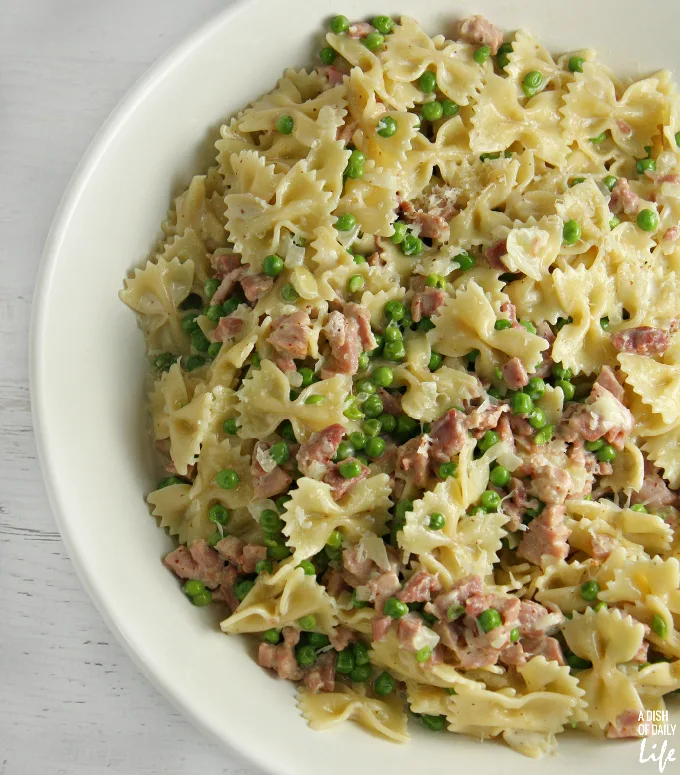 Creamy Pasta with Ham and Peas…great way to use up leftover ham
Right now I need as many fast and easy dinner recipes as I can find.
I'm really behind the eight ball. Christmas is just around the corner, and I have barely started my holiday shopping. Shopping is my least favorite thing about the holidays. It just feels so commercial to me. I'm not a big fan of crowds either. It's a cycle with me. I avoid shopping because I don't love to shop, then the crowds start as the holidays approach, so I avoid shopping even more to avoid the crowds. Of course, that's how I end up being in the mess that I am in now, where most of my shopping isn't done.
Anyway…whether you love holiday shopping or not, I think we can all agree that having a few fast and easy dinner recipes is helpful this time of year! And this Creamy Pasta with Ham and Peas fits the bill.
I've actually been making variations of this recipe since the beginning of my married life over 20 years ago. Over time, it's become more refined. The version it is today is my favorite, and my family's favorite, so far.
If you are looking for recipes to use leftover ham from Christmas or Easter, this is a great one. But honestly, this is a recipe I make year round. If I don't have leftover ham, I just ask the deli section to cut me a few thick slices of ham (or prosciutto, if I am feeling in the mood for something a bit more gourmet). I usually use bowtie pasta, but it's also nice with tortellini.
The Secret is in the Sauce
My family loves this sauce. Many of my cream sauces use a variation of the same ingredients…white wine, Dijon mustard, and heavy or light cream. When you find that something works, you just tweak it for other recipes. So that is what I have done here.
One of the key components of a good recipe is high quality ingredients. Hood® Cream is used in kitchens of some of the very best restaurants. But it's also easily accessible for the home cook as well, available in many of our favorite grocery stores. I've been using Hood® Cream for years, and it's a key ingredient in this recipe.
Your cooking time on this Creamy Pasta with Ham and Peas is about 15 minutes. The final result is a delicious homestyle pasta that your family will love! No one will ever guess how fast and easy this creamy pasta is!
Start out by boiling your pasta water. Don't start your sauce until you have put your pasta in, because you're going to make your sauce while the pasta is cooking.
Melt your butter, and sauté your chopped onion until it becomes translucent. Add your chopped ham, and allow it to brown a little.
Then go ahead and add your white wine. While your white wine is reducing slightly, whisk together your heavy cream and Dijon mustard. Reduce your heat to medium low, and go ahead and add this to the mixture as well. Then add your Parmesan cheese slowly, stirring the entire time.
Lastly add your peas, and cook until they are warmed through. This should only take another minute or two.
Then you'll add your sauce to your drained pasta.
I told you it was easy! Doesn't that look good?!
Enjoy!

Creamy Pasta with Ham and Peas
Creamy Pasta with Ham and Peas...so creamy, easy and simple! You can whip this up in 25 minutes from start to finish -- perfect for busy weeknights! And if you're looking for recipes using leftover ham, this is an easy recipe that the whole family will love!
Ingredients
1 lb pasta
1 onion, chopped
2 tablespoons butter
3 cups chopped ham
1/4 cup white wine
2 cups Hood® heavy cream
1 tablespoon Dijon mustard (I use the grainy version)
1 cup Parmesan cheese
2 cups frozen peas
Instructions
Boil water for pasta.
Once your water is boiling and you've added your pasta, start your cream sauce with the ham and peas.
Saute chopped onions in butter until they become translucent.
Add chopped ham to the onions and cook for a few more minutes, stirring a couple times.
Add white wine. Allow to reduce slightly before adding cream mixture.
Whisk together Dijon mustard with heavy cream. Add to mixture.
Add parmesan cheese slowly, stirring while you are adding it.
Add peas and cook until they are warmed through.
Mix sauce with pasta.
Serve immediately.
Nutrition Information:
Serving Size:
1
Amount Per Serving:
Calories:

3184
Total Fat:

226g
Saturated Fat:

139g
Cholesterol:

672mg
Sodium:

2427mg
Carbohydrates:

213g
Sugar:

36g
Protein:

78g
If you are looking for more recipes to take you through the holidays, you should definitely take a look at Hood's new eCookbook
Chef Creations Inspired by Hood Cream.
As I have mentioned in previous posts, HP Hood teamed up with Boston Chef Chris Coombs, the chef/owner of the renowned Deuxave and Boston Chops, and also the official chef and spokesperson for Hood® Cream, to create more than 25 summer and holiday recipes that are geared towards the everyday cook. Chef Chris Coombs includes special tips for cooking with cream on every recipe, as well as his inspiration for creating each dish. You are sure to find some recipes that you are going to want to try this holiday season!
You can download a copy of HP Hood's interactive eCookbook today on to your desktop, laptop, tablet, or even your smartphone, and take it anywhere you plan to do some cooking this holiday season. The download is free at Hood.com, and soon you will be able to download it on platforms like iTunes, Barnes and Noble, and Kobo.com as well! You'll love the interactive features…each recipe has social media sharing buttons for Facebook, Pinterest and Twitter, which is perfect for saving a recipe for quick reference later, or sharing with friends and family. There is also a "step by step" cook view mode that lists out each recipe, making it easier to follow while cooking.
I have already tried several of the recipes in their eCookbook, including the Spinach and Artichoke Dip and the Asparagus Gratin, both of which were fabulous!
Visit HP Hood on Facebook, Twitter and Instagram for even more recipes and promotions!
Which of HP Hood's recipes would you like to try?
What are your favorite recipes using leftover ham?