You will love this Pasta with Ham and Peas recipe. With its meaty ham, sweet green peas, and parmesan cream sauce, it is a meal that's hearty and elegant, making it an easy pasta dish for busy weeknights any time of year.
If you need something to do with that leftover ham you made and just can't keep eating, this recipe is for you. It fits in my stack of pasta recipes, but also works perfectly as a way to use that leftover holiday meal in a new way dish.
Or if you don't have leftover ham, a ham steak will work perfectly too. Ham pasta doesn't care what kind of ham you use, just that it gets mixed into the pea pasta recipe.
Beyond using leftovers, the best thing about this creamy ham pasta is how fast it is to make. If you need a last minute dinner or are suddenly feeding a crowd the next day, this pasta with peas and ham is a great thing to make.
Ham and peas pasta is a delicious ham recipe you will come back to again and again. Put it in your favorite recipe card collection for a fast, easy, tasty pasta dinner anytime you want it.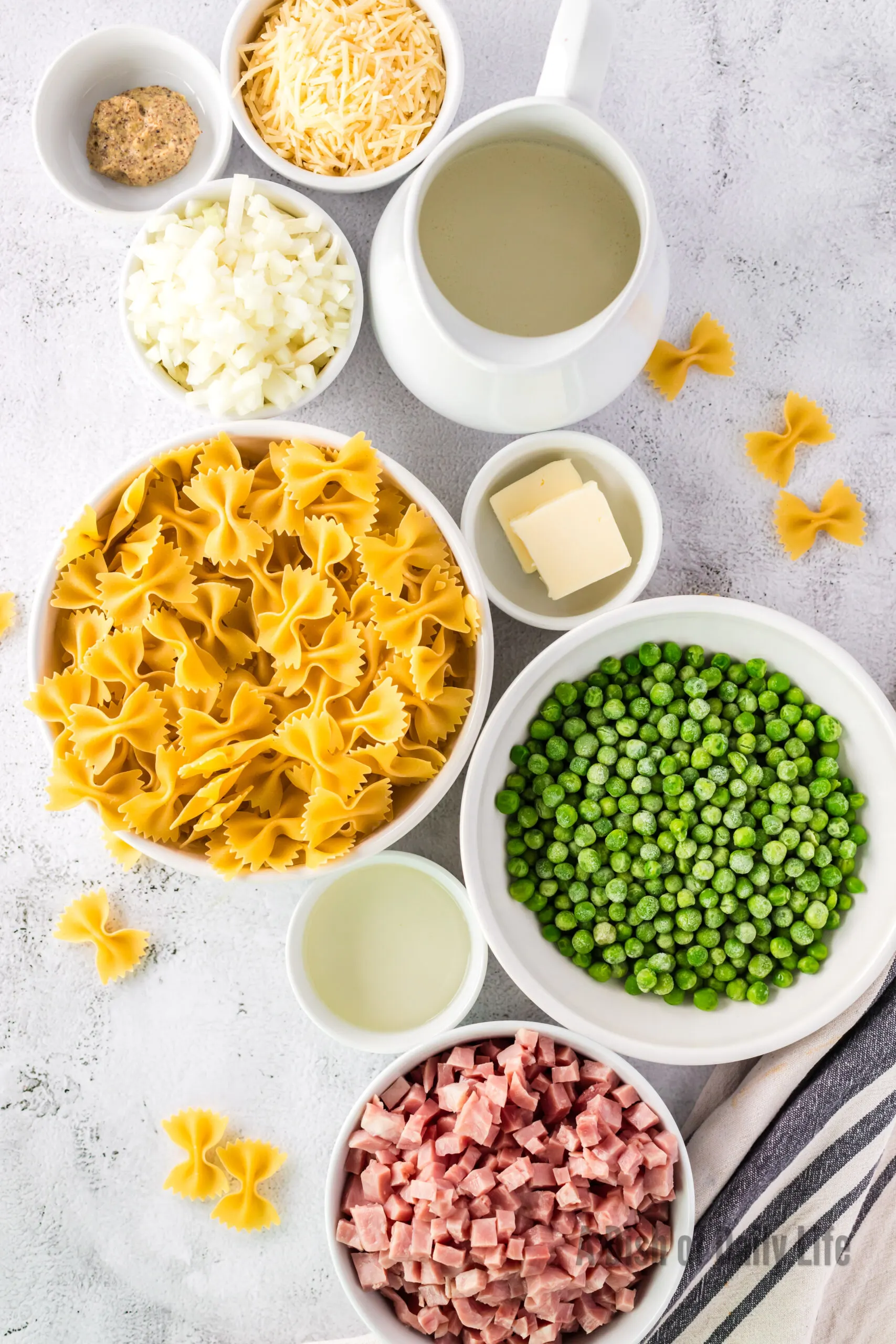 What Ingredients Are in Pasta with Ham and Peas?
Pasta: the base of the dish, giving you that comforting, hearty texture.
Onion: adds a sweet depth to the flavor of the sauce.
Butter: puts a rich, creamy flavor into the dish that we love more than olive oil
Ham: gives you a savory, meaty element.
White Wine: this adds details to the flavor of the sauce.
Heavy Cream: the key to a creamy sauce, making it smooth and perfect.
Dijon Mustard: gives a hint of tanginess and adds to the flavor of the sauce.
Parmesan Cheese: this adds a salty, cheesy goodness.
Frozen Peas: the sweet and fresh burst of snap peas balances the richness of the sauce.
Pro Tip: Use high-quality Parmesan cheese for the best flavor.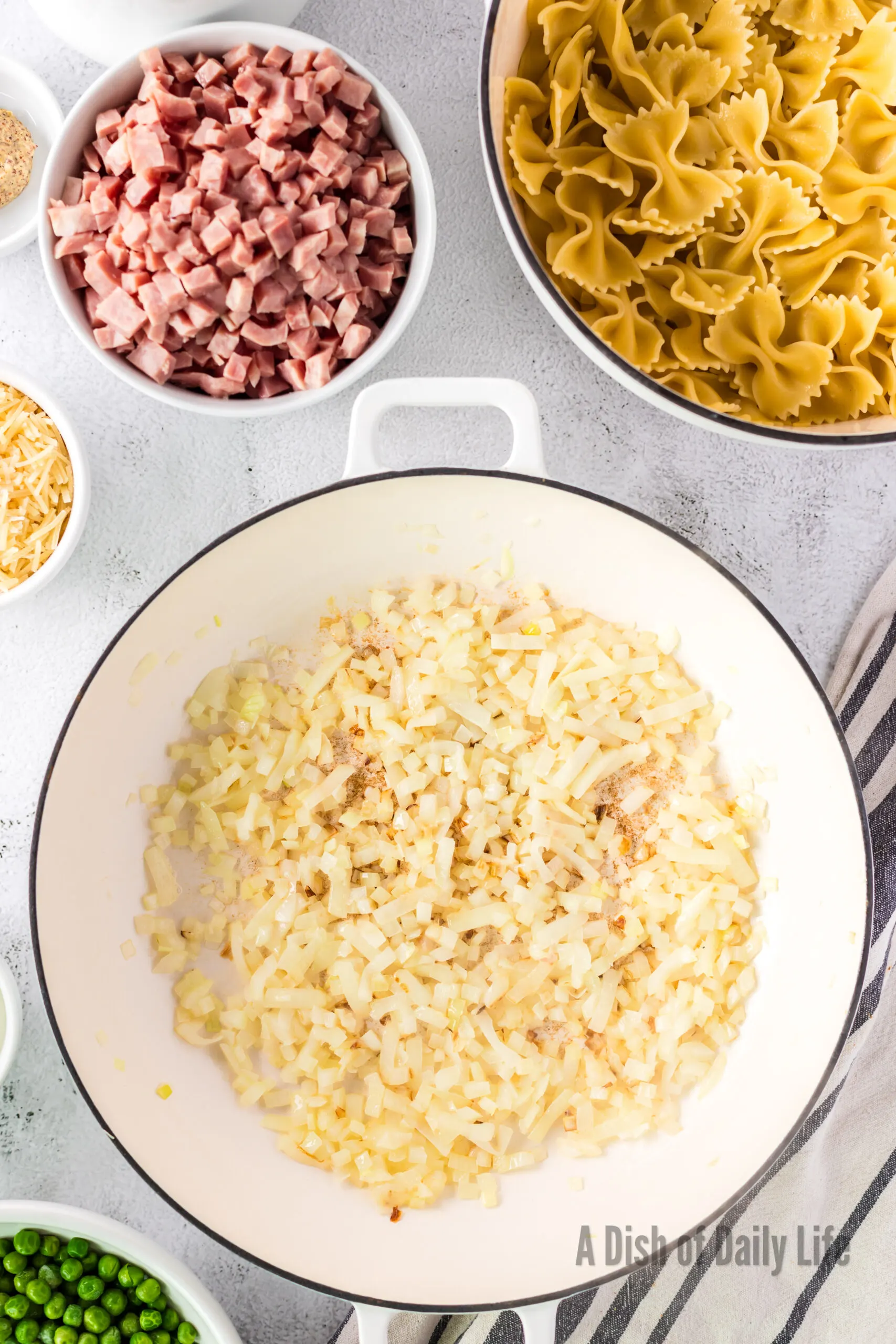 How to Make Pasta with Ham and Peas:
Boil pasta in a large pot of salted water until cooked al dente.
Saute onions in butter over medium heat.
Add diced ham and cook.
Pour in white wine.
Mix dijon mustard with cream and add to the dish.
Add parmesan cheese.
Add peas and combine.
Pro Tip: Start the pasta cooking, then make the sauce at the same time. It will keep things moving in your kitchen as you work.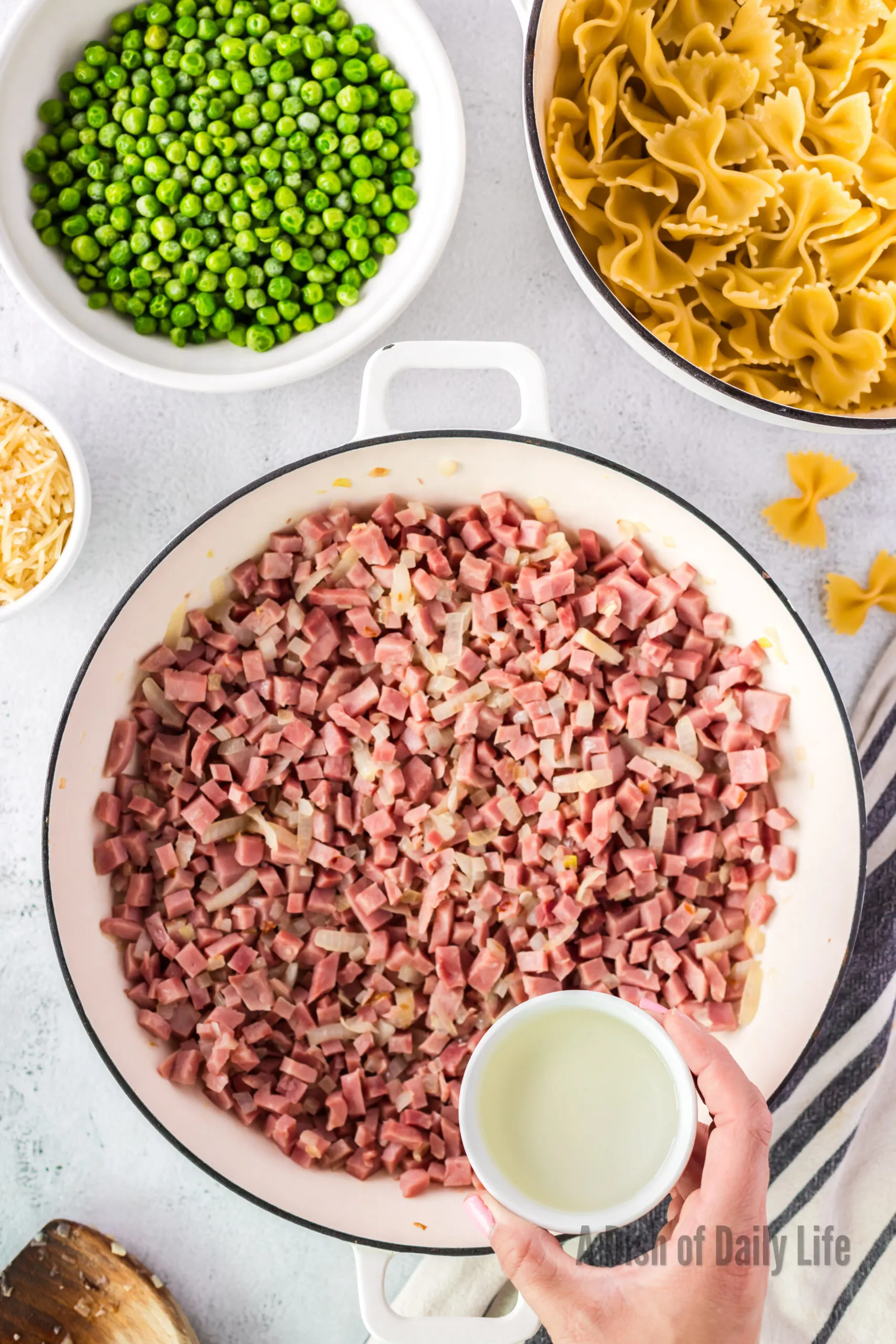 What kind of pasta should I use to make pasta with ham and peas?
You can use any kind of pasta shape to make this creamy pasta with ham and peas recipe! My kids love when I use bow tie noodles or medium shells. But this works great with penne pasta.
If you want to be super Italian restaurant authentic, use fettuccine noodles and call this dish "Fettuccine alla papalina" which means fettuccine for the pope. It is not an original recipe, but it is pretty close.
Pro Tip: To make this pasta alla papalina more like the dish the pope requested, use prosciutto instead of diced ham.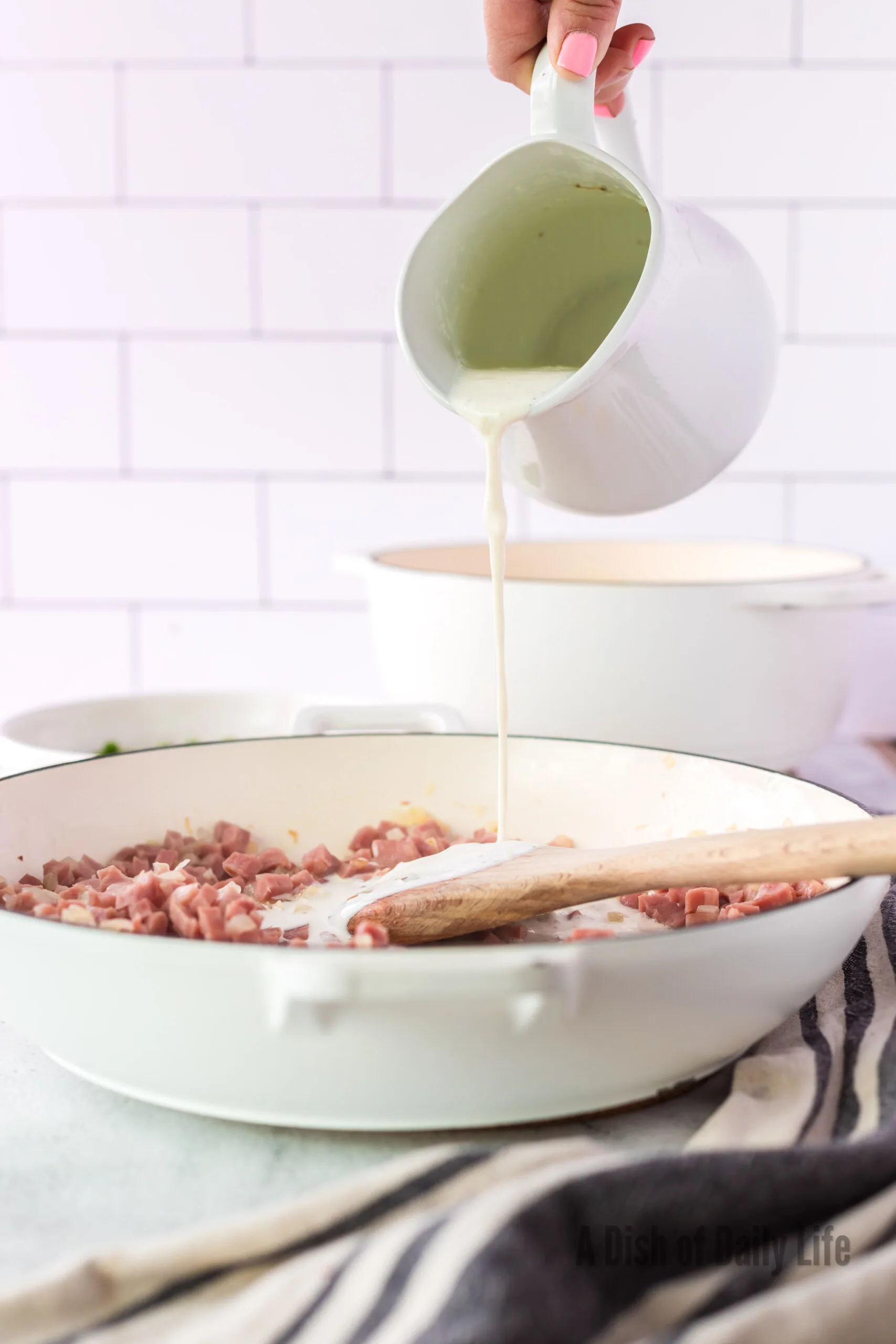 How to Store Leftover Pasta with Ham and Peas:
Keep any leftover ham pasta with peas in an airtight container in the refrigerator for up to 3 days. When you are ready to serve again, reheat gently on the stove top with a bit of cream to bring back that freshly made creamy texture.
Can You Freeze Pasta with Ham and Peas?
While you can freeze anything, we do not recommend freezing this pasta with ham and peas recipe. The creamy parmesan sauce does not thaw well. It will leave you a broken sauce as your end result instead of a smooth perfect dish.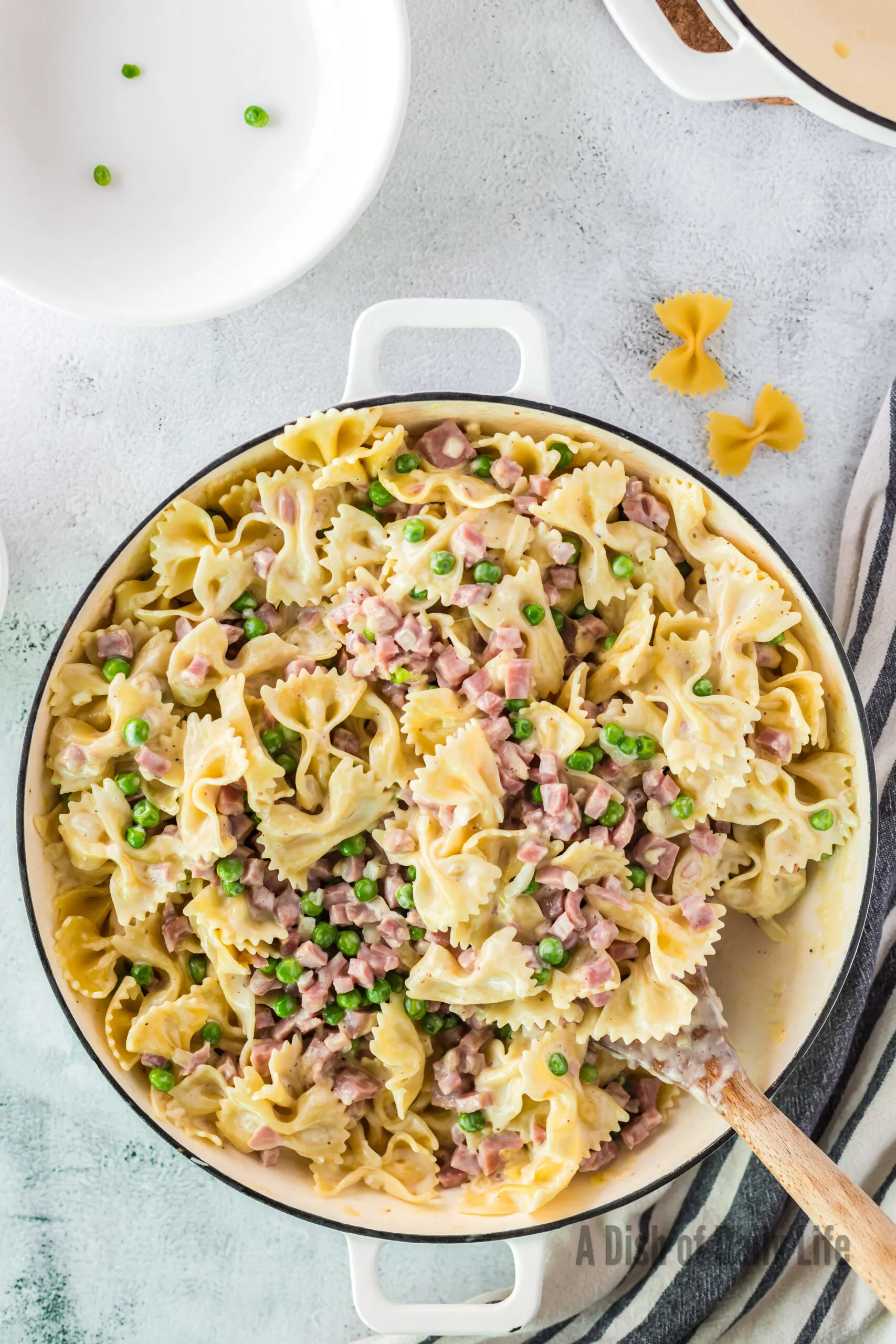 What to Serve with Pasta with Ham and Peas:
Sometimes I make pasta with peas and ham and let that be a quick dinner by itself. But pasta always pairs well with a green salad and bread.
Try this Four Cheese Garlic Bread Recipe for a garlic bread everyone will love. Or this Pomegranate Spinach Salad. It has perfect tart and sweet flavors that will go great with the creamy pasta sauce.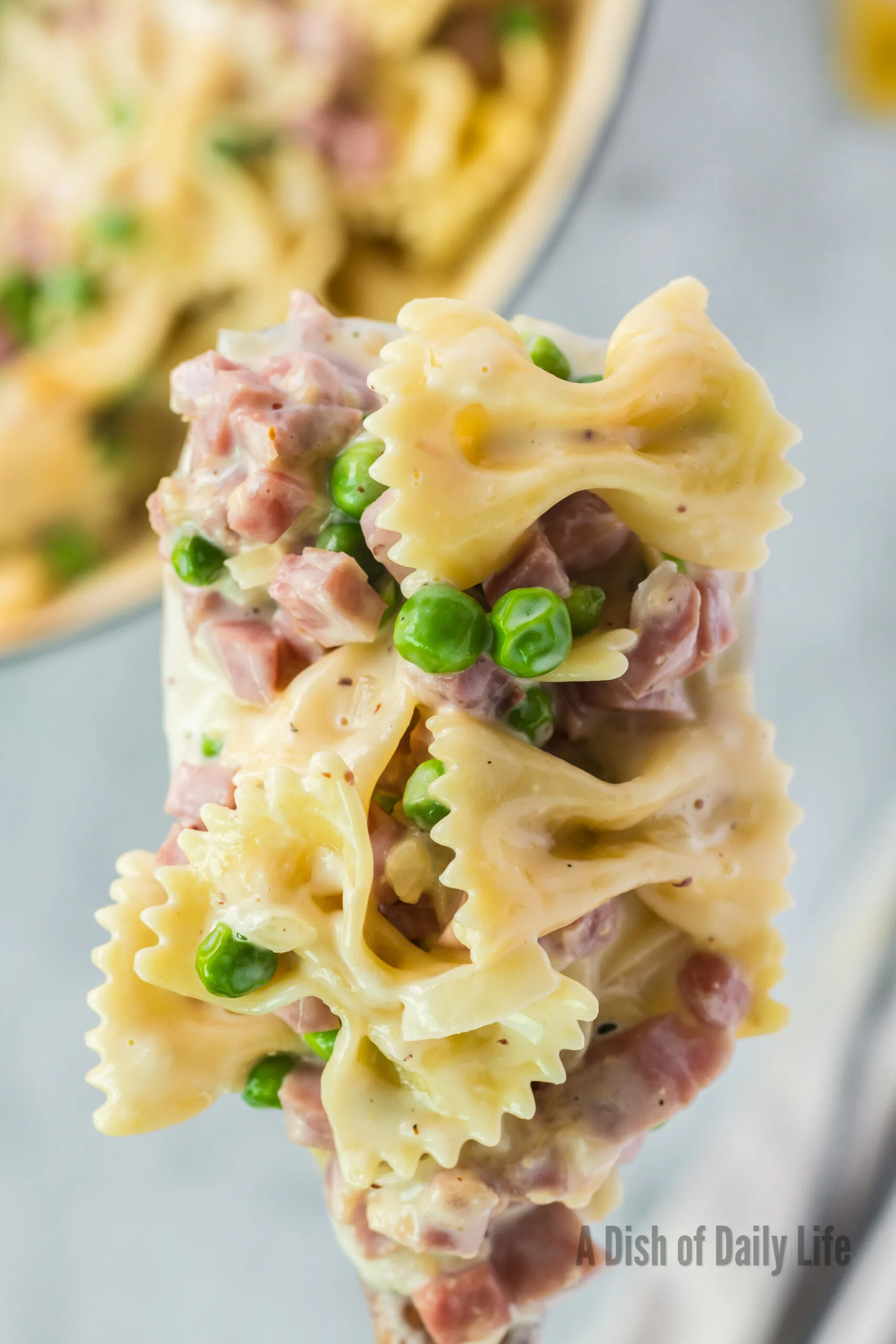 Can I Use Leftover Ham for This Ham Pasta Recipe?
Yes you can use leftover ham to make this pasta with ham and peas recipe. This is a great way to repurpose leftover holiday ham into a dish the whole family will love.
Use any cooked ham you have on hand and turn it into something new with this easy recipe for ham peas pasta.
Can Dogs Eat Pasta with Ham and Peas?
While plain pasta is generally safe for dogs in moderation, do not feed your dogs this pasta with ham and peas recipe.
Cooked ham can be too salty and the dairy in the sauce can cause digestive issues in some dogs. Better to feed this ham pasta recipe to your human friends.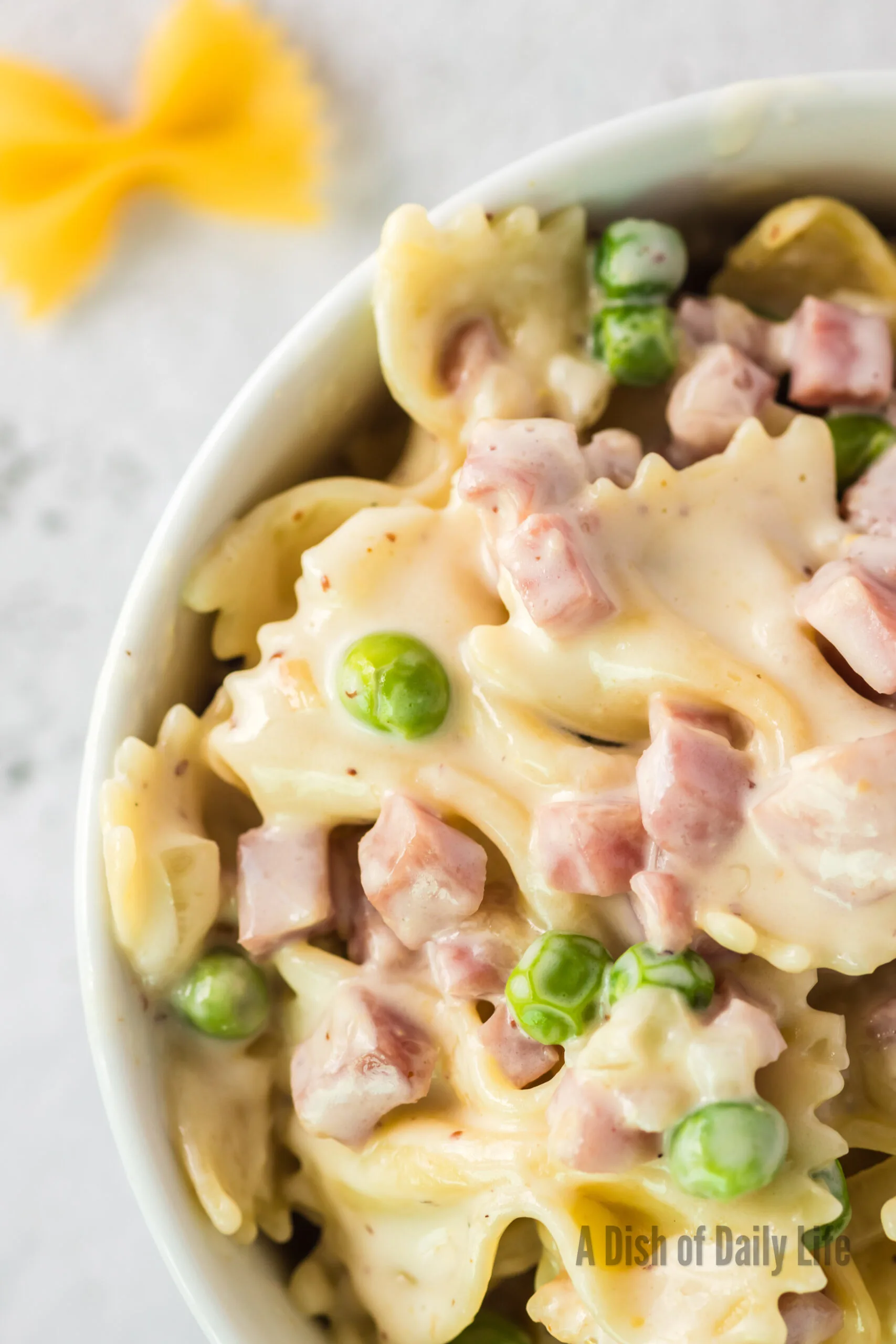 Additional Pasta Recipes You'll Love…
This pasta with ham and peas recipe is a crowd favorite. With its deliciously creamy sauce that cooks in the same amount of time it takes the pasta to boil, you will have a delicious dinner in less than 30 minutes of cooking time.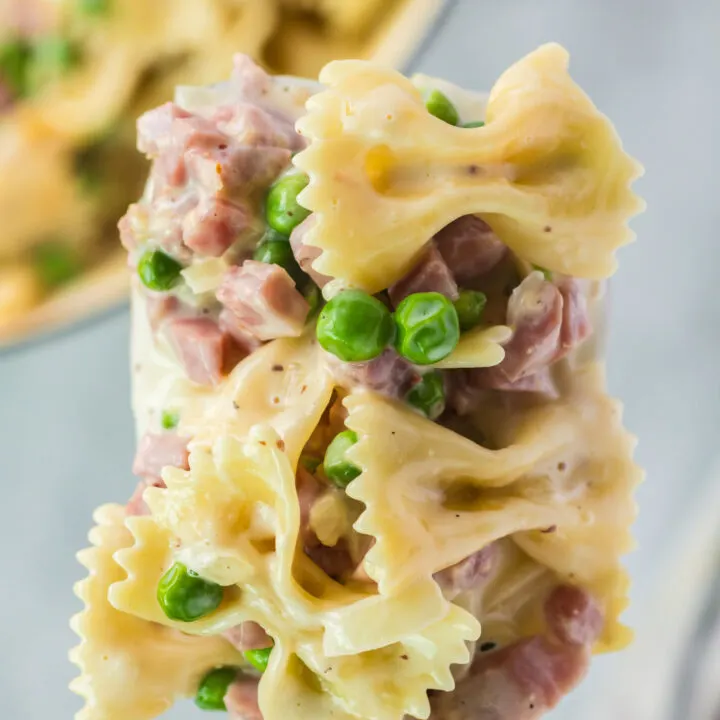 Pasta with Ham and Peas
Indulge in creamy comfort with our Pasta with Ham and Peas recipe. A delicious blend of pasta, ham, peas, and a velvety cream sauce.
Ingredients
Instructions
Boil water for pasta.
Once your water is boiling and you've added your pasta, start your cream sauce with the ham and peas.
Saute chopped onions in butter until they become translucent.
Add chopped ham to the onions and cook for a few more minutes, stirring a couple times.
Add white wine. Allow to reduce slightly before adding cream mixture.
Whisk together Dijon mustard with heavy cream. Add to mixture.
Add parmesan cheese slowly, stirring while you are adding it.
Add peas and cook until they are warmed through.
Mix sauce with pasta.
Serve immediately.
Nutrition Information:
Yield:

6
Serving Size:

1
Amount Per Serving:
Calories:

660
Total Fat:

44g
Saturated Fat:

25g
Trans Fat:

1g
Unsaturated Fat:

15g
Cholesterol:

152mg
Sodium:

1226mg
Carbohydrates:

40g
Fiber:

5g
Sugar:

6g
Protein:

26g
Originally Posted: December 14, 2015
Photos & Text Updated: September 25, 2023