Indulge in the rich, creamy flavors of this Goat Cheese Stuffed Chicken recipe that is perfect for a special dinner or a cozy weeknight meal!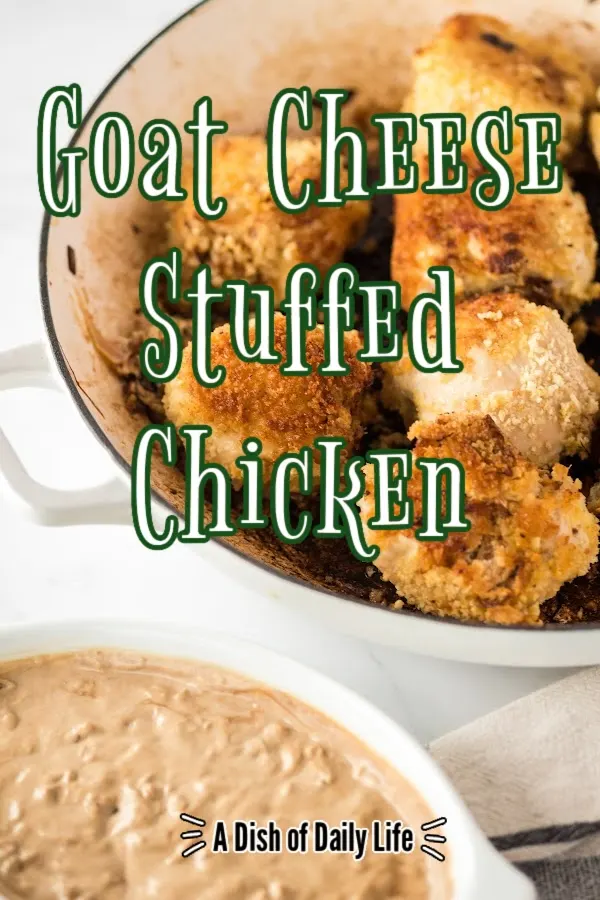 Tender chicken tenderloins are filled with a luscious mixture of goat cheese and caramelized onions, then pan-fried to perfection.
The irresistible combination of tangy goat cheese and sweet, savory caramelized onions will have everyone asking for seconds!
The combination of creamy goat cheese and sweet caramelized onions creates an incredible, indulgent filling.
Pan-frying the goat cheese stuffed chicken breast gives it a deliciously crispy exterior.
The recipe is versatile, allowing you to adapt it to your preferences or what you have on hand.
The chicken stuffed with goat cheese is fancy enough for a special occasion, yet simple enough for a weeknight dinner.
You'll impress your family and friends with this delectable homemade meal.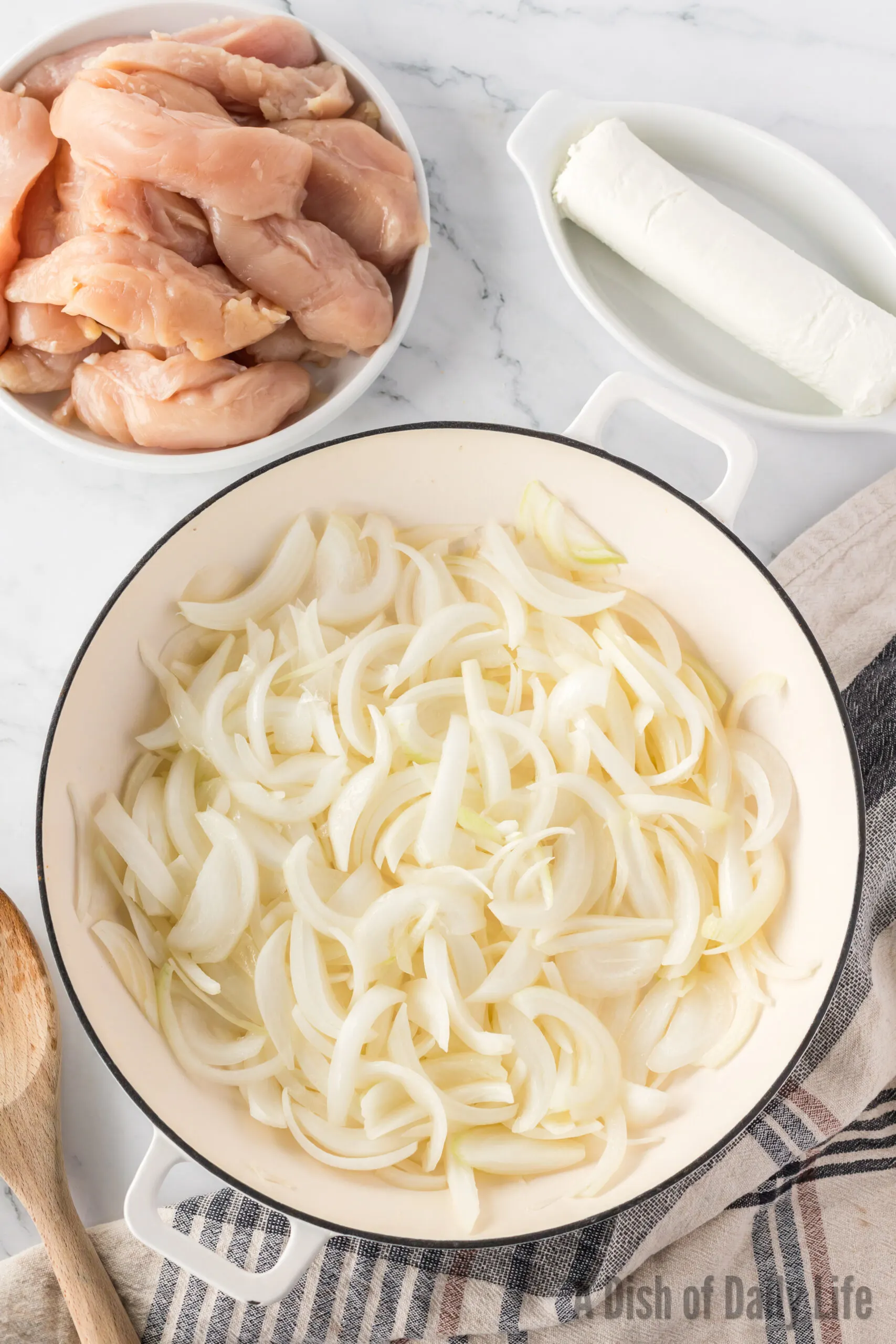 What Ingredients are in Goat Cheese Stuffed Chicken?
This easy weeknight meal is something the whole family will enjoy. Here's the simple ingredients you'll need to grab.
Butter: Adds richness and helps caramelize the onions.
Onions: Chopped and caramelized for a sweet, savory flavor.
Balsamic vinegar: Enhances the caramelization of the onions and adds a tangy twist.
Goat cheese: Creamy and tangy, it's the perfect filling for the chicken.
Chicken tenderloins: A tender and flavorful cut of chicken that's easy to stuff and cook.
Egg and milk: Helps the breadcrumbs adhere to the chicken.
Panko bread crumbs: Creates a crispy crust for the chicken.
Oil or butter: For pan-frying the chicken.
Cream (optional): Can be used to make a sauce with the leftover goat cheese.
Pro Tips:
Use a high-quality balsamic vinegar for the best flavor, such as a fig balsamic vinegar.
Boneless skinless chicken breast can also be swapped in this delicious dish.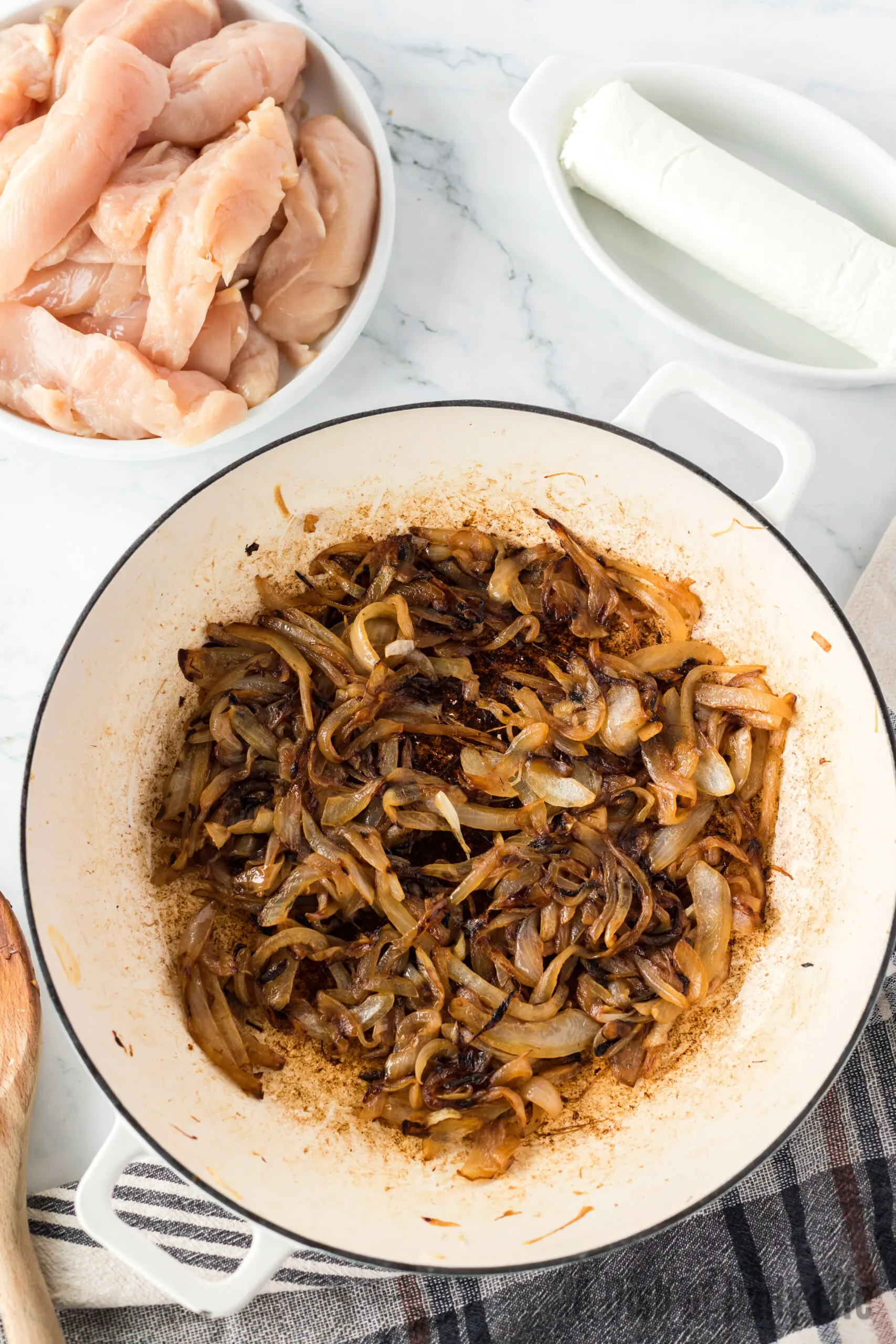 How to Make Goat Cheese Stuffed Chicken
Here's how to make this easy chicken recipe.
Use an ovenproof skillet so you can cook on the stove top and then pop right into the oven.
Caramelize the onions in butter and balsamic vinegar.
Combine goat cheese with the caramelized onions to create the goat cheese filling.
Stuff goat cheese into the chicken tenderloins with the goat cheese mixture, then coat with egg, milk, and breadcrumbs.
Pan-fry the stuffed chicken until golden brown.
Finish cooking the chicken in the oven until it reaches an internal temperature of 165°F.
Pro Tips:
Be patient when caramelizing onions; taking the time to cook them slowly will yield the best flavor and texture.
Heat oven before putting the vast iron skillet or oven safe skillet into the oven.
The outside of the chicken should be golden brown.
Use an instant-read thermometer to check the temperature.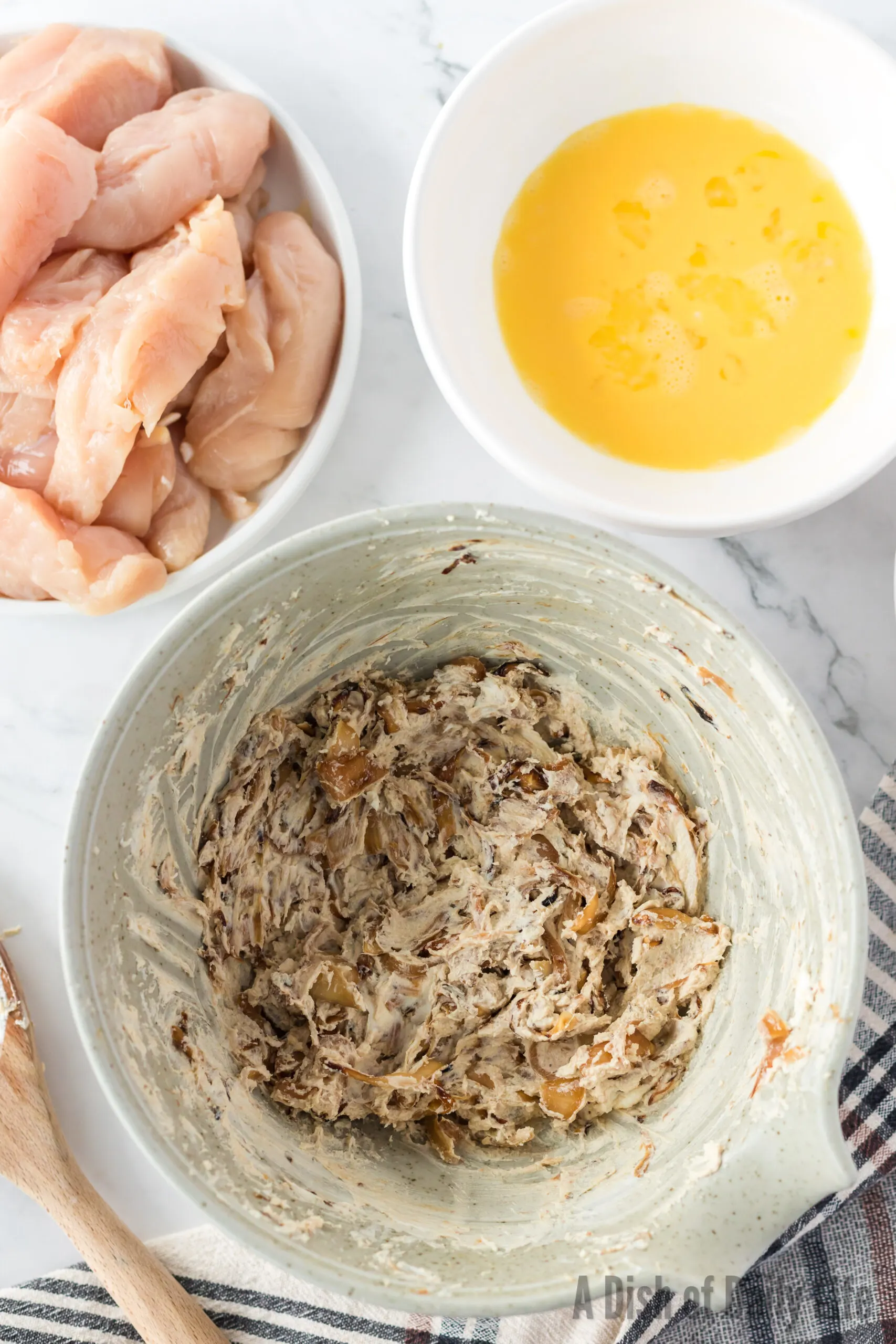 What Is Goat Cheese?
Goat cheese is a soft, creamy, tangy cheese made from the milk of goats.
It has a distinct, slightly tart flavor and comes in various textures, from crumbly to spreadable.
I also find that some goat cheese can taste more grassy than other goat cheese.
I recommend buying a higher quality goat cheese for best results.
Is Goat Cheese Healthy?
Goat cheese is considered a healthy cheese option due to its lower fat and calorie content compared to cow's milk cheese.
This makes it good for a low calorie diet and a very good option for a lot of people.
It also contains beneficial nutrients, including protein, calcium, and vitamins.
However, moderation is key in all things and if you've got specific dietary requirements, you should check your own requirements.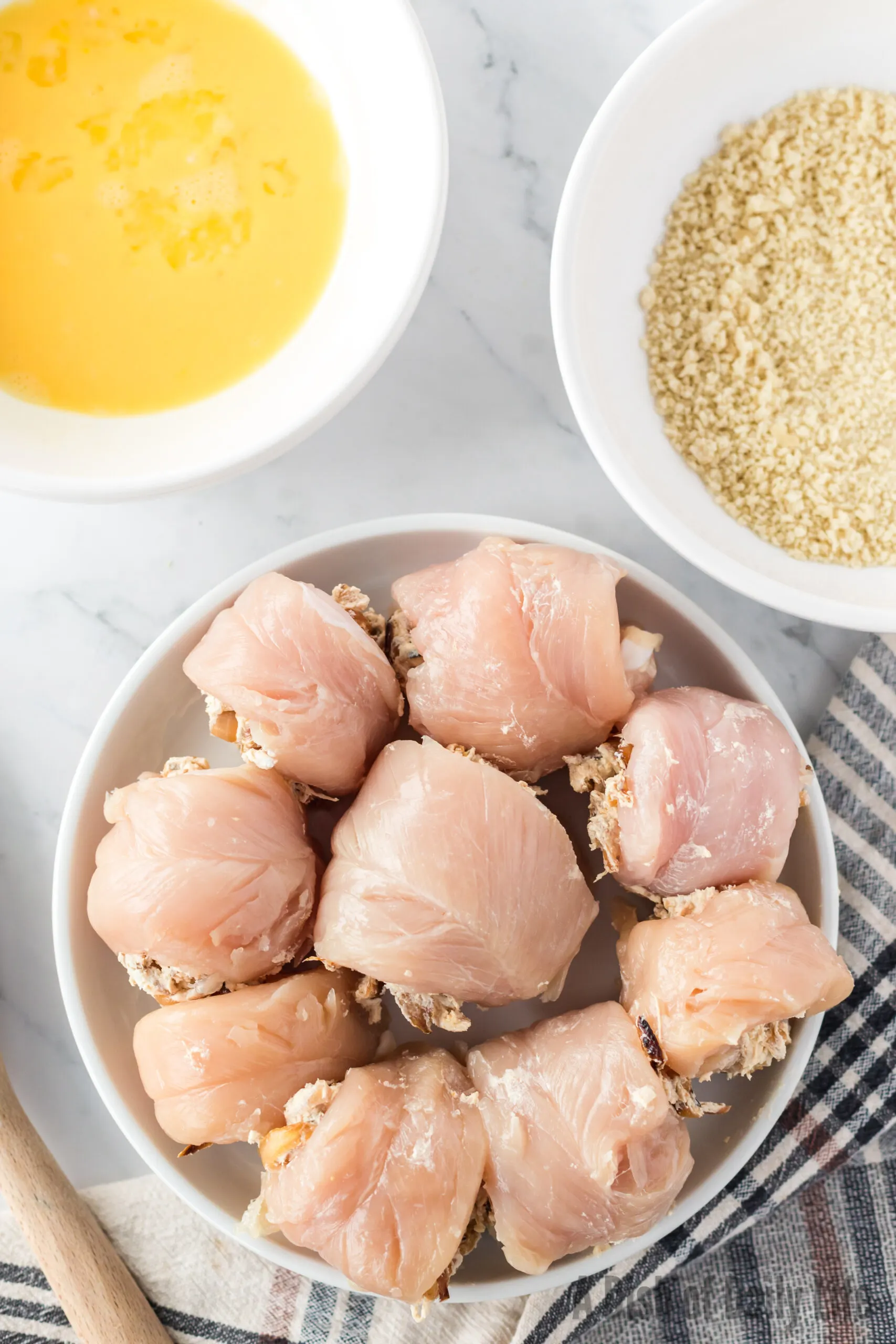 How to Make Caramelized Onions?
Making caramelized onions is actually pretty simple. Any clean work surface will work!
First, grab a sharp knife and a cutting board. Chop the onions and lets get to cooking.
Melt butter over medium heat in a large skillet.
Add chopped onions and stir to coat with butter.
Cook the onions on medium high heat, stirring occasionally, until they become soft, golden brown, and caramelized, which usually takes a while.
Near the end of the cooking process, add balsamic vinegar and continue to cook for a few more minutes.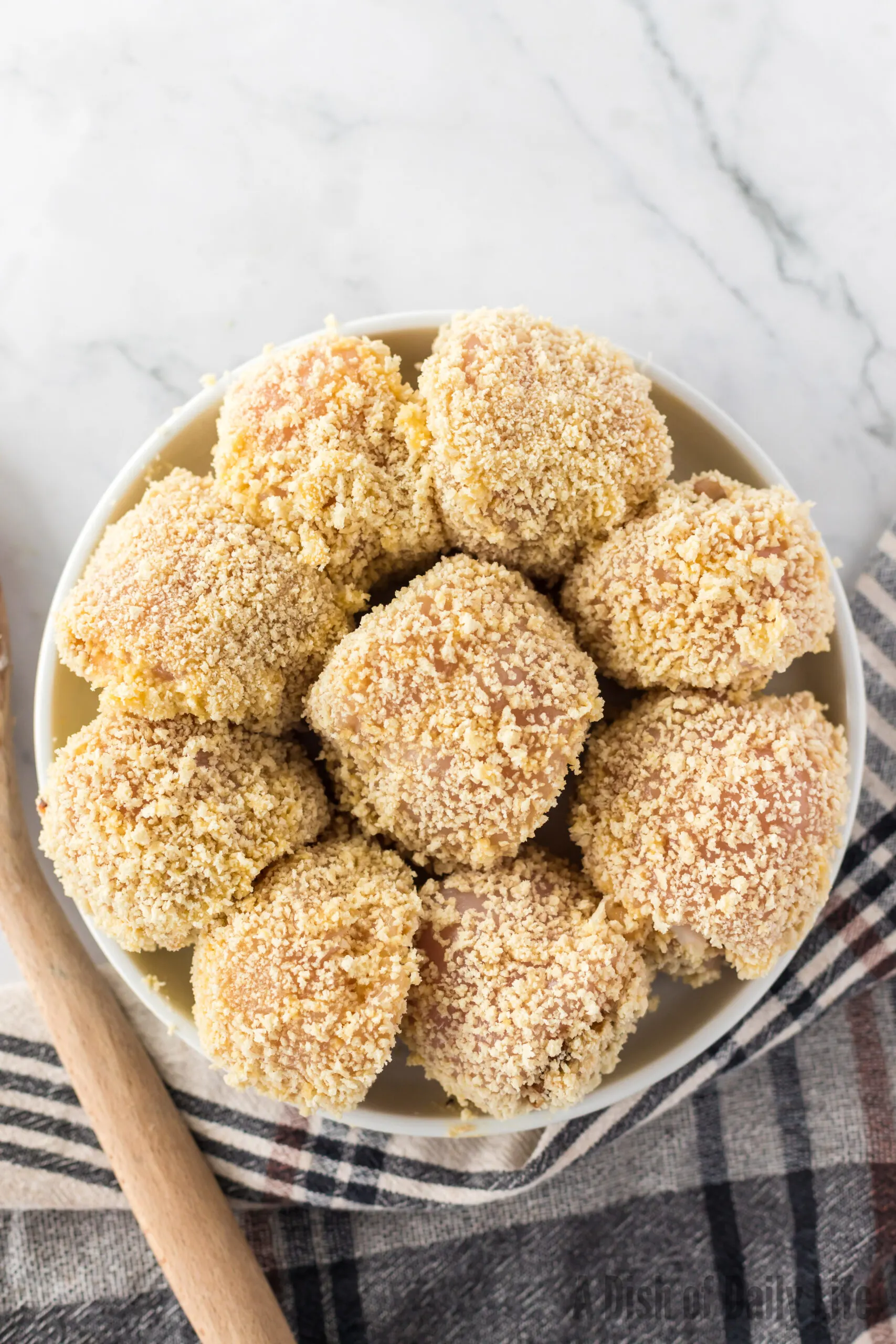 Are Caramelized Onions Healthy?
Caramelized onions can be a healthy addition to your diet, as onions are a good source of vitamins, minerals, and antioxidants.
However, the butter or oil used for caramelizing can add calories and fat to the dish.
Opt for healthier cooking methods like using olive oil or cooking spray if you're watching your calorie intake.
What Goes Well with Goat Cheese Stuffed Chicken?
Caramelized onion stuffed chicken breast pairs well with a variety of sides, such as:
Roasted Vegetables
The Best Mashed Potatoes or Easy Potato Gratin Stacks
Rice Pilaf or Red Quinoa and Butternut Squash Salad
Grilled Lemon Cream Pasta or Summer Pasta Salad
Farro Salad with Fresh Spinach or Spinach Salad with Pomegranate Dressing
Four Cheese Roasted Garlic Bread or Cranberry Vanilla Eggnog Bread
Don't forget simple things either! Some green beans or fresh asparagus make the perfect date night side dish.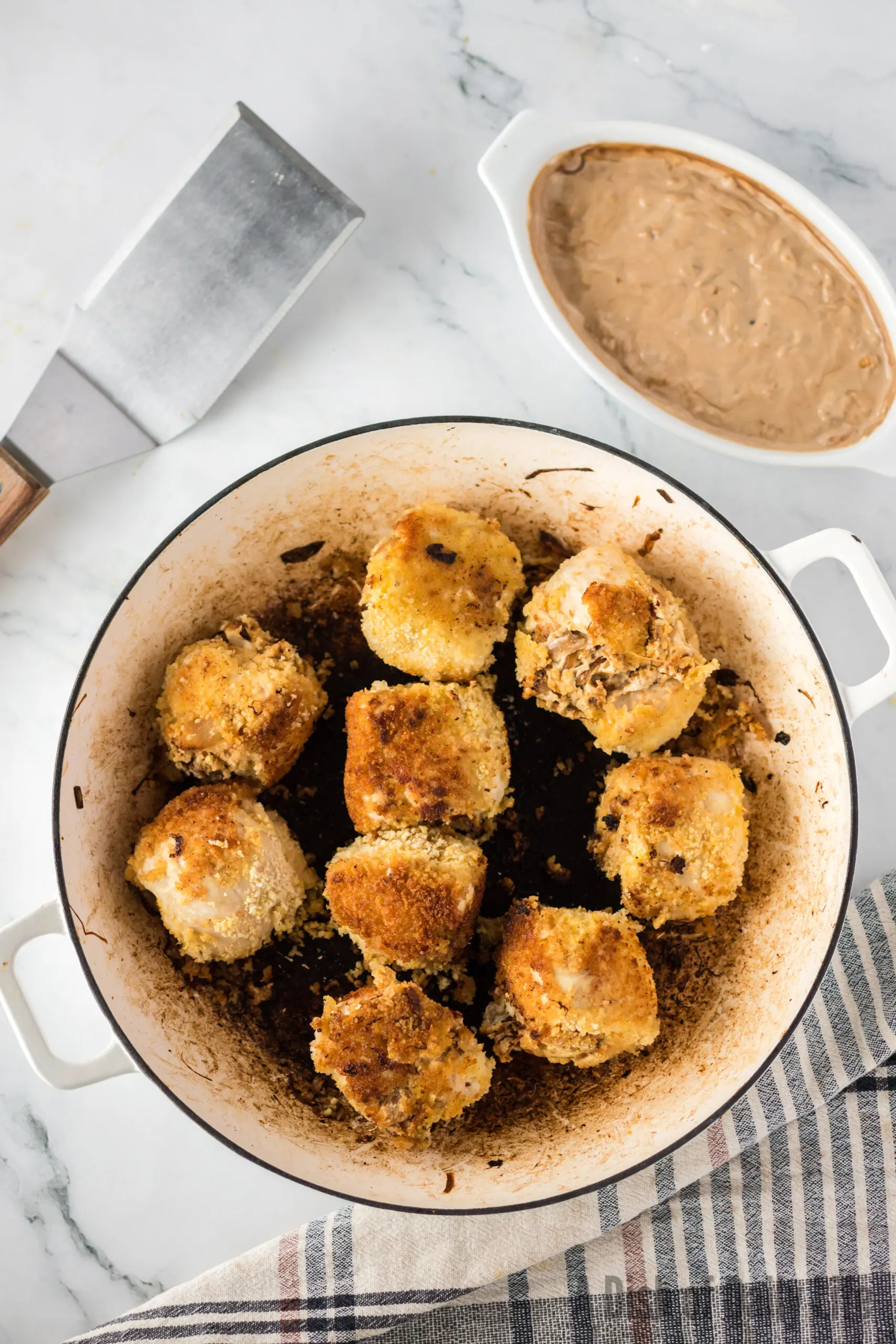 Can You Freeze Goat Cheese Stuffed Chicken?
Yes, you can freeze goat cheese stuffed chicken.
Be sure to wrap the uncooked, stuffed chicken pieces tightly in plastic wrap or aluminum foil, and place them in an airtight container or freezer bag.
Freeze for up to three months.
Thaw the chicken in the refrigerator overnight before cooking as directed.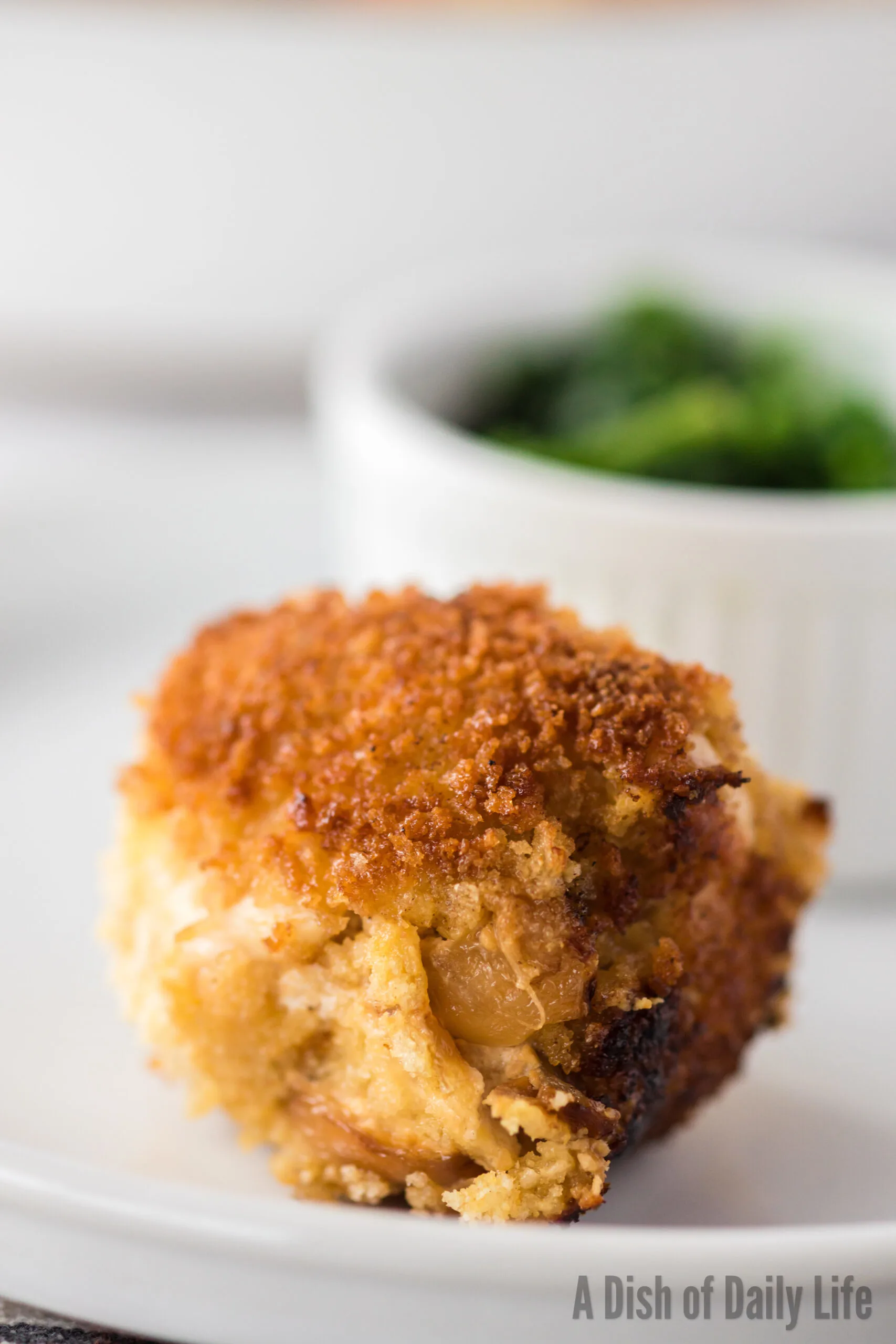 How to Store Goat Cheese Stuffed Chicken?
Store any leftover cooked goat cheese stuffed chicken in an airtight container in the refrigerator for up to 3-4 days.
First, let the chicken cool to room temperature. Then transfer to your container.
Reheat the chicken in the oven at a low temperature, such as 300°F, until warmed through.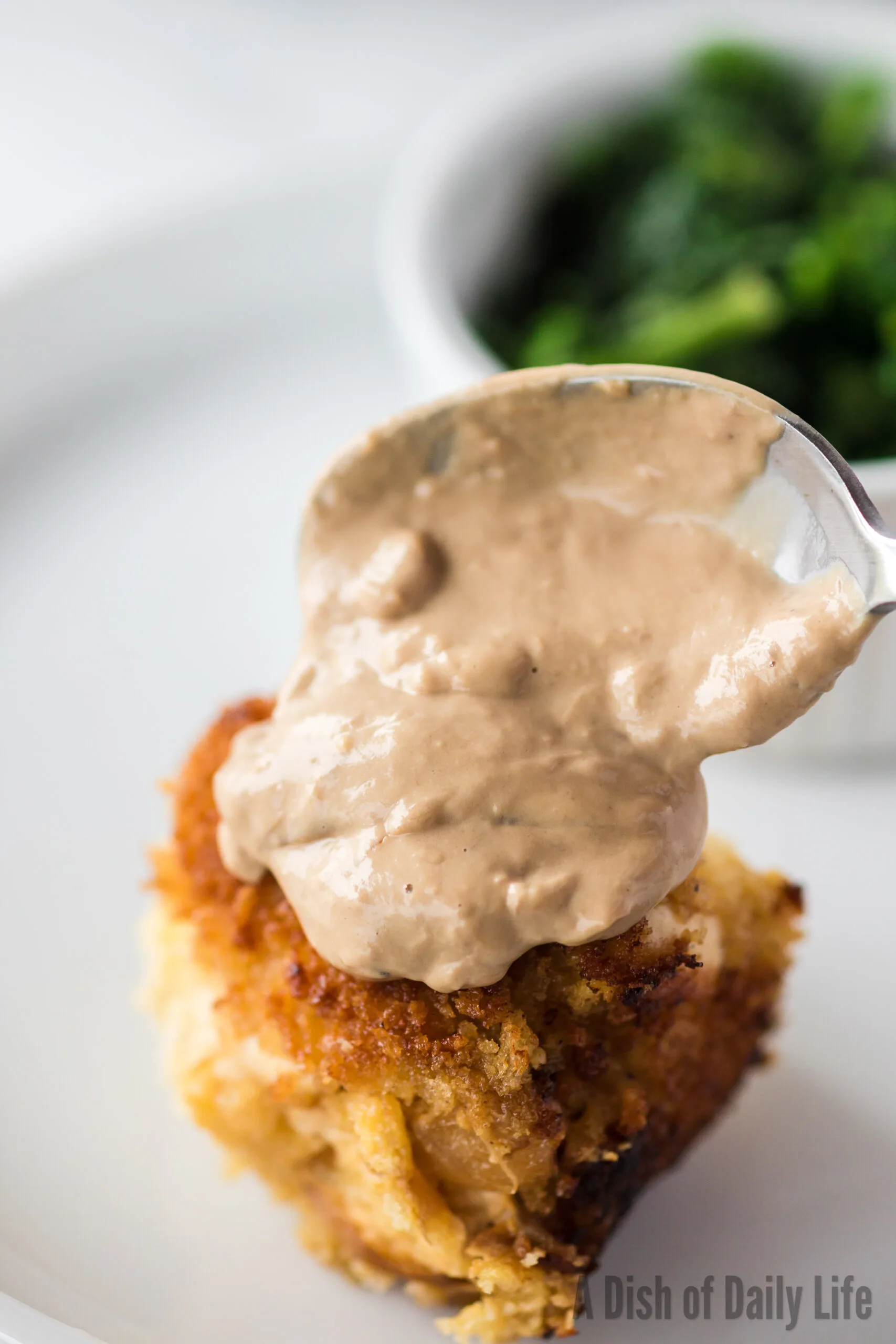 Enjoy this mouthwatering Goat Cheese Stuffed Chicken and savor the incredible combination of flavors!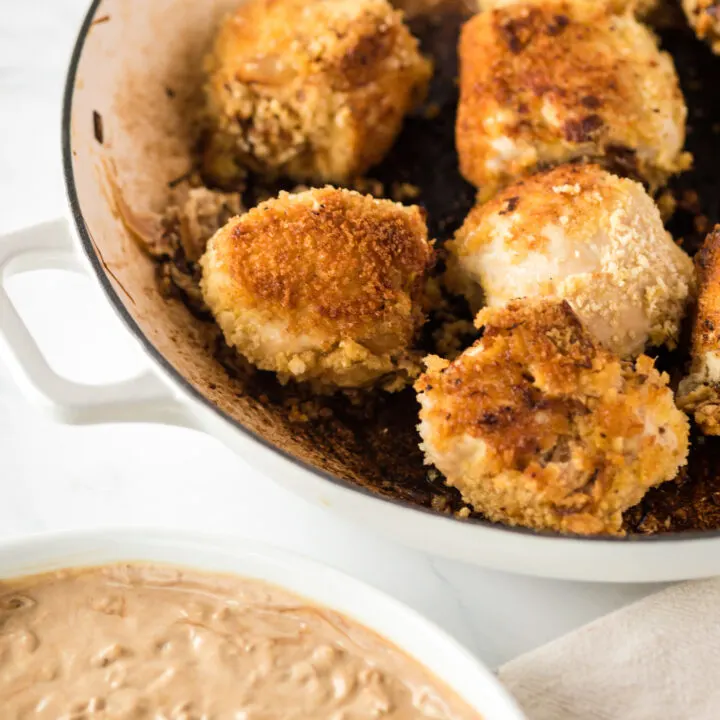 Goat Cheese Stuffed Chicken
Total Time:
2 hours
30 minutes
Indulge in the rich, creamy flavors of this Goat Cheese Stuffed Chicken recipe that is perfect for a special dinner or a cozy weeknight meal!
Instructions
Caramelizing the Onions
Melt your butter in a large skillet over medium heat.
Add your onions to the pan; stir to coat.
Check on your onions every 10 minutes or so and give them a stir; lower the heat to medium / medium low as you cook so you don't burn your onions.
At around 50 minutes, add 1/4 cup of balsamic vinegar. Continue to stir the onions for a few more minutes.
Remove from heat and let cool.
Goat cheese and caramelized onion mixture
Once the caramelized onions have cooled, combine the onions with the goat cheese. Mix well.
Chicken
In a bowl, whisk together your egg and milk.
Place 2 - 3 Tablespoons of the goat cheese mixture on each tenderloin. Be as generous as you can without making it too difficult to roll.
Once your chicken is rolled, dip it in the egg mixture, then coat with bread crumbs. Set aside until all your tenderloins are rolled.
When you're ready to start cooking, heat vegetable oil in a skillet and pan fry the chicken to give a nice golden color on the bread crumbs. You don't need to cook the chicken all the way through, it will also go in the oven.
Once they are golden brown, remove from heat. You'll be doing these in batches; add more oil as needed.
Finish cooking the chicken in the oven at 350 degrees until they are cooked all the way through. Chicken should register 165 degrees to be considered done. This should take 10 - 15 minutes.
Sauce (optional)
When your chicken is ready for the dinner table, take any leftover of the goat cheese mixture and whisk together with 1/4 cream over low heat. Once the goat cheese has liquefied, spoon over your chicken.
Notes
If you know you aren't going to want the sauce, you might want to consider adding another pound of chicken tenderloins and making extras for leftovers.
Originally Published: December 8, 2014
Photos & Text Updated: July 22, 2023