Healthy meets delicious with this Superfood Salad with Power Greens!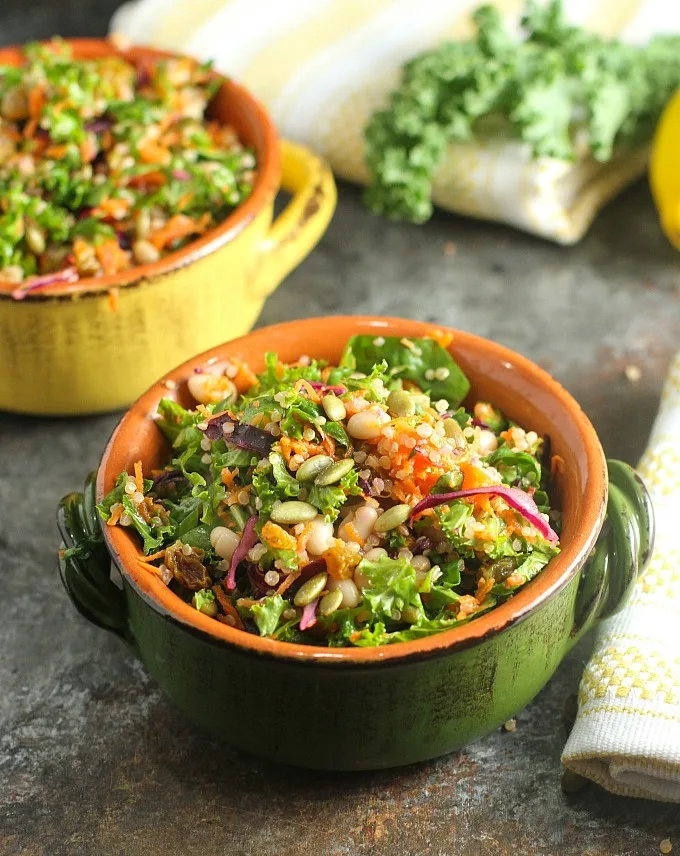 Kale is one of my favorite greens for salad. I originally started playing around with kale salad combinations for my daughter who was looking for healthy salad options that she could take to school during the week. The great thing about kale is that, unlike lettuce, it holds up great for days with a dressing on it. Often times, I'd make a batch for us on Sunday, and we'd all eat it throughout the week.
Usually those kale salad combinations include quinoa too. I have another kale and quinoa salad combination on the blog that I make frequently, Lemony Kale Quinoa Salad. My newest addition, Superfood Salad with Power Greens, is a bit of an unusual combination of ingredients but but they all work great together. It's got a little crunch, a little sweet, and lots of power greens! It's as healthy as it is delicious, and it's super easy to make as well!
I first tried this combination out at the end of the track season last year and brought it to the State meet for myself and a friend because I didn't particularly want to eat concession stand food. It was in experimental stage back then, so my friend was my taste tester. She gave it a thumbs up!
Then my husband and I bought a local gym, and everything else in my life kind of got put on the back burner and I never ended up posting it.
Fast forward four months, and I am finally sharing the recipe!
As I mentioned before, I started playing with kale and quinoa salad options because I was looking for healthy salad options. Nutrition plays such a big part in a healthy lifestyle, from fueling up before exercise to rebuilding muscle after exercise to how you feel in general. I come from a very athletic family so I'm very conscious of what I'm serving at meal time. What we eat affects us in so many different ways.
Kale is a big favorite with us. It's high in fiber, packed with antioxidants, plus it's an anti-inflammatory food, which makes it a great addition to an athlete's diet. It's also part of the "dirty dozen" (high amounts of pesticide residue) so buy organic if you can.
Quinoa is also a great addition to your diet! I wish I'd known about it sooner. I actually only started cooking with quinoa a few years ago. Quinoa is an ancient food of the Incan civilization. It's often referred to as a grain, but it's actually a seed. Quinoa is gluten free so it's a great "grain" substitute for those that have a gluten allergy or intolerance. Vigo Quinoa is a premium product, already pre-washed, and a little nutty in taste. It cooks up quite fluffy, adds a nice texture to any meal it's added to, and it can be used in place of other grains.
In terms of health benefits, quinoa is often described as a superfood. It's a complete protein with all the essential amino acids and high in antioxidants. It's actually one of the few plants that contains all of the essential amino acids. Let's talk about what that means for us. When you work out, you're break down your muscle fibers. Protein helps rebuild and repair those muscles. It's important for recovery. Antioxidants fight free radicals, which in turn helps prevention of cancer and other diseases.
I always cook mine in a rice cooker now because it's absolutely foolproof. It's quite the handy little appliance. All you have to do is add your quinoa and water to the rice cooker, close the lid, pick the white rice setting and wait for it to beep to signal it's done cooking. And when it's done cooking, it actually stops cooking. That was my problem with the stove top. I'd get distracted, and overcook or burn my quinoa. I use quinoa a lot in salads, but I've also used it in soups and as a replacement for rice as a base.
The rest of the ingredients in this Superfood Salad pack a powerful punch too. Swiss chard is a powerhouse of vitamins; red cabbage has high levels of antioxidants that are helpful in cancer prevention; carrots help reduce cholesterol, which in turn helps prevent heart disease; white beans are high in fiber and also antioxidants, again helpful in fighting off cancer; golden raisins have antihistamine and anti-inflammatory properties; and pumpkin seeds are a great source of vitamins and minerals, also have anti-inflammatory properties and may even help you get a good night's sleep due to being a rich source of tryptophan (which your body converts into serotonin and then melatonin). We all know how important sleep is for our health. And this is just a small amount of the health benefits these foods offer!
SUPERFOOD SALAD WITH POWER GREENS
Cook your quinoa according to package directions. I find a 1/2 cup of quinoa will become a little over a cup once it's cooked. I let it cool before I add it to the salad.
You can make your lemon dressing while you're waiting.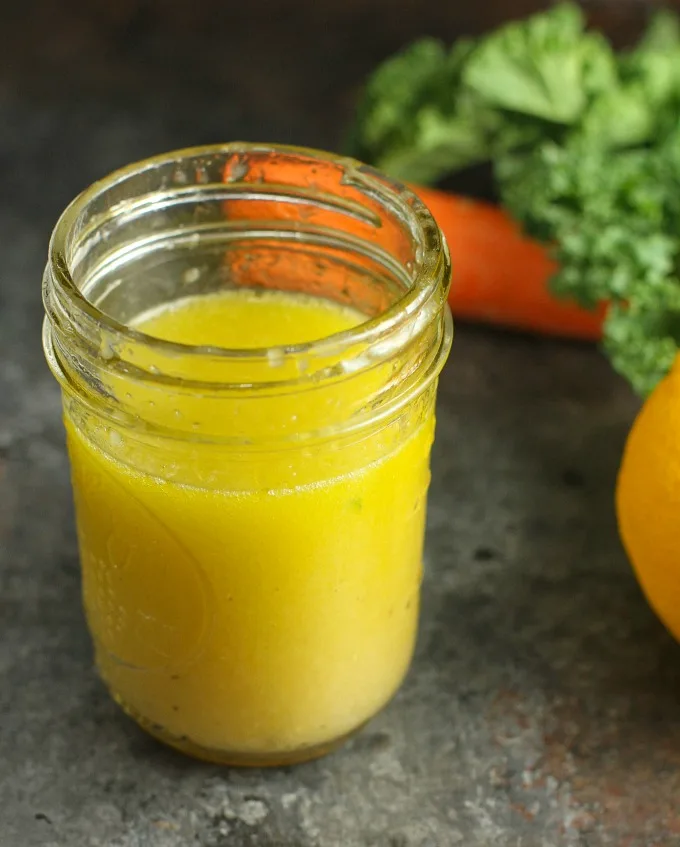 Combine all your ingredients together in a large bowl.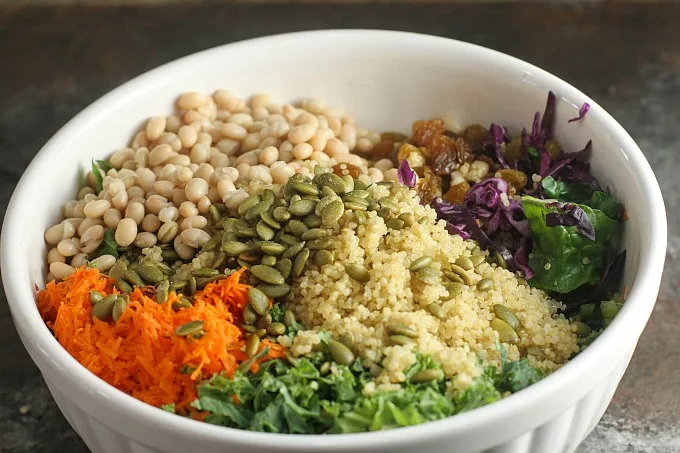 Add the dressing a little at a time and toss. I find everyone likes their own salad dressed a certain way, so by dressing it slowly, you'll be able to get it just the way you like it.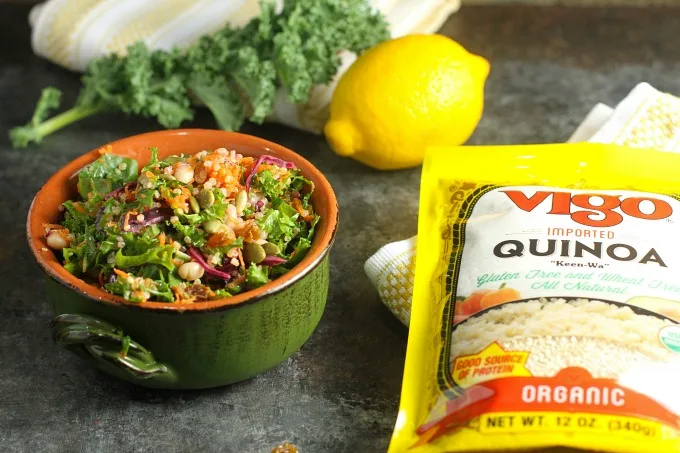 Doesn't it look good?!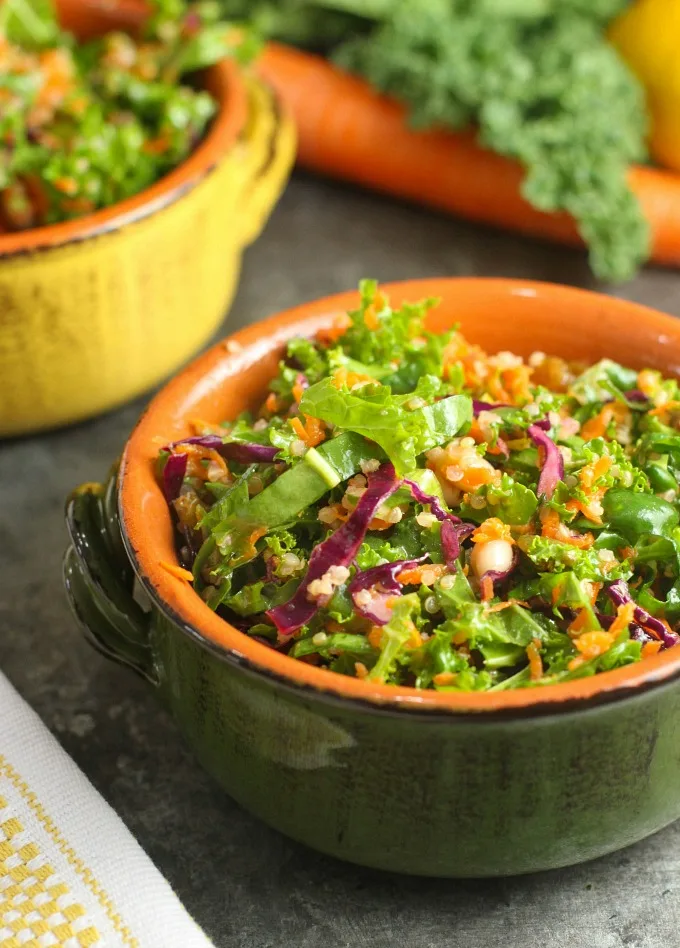 MORE GREAT SALADS YOU MAY ENJOY
Now for our recipe! If you make this Superfood Salad with Power Greens recipe, let me know what you think!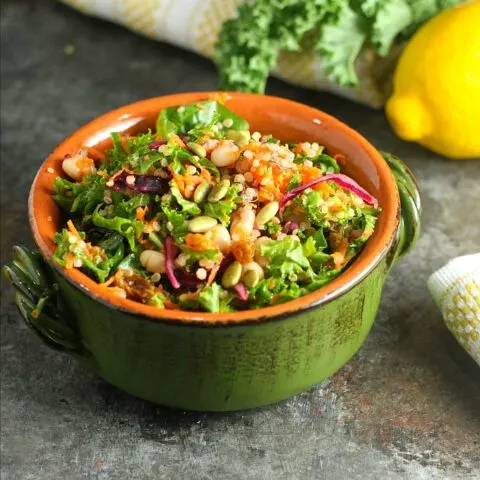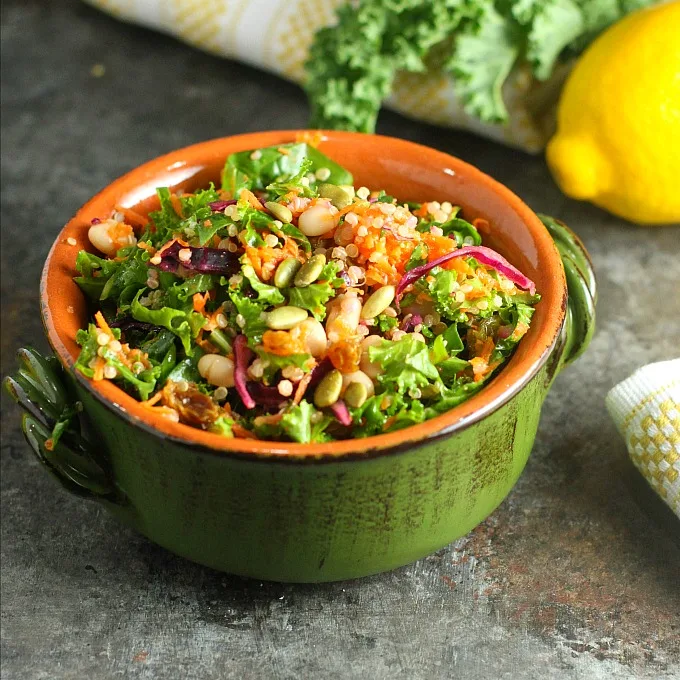 Superfood Salad with Power Greens
This Superfood Salad packs a powerful nutritional punch!
Ingredients
Salad
4 cups kale, ribs removed, chopped
2 cups swiss chard, ribs removed, chopped
2 cups carrots, shredded
1 cup red cabbage, chopped
1/2 cup Vigo quinoa, cooked (will make a little over a cup cooked)
1 15.5 oz can small white beans, drained and rinsed
2 Tbsp green onion, chopped
1 cup golden raisins
1/2 cup pepitas (shelled pumpkin seeds)
Lemon Dressing
2 tsp honey
1 tsp Dijon mustard
1 tsp lemon zest
1/4 cup Vigo extra virgin olive oil
1/2 cup lemon juice
Liberal grinding of salt and pepper
Instructions
Cook quinoa according to package directions.
Mix all salad ingredients together.
For the lemon dressing, mix honey and Dijon mustard together; add lemon zest, olive oil, lemon juice and salt and pepper. Whisk to combine.
Add dressing to salad mixture; refrigerate for a half hour or so to allow the salad to absorb a little of the dressing.
Nutrition Information:
Amount Per Serving:
Calories:

265
Total Fat:

11g
Saturated Fat:

2g
Cholesterol:

0mg
Sodium:

61mg
Fiber:

6g
Sugar:

15g
Protein:

8g