Delicious and nutritious, Lemony Kale Quinoa Salad is a colorful salad packed with lots of health benefits! A mix of kale, quinoa, white beans, peppers and carrots finished with a lemon vinaigrette, this salad is sure to be a new favorite!
As I've mentioned before, we belong to a CSA, and we also have a farmer's market right downtown. I usually pick up my share at the CSA on Saturday mornings and then stop right over at the farmer's market to supplement for the week. We go through a lot of veggies here!
Lately I've been on a kale kick. I've been making a lot of kale quinoa salads. The last batch was a big hit, disappearing quickly! My daughter is constantly asking me to make this for her. You know it's good when your teenager eats it before you get any!
It's a simple salad…kale, quinoa, small white beans, red pepper, carrot, a little parsley, and a lemon vinaigrette. I make it ahead and store it in the refrigerator…the kale leaves are strong enough to hold the dressing for several days without a problem.
Lately I've been cooking my quinoa in my rice cooker. I am notorious for burning quinoa and using the rice cooker is foolproof…comes out perfect every single time! All I have to do is add my quinoa and water to the rice cooker, close the lid, pick the white rice setting, and wait for the beep signaling that it's done cooking. Super easy. Honestly, I don't know what I'd do without this handy little appliance now…I never cook my quinoa or rice on the stove anymore because it's so much easier to make it in the rice cooker.
Kale is actually one of the healthiest vegetables…its benefits include better bone health, helping detox your body, lowering your risk of cancer and diabetes, and more
Quinoa is another superfood…high in fiber and protein, and low in fat, it has more vitamins and nutrients than any other grain.
Also high in protein and fiber, white beans are a good source of nondairy calcium, and they also have anti-inflammatory properties.
Between the kale, quinoa, beans, and the other vegetables, this kale quinoa salad packs a punch in terms of health benefits!
This salad is gluten free and could also be vegan if you substituted another sweetener for the honey in the dressing. Personally, I love honey as a sweetener, and local honey has a lot of health benefits as well. But it's easy enough to substitute.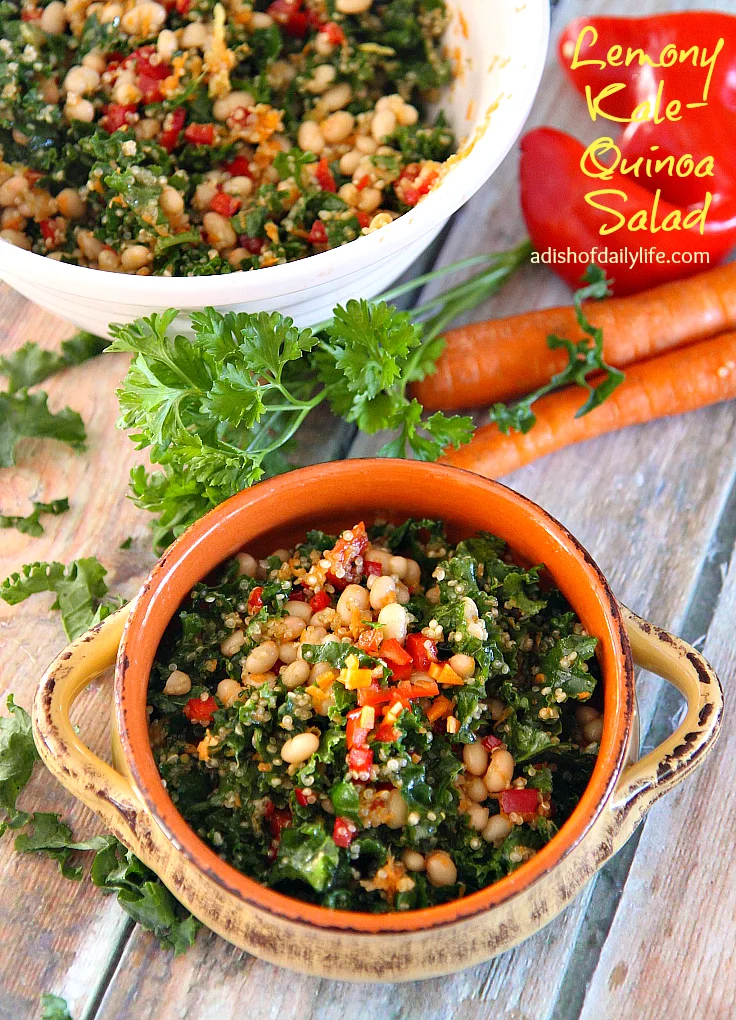 Lemony Kale Quinoa Salad
Ingredients
2 cups kale, leaves removed from rib, chopped
1 carrot, grated
1 small sweet red pepper, chopped finely
1 can of small white beans, drained and rinsed
1/2 cup of quinoa, cooked according to package directions
handful of parsley, chopped
Dressing
1/2 teaspoon lemon zest
1 teaspoon honey
1/2 teaspoon dijon mustard
liberal grinding of sea salt
4 tablespoons of lemon juice
3 tablespoons of olive oil
ground black pepper
Instructions
Cook quinoa according to package directions.
Remove leaves from kale, clean, and chop finely.
Grate carrot.
Chop red pepper.
Chop parsley.
Rinse small white beans and let excess water drain.
Combine all ingredients.
For the Dressing
Whisk together the lemon zest, honey, dijon mustard, salt.
Add the lemon juice and whisk together again.
Continue to whisk, and add the olive oil slowly.
Season with black pepper and more salt if needed.
Notes
This recipe can be made vegan by substituting another sweetener for the honey.