This Cuban Sandwich is packed with flavor — a mouthwatering combination of Cuban pork, ham, swiss cheese, and pickles, grilled to golden perfection!
I am a sandwich girl. Not just any 'ol sandwich of course…but a good gourmet sandwich will get me every time. And I absolutely LOVE paninis. Our panini press gets a lot of use. We went through a period of time during the sports season where we had soup and paninis once a week. We got out of that habit, but I kind of miss it.
I would load up the sandwiches with yummy fillings, and I would also make extra because then I could have another panini for lunch the next day. I love my leftovers!
I honestly don't know why I don't have more of my favorite sandwiches and paninis on the blog…I think it's because I don't necessarily see things that are easy to make as recipes per se. I really should share them though, and I am going to try to do more of that going forward.
Starting with this Cuban Sandwich today.
CUBAN SANDWICH
If you've had a Cuban Sandwich, you know the meat can make all the difference in the world. Using a Cuban style pork is key.
Using baked ham would also make this Cuban Sandwich extra delicious. Keep that in mind when you have leftover ham from Christmas, Easter or even Sunday Supper! If you don't have ham leftovers, then a good deli ham will do. Since I haven't cooked a ham recently, I had to use deli ham.
To make your Cuban style pork, rub your pork tenderloin with olive oil and then rub the spice mixture all over. Pan sear your meat, and then you're going to cook it in the oven covered for 15-20 minutes with the orange and lime juice at the bottom of the pan.
It's tasty all by itself, and very versatile…you're going to see another recipe with it coming up on the blog soon too, which was a result of a conversation with a friend who was trying to come up with a dinner recipe. I rattled off this Cuban pork recipe and sent her to another recipe on the blog for a sauce idea, and she said it was a hit with her family. She sent me "before" full plate and "after" clean plate pictures. Always a good feeling!
But back to our Cuban Sandwich!
While your meat is in the oven, you can cut your bread and slather on the yellow mustard on one side of the bread while you're waiting. Yellow mustard is what is traditionally used, but I've used a nice grainy mustard too, and I like that as well.
Sandwich assembly takes almost no time at all. Once your pork tenderloin is ready to go, you simply slice it and then layer on the pork slices, ham, swiss cheese and pickles. Tradition says to use dill pickles, but I'm using bread and butter pickles for this recipe. You can use what you like. Either will taste great. I like to mix things up sometimes.
Top with another slice of bread, brush the outsides of the bread with olive oil, and you're ready for the panini press. Grill to golden perfection — and melty cheese of course!

Doesn't that look good?!
OTHER SANDWICH RECIPES YOU MAY ENJOY: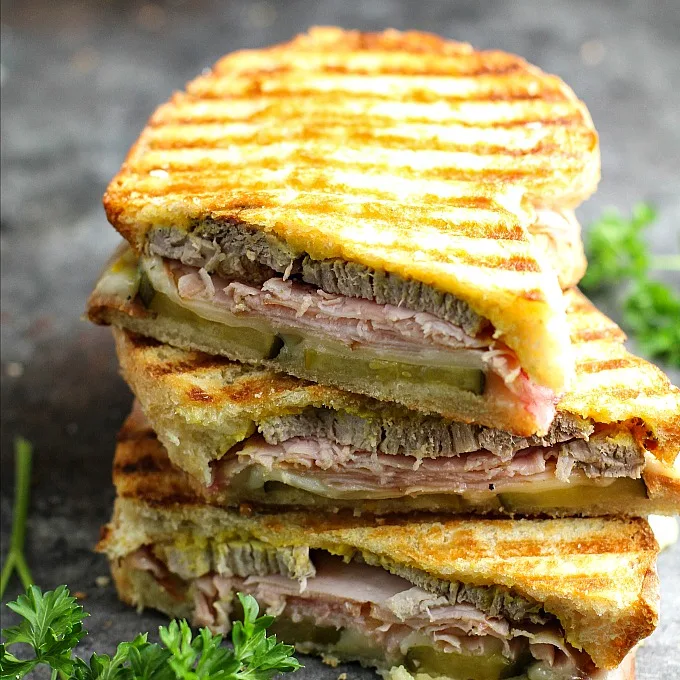 Cuban Sandwich
This Cuban Sandwich is packed with flavor -- a mouthwatering combination of Cuban pork, ham, swiss cheese, and pickles, grilled to golden perfection!
Ingredients
Cuban Pork
1 1/3 lb pork tenderloin
2 tablespoons olive oil
1 teaspoon salt
1 teaspoon pepper
2 teaspooons cumin
2 teaspoons oregano
1/4 teaspoon red pepper flakes
3 tablespoons lime juice
3 tablespoons orange juice
Cuban Sandwich
Loaf of crusty bread
Yellow mustard
Cuban pork
1/2 lb thinly sliced deli ham
1/2 lb swiss cheese
bread and butter pickles
Instructions
Cuban Pork
Preheat oven to 425 degrees.
Combine all spices together.
Rub olive oil, then rub spice mixture all over pork tenderloin.
Sear over medium high heat to brown meat.
Add orange and lime juices and pork tenderloin to covered dish and cook for 15-20 min or until internal temperature is between 145-160 degrees.
Slice pork.
Cuban Sandwiches
Slice bread.
Spread one side of bread with yellow mustard.
Layer pork slices, 3-4 slices of ham, 3 slices of swiss cheese, and pickles on top of mustard.
Top with another slice of bread.
Brush top and bottom of bread with olive oil, and grill on panini press.
When cheese is melted, your panini is ready.