You will love this Crock Pot Pork Carnitas recipe! Tender, shredded pork meets a delicious blend of spices, citrusy goodness, and a touch of jalapeno heat.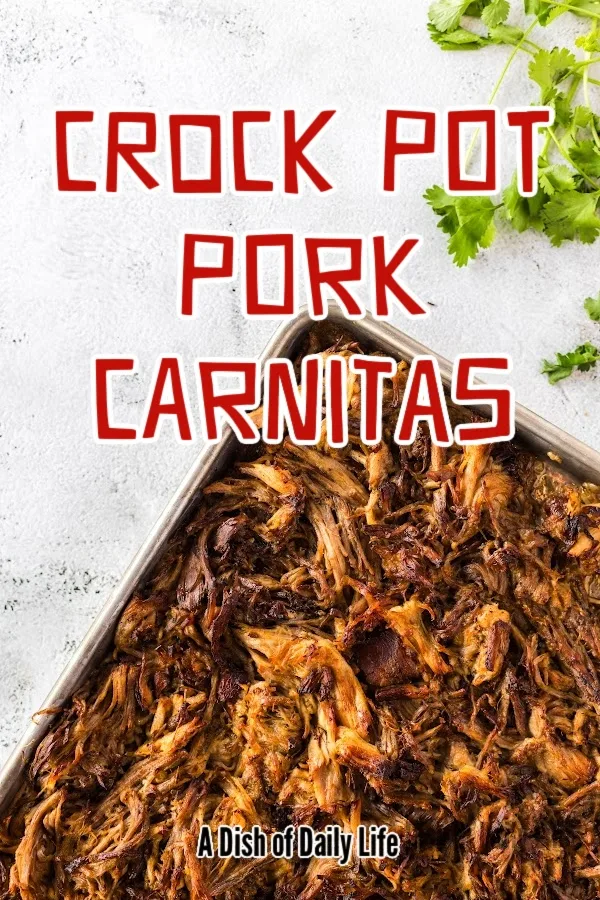 I love recipes that take a cheaper cut of meat and turn it into a delicious masterpiece that I can use in so many different ways.
That is exactly what these crock pot pork carnitas do.
And in just a few minutes of prep work in the morning, it slow cooks while you are busy with life, and you can come home and have a perfectly delicious meal waiting for you.
So it makes you feel better about all your life choices that day. That is the power of this easy slow cooker pork carnitas recipe.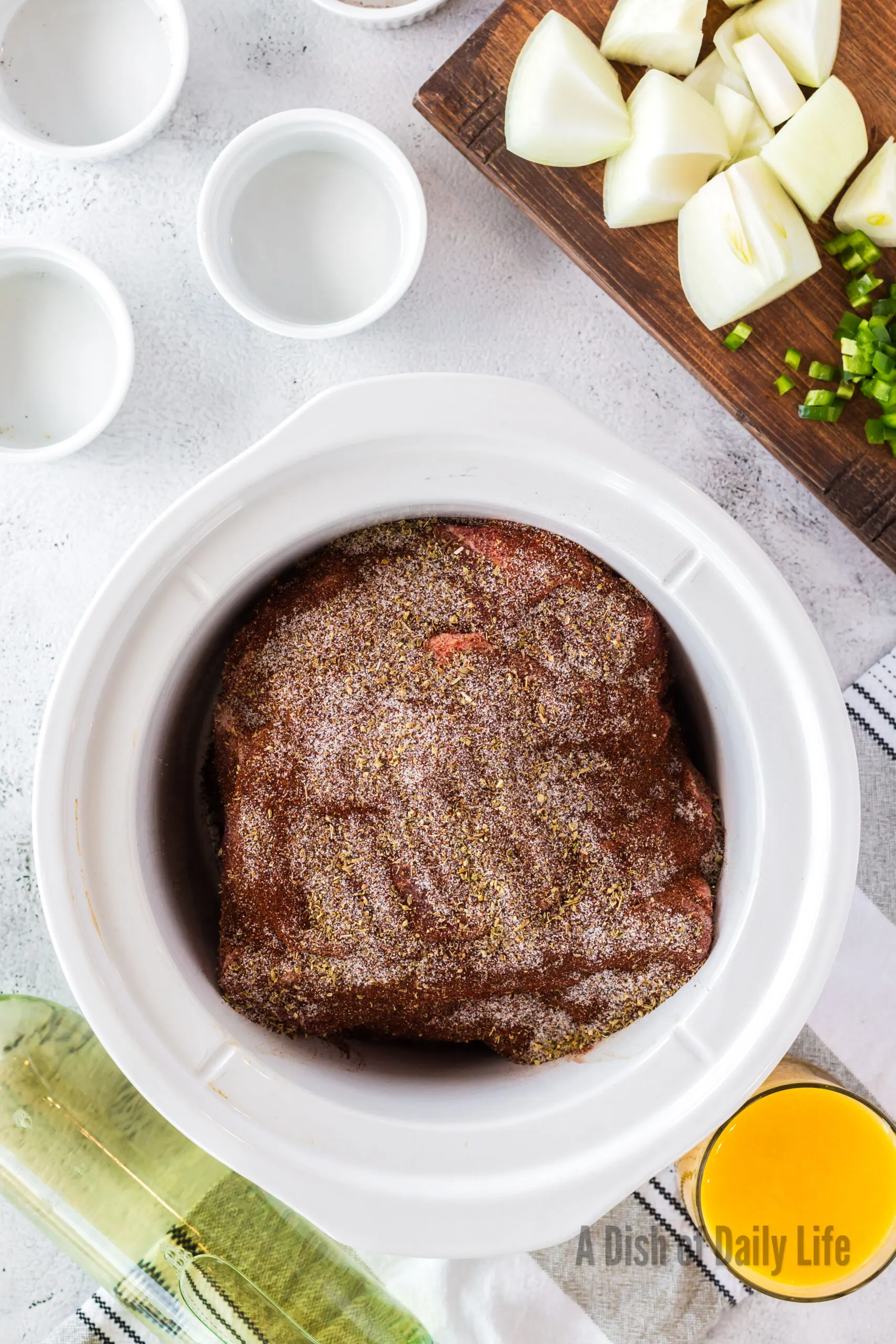 What Are Pork Carnitas?
Pork carnitas are a delicious Mexican dish that uses slow-cooked, seasoned pork that is then shredded and crisped for a perfectly delicious meat with crispy edges.
Traditional carnitas are eaten right off the pan in my kitchen.
But they also make the best part of your burrito bowl, taco night, or however you use them!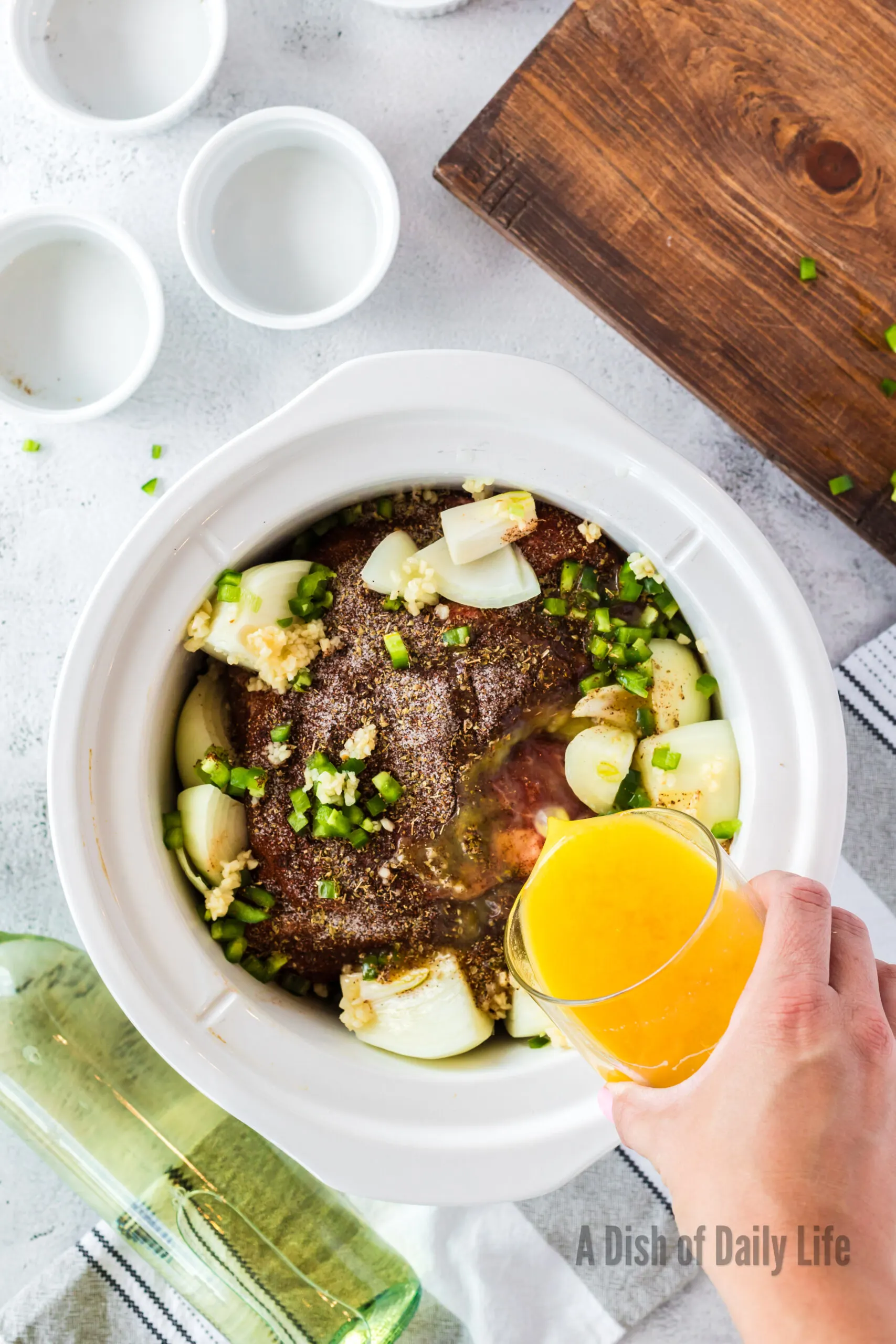 What Ingredients Are in Crock Pot Pork Carnitas?
Pork Butt: The star of the show, providing rich, melt-in-your-mouth goodness.
Salt: brings out the flavor of all the other spice mixture flavors and makes the meat taste better
Black Pepper: adds seasoning to the dish
Oregano: balances the earthy and citrusy notes of the meat
Chili Powder: adds heat to the mexican spices blend
Onion: helps tenderize the pork roast as it cooks to give you fall-apart tender meat
Garlic: adds flavor to the meat dish
Jalapeno: gives depth and a little spice to the dish.
Orange Juice: adds bright flavor notes to the the crockpot pork carnitas
Lime Juice: adds a tang that balances the savory elements.
White Wine: adds a touch of acidity and depth to the sauce.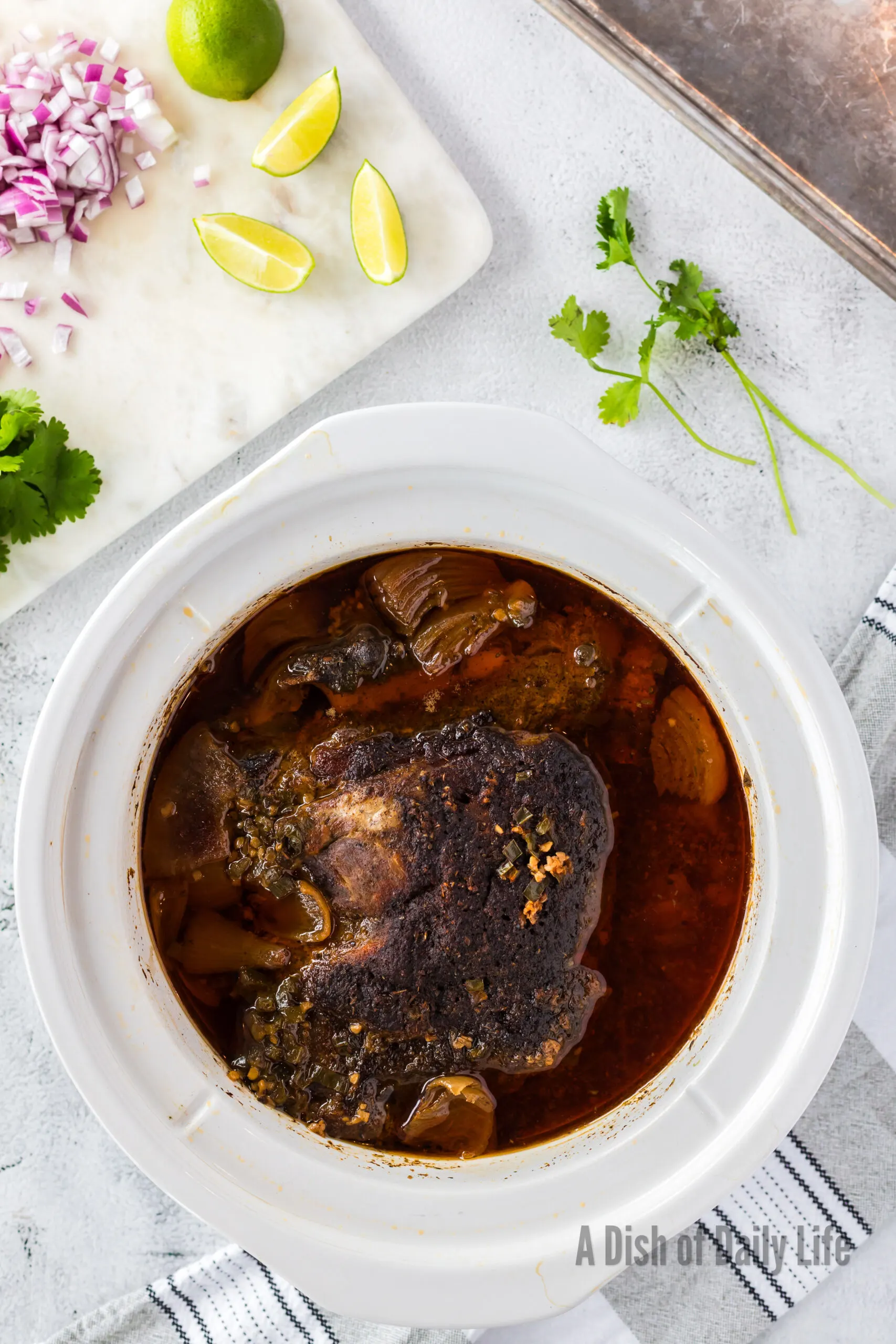 How to Make Crock Pot Pork Carnitas:
Trim pork butt and rub spice blend on.
Layer onions, garlic, jalapeno in a slow cooker, and add citrus juices and wine.
Cook on low heat.
Shred the meat.
Broil in a single layer until desired crispiness is achieved.
Serve!
Pro Tip: Like any crock pot recipe, you can make these shredded pork burrito bowls in the instant pot. That's a great thing to do if you pull your pork butt out of the freezer and realize you forgot to thaw it. Follow the directions exactly, but put it in your pressure cooker on high pressure for 45-60 minutes depending on how big your roast is.
Barbacoa vs. Carnitas:
Barbacoa is seasoned, slow-cooked beef (usually from the cheek), while carnitas are seasoned, slow-cooked pork.
Both are delicious, but crockpot carnitas are specifically a pork dish.
What Cut of Pork for Carnitas?
The best cut of pork for carnitas is pork butt, also known as pork shoulder roast. Pork butt carnitas will give you the best flavor that will hold up to any way you serve the meat.
Pro Tip: Don't be afraid of the fat throughout the meat! Its marbling gives you juicy, flavorful carnitas.
Can You Use Pork Loin for Carnitas?
While pork loin or pork tenderloin can be used for carnitas, it is leaner and may result in drier carnitas.
Stick with pork butt for the best results.
What to Make with Crock Pot Pork Carnitas:
I have made almost everything with crock-pot pork carnitas. The possibilities are endless! Here are some of my favorite ways to use it:
Tacos: set out corn tortillas, flour tortillas, crunchy shells, your favorite toppings, and have a perfect make your own Taco Tuesday night
Burritos: take a warm tortilla, add black beans, rice, and fajita veggies for the best carnitas burrito you have ever eaten
Nachos: Layer chips, cheese, carnitas, and all of your favorite nacho toppings like guacamole and sour cream for a perfect snack or appetizer
Carnitas Bowl: serve over rice and beans for a complete meal (find my favorite way to do that here!)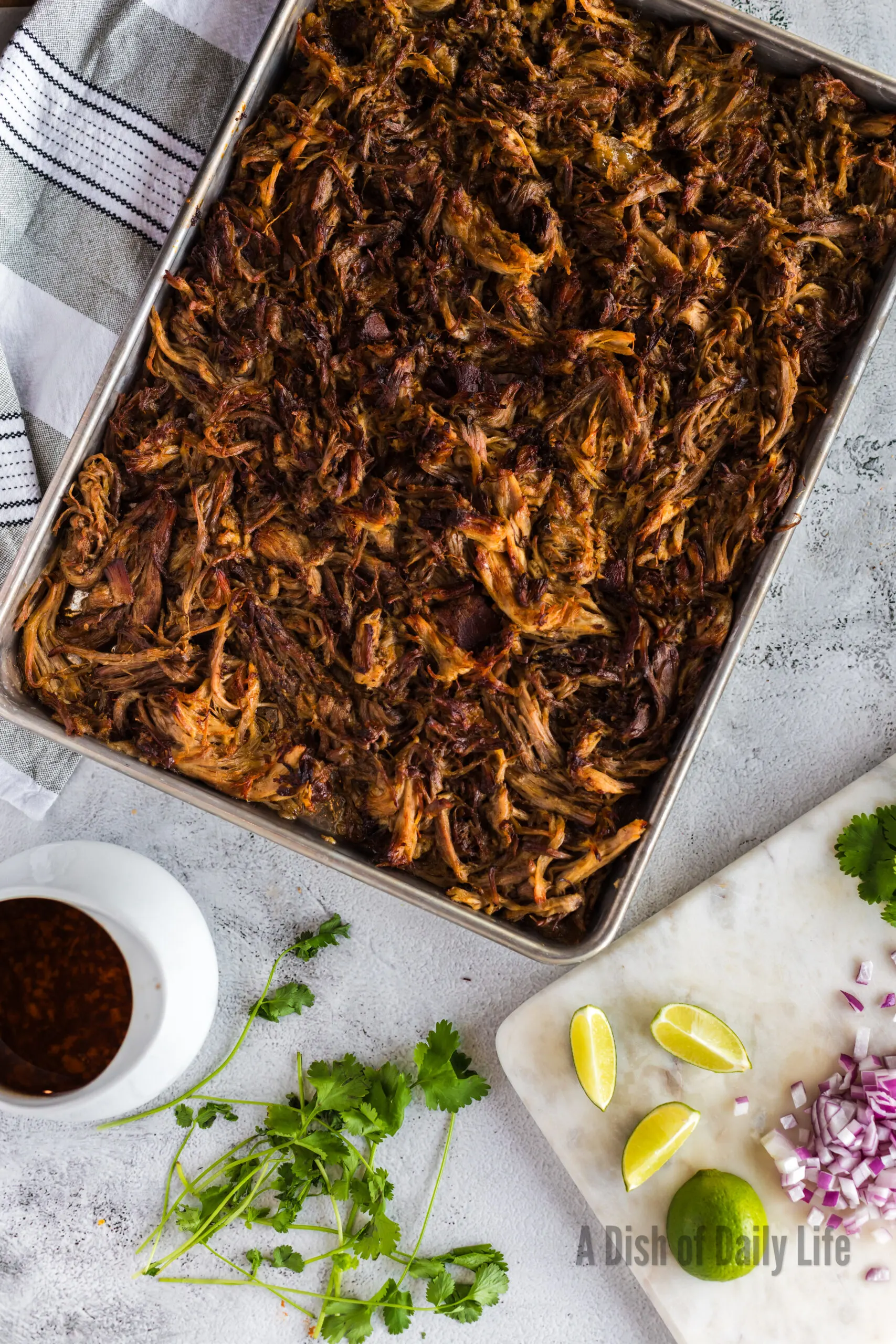 Can I Make Crock Pot Pork Carnitas Ahead of Time?
Yes you can make crock pot pork carnitas ahead of time!
I like to make the meat in advance without crisping the edges.
Then when I am ready to eat, I reheat pork carnitas crock pot under the broiler to crisp the edges right before serving it.
It tastes fresh and makes a perfect meal.
How to Store Leftover Crock Pot Pork Carnitas:
Store leftover crock pot pork carnitas in an airtight container in the fridge for up to 3-4 days.
Reheat the original recipe under the broiler for perfect crispy carnitas.
Can You Freeze Crock Pot Pork Carnitas?
Yes you can freeze crock pot pork carnitas for up to 3 months.
I love making a big batch and saving half for another meal another day.
Thaw overnight in the fridge, and reheat under the broiler when ready to enjoy.
What to Do with Leftover Carnitas Meat?
Take your leftover crock pot pork carnitas meat and transform it!
Turn leftovers into quesadillas, omelets, or sandwiches.
You can also freeze it for another day.
Are Crock Pot Pork Carnitas Healthy?
Crock pot pork carnitas are not the healthiest choice.
But you can make them lighter by trimming excess fat and controlling your portion sizes.
Can Dogs Eat Crock Pot Pork Carnitas?
No, dogs should not eat these crock pot pork carnitas.
The spicy seasonings and onions are harmful to dogs.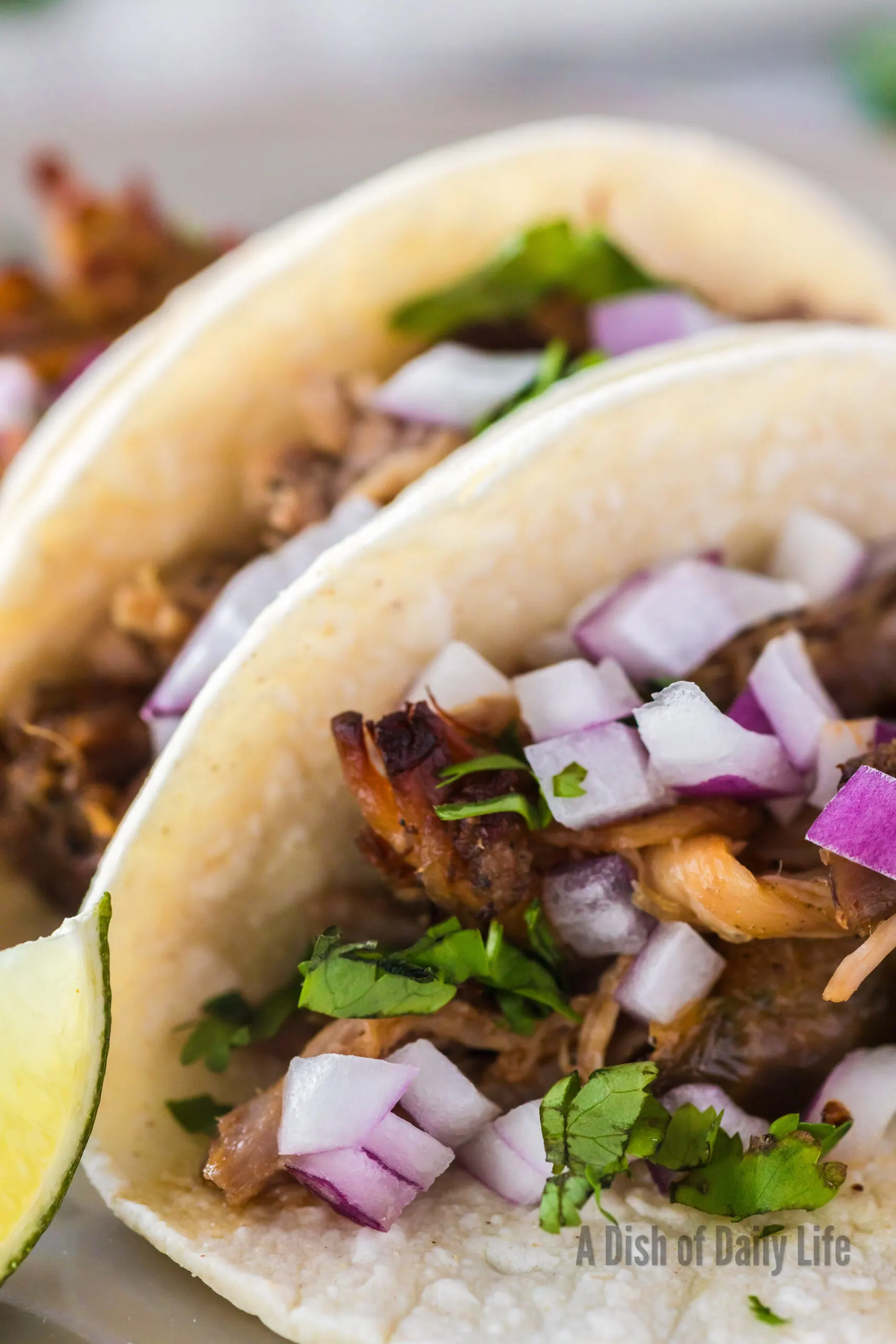 Additional Pork Recipes You'll Love…
This crock pot pork carnitas recipe always gives you perfectly seasoned meat with great flavor; whether you are making it to feed a crowd or just need something easy for dinner after a busy day, this recipe is for you!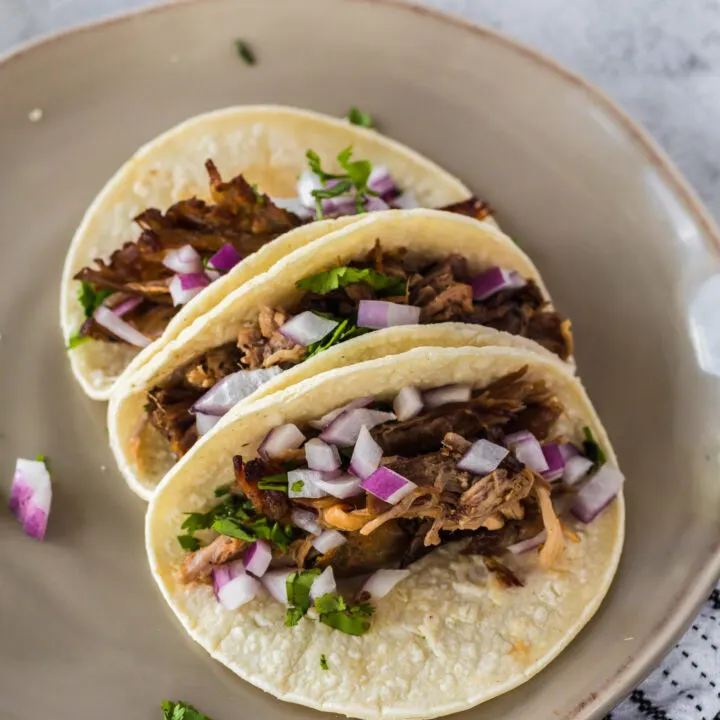 Crock Pot Pork Carnitas
Total Time:
10 hours
20 minutes
Indulge in a flavor-packed journey with our Crock Pot Pork Carnitas recipe. Slow-cooked perfection, spiced to delight, and oh-so-versatile!
Instructions
Trim the excess fat from the pork. Place in slow cooker.
Combine spices; rub all over meat.
Top with onions, garlic, jalapeno.; then add wine, orange and lime juice to slow cooker.
Cook for 10 hours on LOW*
Baste every hour or two
The meat will be falling off the bone when it's ready.
Shred meat and return it to the slow cooker.
Preheat your broiler to high.
Using rimmed metal baking sheets, add shredded meat in a single layer and drizzle a little of the juices from the crock pot over the meat.
Crisp meat in oven for 2-3 minutes - watch closely as it can burn quickly.
Once meat comes out of oven, scoop a small portion into a flour tortilla. Top with red onions, cilantro and fresh lime juice.
Nutrition Information:
Yield:

20
Serving Size:

1
Amount Per Serving:
Calories:

510
Total Fat:

34g
Saturated Fat:

13g
Trans Fat:

0g
Unsaturated Fat:

18g
Cholesterol:

156mg
Sodium:

769mg
Carbohydrates:

4g
Fiber:

1g
Sugar:

2g
Protein:

42g