This delicious homemade Italian Giardiniera is a spicy pickled vegetable mixture that's perfect as an appetizer, stuffed into a sandwich, or tossed with a salad!

HOMEMADE ITALIAN GIARDINIERA
Glad to see you again A Dish of Daily Life readers! My name is Jennifer, and I create appetizers and tapas-portioned recipes over at TakeTwoTapas.com.
Today, I am sharing with you a recipe to perk up your cheese board, add zing to your favorite sandwich, or even toss with your pasta or summer salad!
I have been enjoying all the summer vegetables so far even though it is still early in the summer. I am focusing on playing with the kids in the backyard, grilling out, and just eating some good food.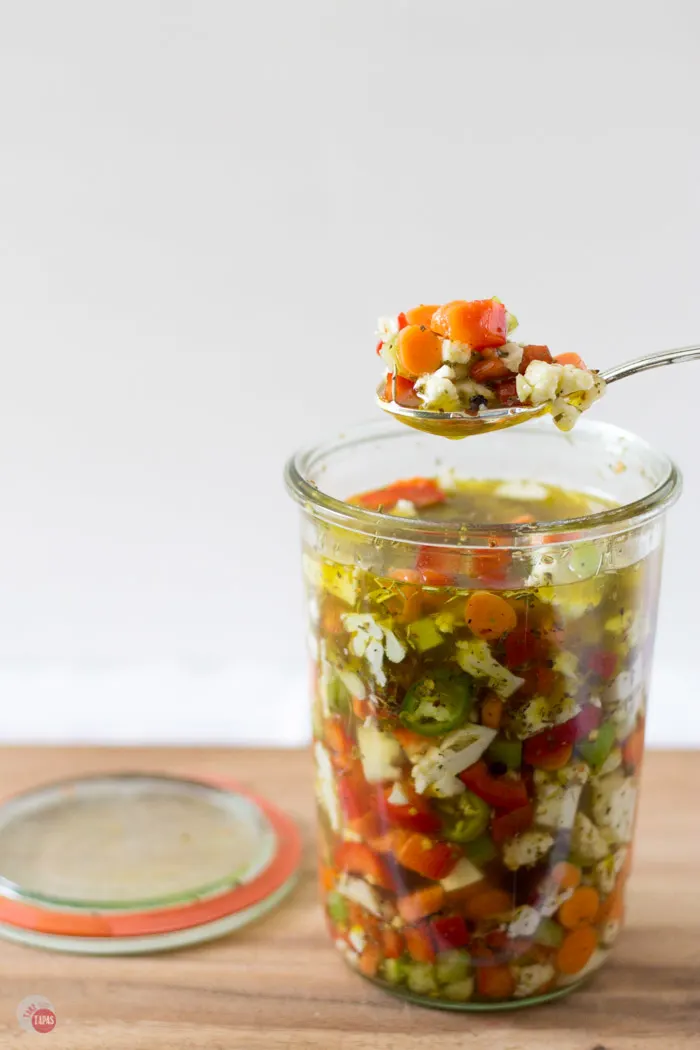 Summertime is great for harvesting vegetables and then pickling them for later in the year.
I don't want to wait until later in the year to enjoy some pickled vegetables so I am sharing a recipe with you for a quick pickled vegetable condiment that is great for burgers and salads.
Most you have heard of this pickled vegetable condiment before as Giardiniera. I can never pronounce the name correctly and even watched a few videos on You Tube to figure out how to say it. I will stop trying to say it out loud and just eat it. You should too!
In the store, I can usually find jars of giardiniera and as soon as I buy it, Brooks eats is all.
The only thing that I don't like about the store-bought is that it is "store-bought" and that the vegetable pieces are so large. Almost whole cauliflower florets seems a bit large for a condiment unless you are just adding it to an antipasto platter.
I decided to chop mine up a little bit more so that I can add it to sandwiches and burgers without it being too clumsy.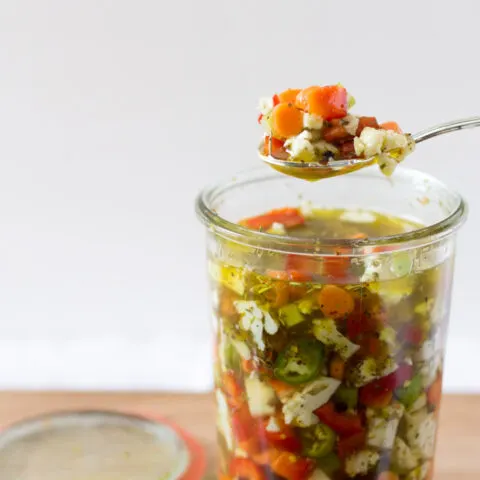 Italian Giardiniera Relish
Ingredients
3 serrano peppers, thinly sliced
1 red bell pepper, diced
2 celery ribs, diced
1 cup carrot, peeled and diced
2 1/2 cups cauliflower florets, diced
2 cloves of garlic, minced fine
1/2 cup salt
1 tablespoon Italian Seasoning
1 teaspoon red pepper flakes
1/2 teaspoon celery seeds
1/2 tablespoon whole peppercorns
1 1/2 cups white vinegar
1 1/2 cups olive oil, you can use canola oil too if you prefer
Instructions
Mix all the vegetables together and place in a glass bowl or jar.
Pour in the salt.
Add enough water to cover the vegetables and salt.
Stir to combine.
Cover and place in the refrigerator for at least 12 hours or overnight.
After the soaking period is over, pour off the water and rinse the vegetables to remove any excess salt.
Place vegetables in a clean glass bowl or jar.
Add spices.
In a separate bowl, whisk together the oil and the vinegar.
Pour over the vegetables.
Stir to combine if in a bowl or seal the jar and invert a few time to mix the vegetables, spices, and liquids together.
Seal tight and store in the refrigerator for 48 hours.
Will last a few weeks if not eaten first.
When reading the recipe, you might think that it takes too long. Soaking in salt overnight and then a 2-day pickle process will not get you the condiment today but it will reap you a large amount for the future!
Carrots, cauliflower, and bell peppers are the usual vegetables but feel free to add what you want. I also used serrano peppers in this recipe but if you can't find them, jalapenos will do nicely. Plus they might not be as hot.
I had to break mine down into 2 jars since I didn't have one large enough but you can always give some away as a gift like I did. Happy eating!
Other "pickled" recipes you may enjoy: