This homemade Feta Dill Dip is a perfect addition to a Crudité platter for any party — and works great as a salad dressing as well!
I created this recipe for the dairy farm families of New England as part of an ongoing partnership. All opinions are my own. Thank you for supporting the organizations and brands that make A Dish of Daily Life possible!
We almost always make our own dips and salad dressings here. They're so easy to make, and more importantly, you know exactly what is going in them!
I've been playing around with Greek yogurt more lately. I love the tangy flavor, and because it has such a thick consistency, you can easily swap out mayonnaise for Greek yogurt. Greek yogurt has far fewer calories and a much lower fat count than even light mayonnaise, so it's a great option to "lighten" up your recipes!
Greek yogurt is also packed with nutrients and has about double the protein of regular yogurt. For anyone that works out, that extra protein is important. When you work out, you break down muscle fibers. Protein is an important part of the repair process. For our family, working out is a way of life. Our children were always involved in athletics growing up, and they've continued that into their high school and college years. My husband and I both ran in college, and he's still competing on the Master's circuits. And we're new health club owners as well! So I try to be mindful about what I am feeding my family because I know how important a healthy diet is to our overall health.
FETA DILL DIP
If there is someone in your life that needs to be enticed to eat more vegetables, try putting some of this Feta Dill Dip in front of them. I brought a big bag of vegetables with me to the office along with a container of this Feta Dill Dip, and I had people in my office stopping by off and on all day snacking on it. It's addicting!
Not only is this healthy dip recipe packed with flavor, but it's also really easy to make! It's versatile as well…you can use it as both a dip and a salad dressing. We used our last batch as both.
To make Feta Dill Dip, first whisk together the Greek yogurt and sour cream. Then add the other ingredients, and continue to whisk until the dip is well combined. Start out with one teaspoon of salt and add more to taste if you feel you need it. Feta can be salty so you're going to want to taste test it first before adding extra salt.
We used the Feta Dill Dip as both a dip and dressing with just the two tablespoons of milk, but if you prefer a thinner consistency for your salad dressing, you could add a tiny bit more milk. I wouldn't thin it out more if you're using it as a dip.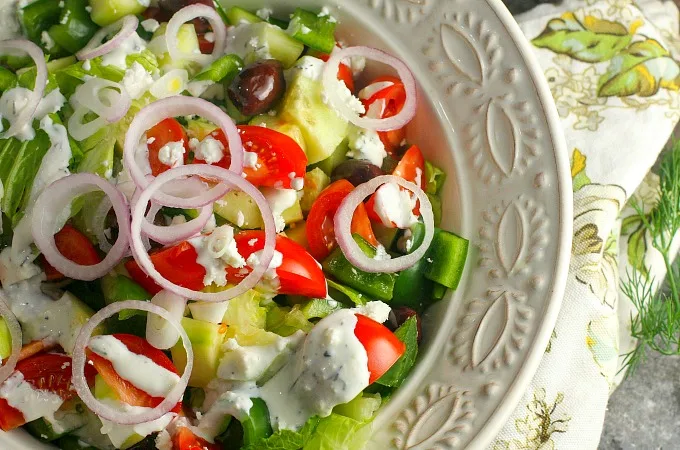 Right now it's prime season for parties, and this Feta Dill Dip is the perfect appetizer to add to your holiday party menu. I think that most people do like to have a healthy and homemade choice in the mix, especially one as tasty as this!
If you're putting together a Crudité platter for a party, you want it to be as visually appealing as possible. In season vegetables always look more enticing to me, but if you're past the growing season where you live, pack the tray with as many colorful vegetables as you can find, and be sure to separate the colors.
Feel free to add delicious extras like artichoke hearts, marinated mushrooms, or marinated olives to your crudite platter. Dress it up with some fresh herbs.
This Crudité platter would be a welcome addition to any party!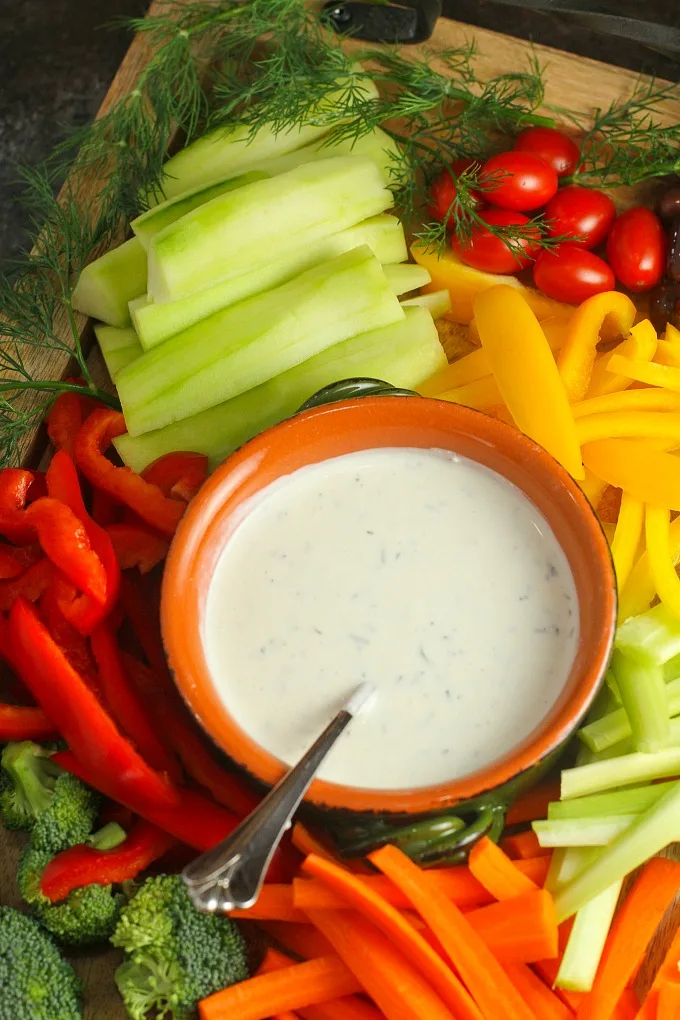 Before I share the recipe, I want to give a shout out to the New England Dairy & Food Council and Must Be The Milk. I've been working with them this year, sharing information on the dairy farm families of New England and health and wellness topics. Their websites are a great source of helpful information…you should definitely check them out! You can also learn more about how yogurt compares to other products nutritionally and how you can use yogurt as a healthy substitute in your recipes HERE!
If you missed these other healthy recipes that I created this year as part of our partnership, don't forget to check them out!
Now for the recipe!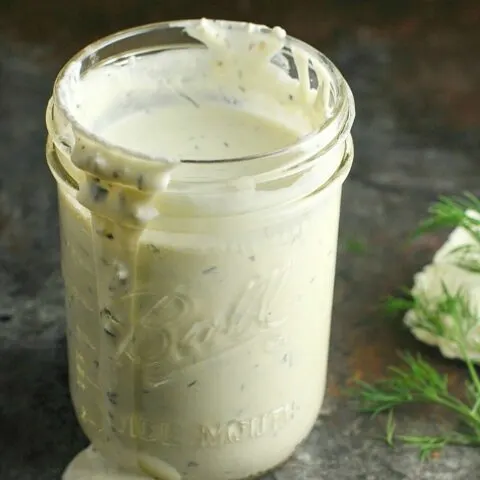 Feta Dill Dip
Ingredients
1/2 cup plain Greek yogurt
1/2 cup sour cream
1 cup feta, crumbled into small pieces
1 clove garlic, crushed
2 tablespoons fresh dill, chopped
1/3 cup lemon juice
1-2 teaspoons kosher salt (add 1 teaspoon at a time, more to taste)
1/2 teaspoon black pepper
2 tablespoons milk (or more to thin to desired consistency)
Instructions
Whisk together Greek yogurt and sour cream. Add remaining ingredients and continue to whisk together until mixed well. Refrigerate until ready to use.
Notes
Add one teaspoon of salt initially...taste and add more to adjust if you need to.
You can also adjust the consistency by adding more milk to thin the dip out, if you plan to use it as a dressing.
Nutrition Information:
Amount Per Serving:
Calories:

49
Total Fat:

4g
Saturated Fat:

3g
Cholesterol:

13mg
Sodium:

95mg
Fiber:

0g
Sugar:

1g
Protein:

2g