This Creamy Cajun Jambalaya Pasta is a delicious one pot meal, perfect for families who are short on time, but don't want to sacrifice taste!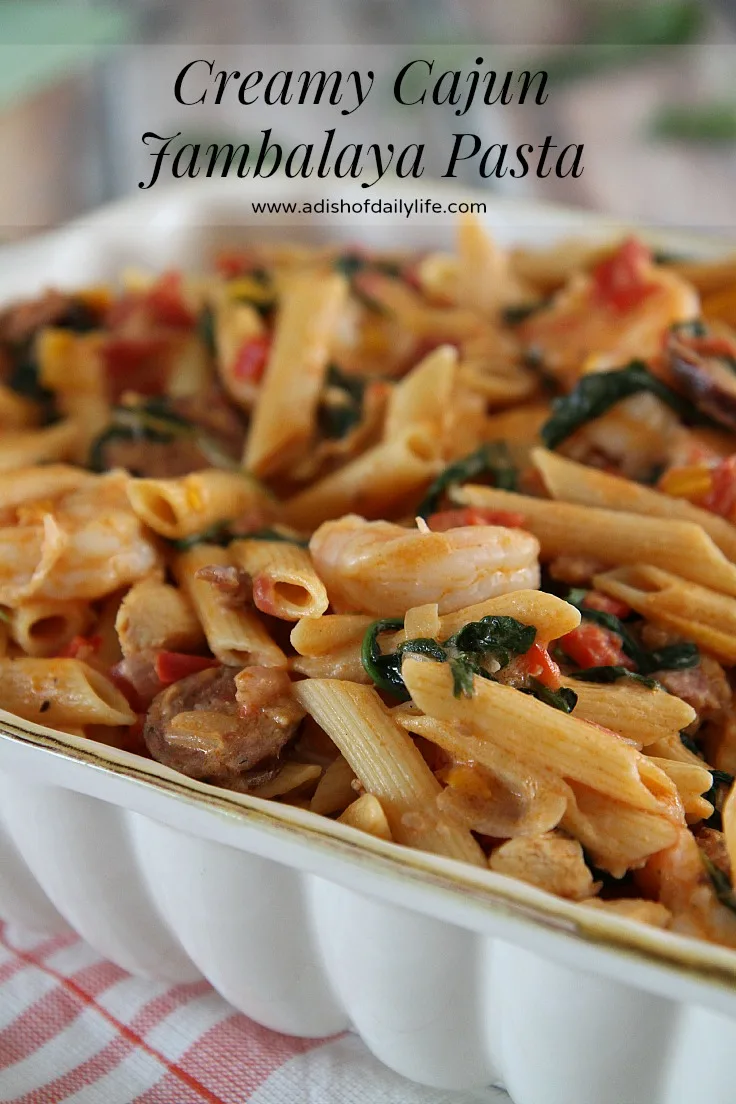 I enjoy cooking, but with three teenagers and a busy sports schedule, my time is limited.
Between track and soccer, my weeknights and weekends can get tied up with driving and spectating. Watching them participate in activities that they truly love is so much fun for me! This was my daughter's first ever steeplechase race a few days ago…she had such a great time!
I know my situation is not unusual…there are a lot of families out there trying to juggle getting healthy meals on the table with a hectic after school schedule.
If I told you I had a shortcut that would allow you to cut the time needed to get dinner on the table, and eliminated a lot of the clean up too, would you be interested?
Of course you would!
Enter Barilla® Pronto™ Pasta. One Pan, No Boil, No Drain. Can it get any better than that?!
The other night I made the most delicious Cajun Jambalaya Pasta. It took me just over 35 minutes, start to finish. It was easy to make, and had lots of vegetables packed right in.
Plus it got a thumbs up from every single kid as well as my husband. I call that a big WIN.
Creamy Cajun Jambalaya Pasta
This is everything you need, minus the olive oil and water.
I like to get my ingredients ready to go ahead of time, especially with a meal that comes together as fast as this one does!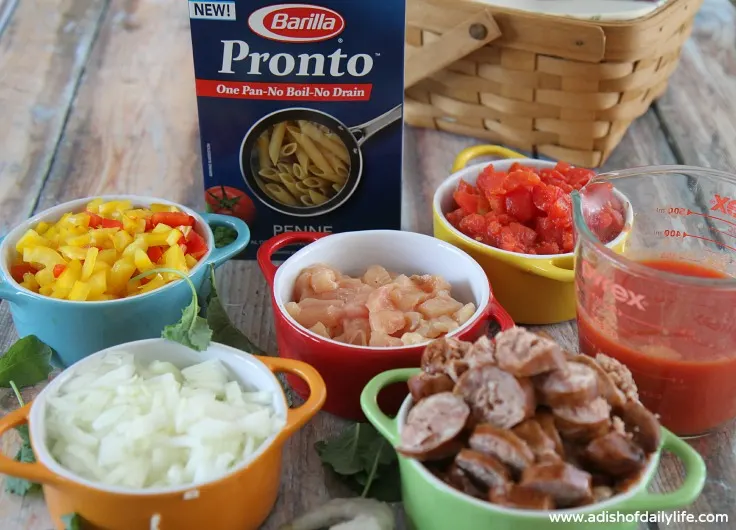 You'll start by heating a couple of tablespoons of olive oil in a pot, and sauteing your onions and peppers until they soften.
Then you'll add another tablespoon of olive oil, add in the chicken and sausage, and cook for another five minutes, making sure to stir the mixture a few times.
Add the cajun seasoning, and stir it again to make sure the spice mixes in with everything. If you haven't already done so, drain your tomatoes, reserving the juice. Chop the tomatoes, and add them to the mixture, and again, stir to mix thoroughly.
Now you're ready for your pasta!
Add water, the tomato juice and your pasta. Make sure your pasta is immersed in the liquid, and bring it to a boil. Cook on high for ten minutes.
At the end you are going to add in the shrimp, baby kale, and light cream, stir it all together again, and then cook on low for a few minutes with the lid on your pot.
Once the shrimp is cooked through and the kale is wilted, your Cajun Jambalaya Pasta is ready to go. How easy is that?!
Dinner is served!
And since you make it all in one pot, clean up is minimal!
Here's the recipe.
Creamy Cajun Jambalaya Pasta
This hearty one pot pasta is the perfect meal for families on the go!
Ingredients
3 tablespoons olive oil
1 red pepper, chopped,
1 yellow pepper, chopped
1 yellow onion, chopped
12 oz andouille sausage, sliced thin
1/2 lb chicken, cut into bite size pieces
1 lb shrimp, uncooked, tail removed
1 28 oz can of tomatoes, chopped, liquid reserved
2 teaspoons cajun seasoning
5 cups baby kale
1 cup light cream
1 box Barilla® Pronto™ Penne
3 cups of water
Instructions
Heat two tablespoons olive oil to pot over medium high heat.
Add chopped onions and peppers,cook until softened, about 2-3 minutes.
Add your third tablespoon of olive oil to pot, and add the chicken and sausage.
Cook for another 5 minutes.
Add the cajun seasoning; stir to mix thoroughly, Then add the chopped tomatoes and stir again.
Add 3 cups water, the reserved tomato liquid, and the Barilla® Pronto™ pasta. Make sure pasta is immersed in liquid. Bring to a boil.
Cook on high for 10 minutes, stirring occasionally.
Add baby kale, shrimp, and the light cream; stir, and cook on low with the lid on your pot for about 3 minutes until shrimp is cooked through and kale is wilted.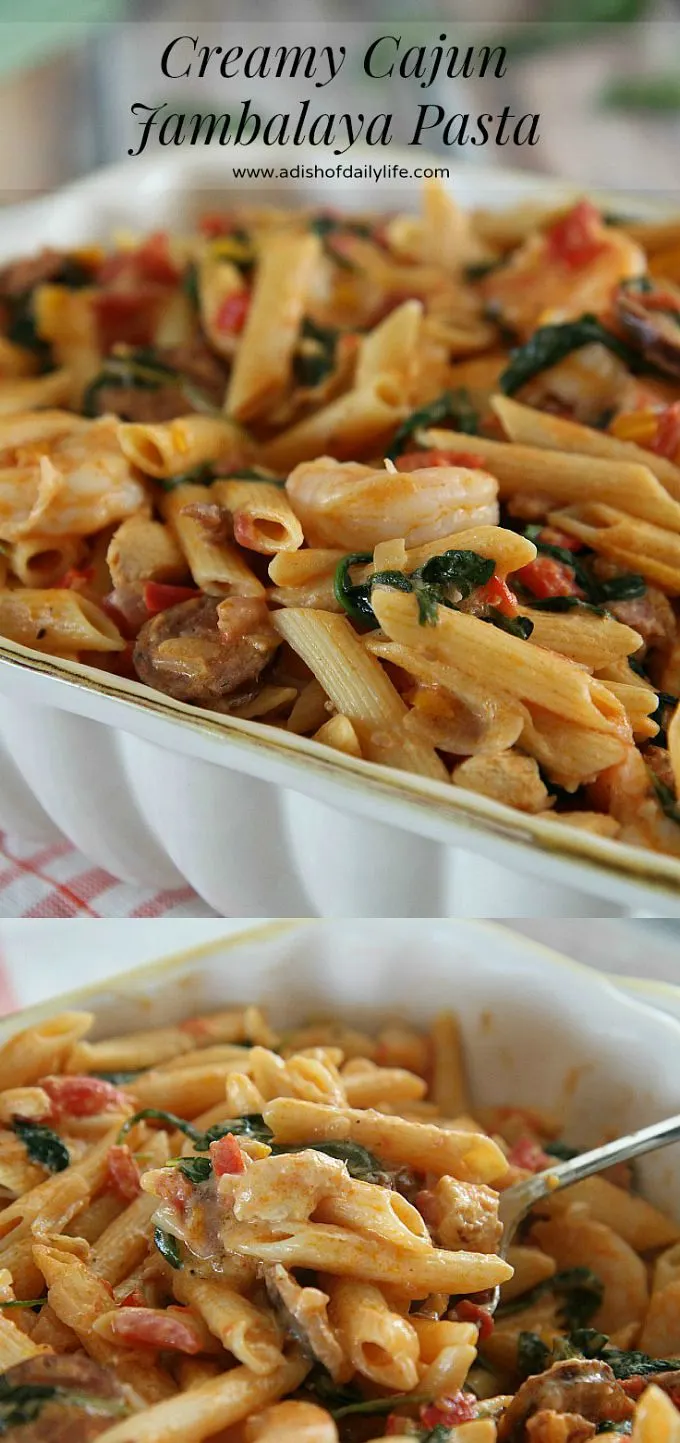 OTHER PASTA RECIPES YOU MAY ENJOY
Seafood Pasta…an easy, but elegant pasta recipe…perfect for a special occasion! It tastes like a dish from a fancy Italian restaurant — your guests will be impressed!
Rigatoni Salsiccia e Rapini…an easy to make Italian pasta recipe with sausage and broccoli rabe that is perfect for busy weeknight dinners, and elegant enough for a special occasion.
Chicken Pesto Pasta with Artichokes…a 30 minute meal packed with a great combination of flavors!
Creamy Pasta with Ham and Peas…you can whip this up in 25 minutes from start to finish — perfect for busy weeknights! And if you're looking for recipes using leftover ham, this is an easy recipe that the whole family will love!
For more great pasta recipes, check out my Pastas and Pizza Pinterest board!