Spicy Pickled Red Onions are quick, easy, and the perfect accompaniment to sandwiches and salads, or tacos and burrito bowls!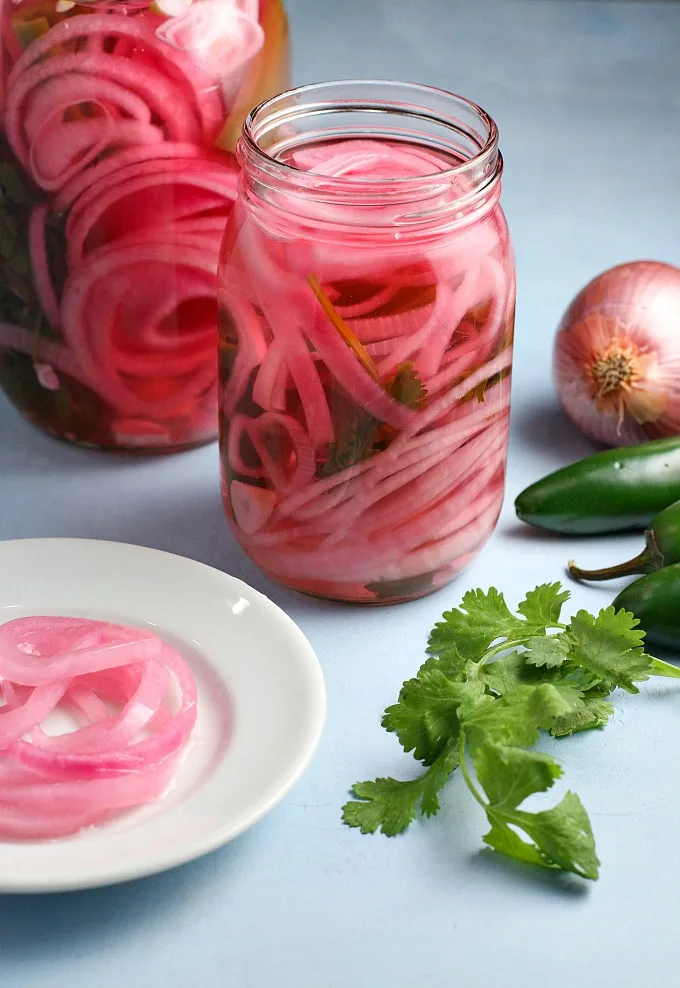 Do you prefer sweet or spicy?
Offer me pickles or a cookie, and I'll pick the pickles every time. Don't get me wrong, I love a good cookie as much as the next person, but I really, REALLY love pickles.
I often make Spicy Carrot Refrigerator Pickles, but these spicy pickled red onions are wonderful on sandwiches and salads, and they are one of my favorite condiments for Mexican dishes, like tacos or burrito bowls.
In fact, we had them on burrito bowls the other night. You'll have to stay tuned for the recipe!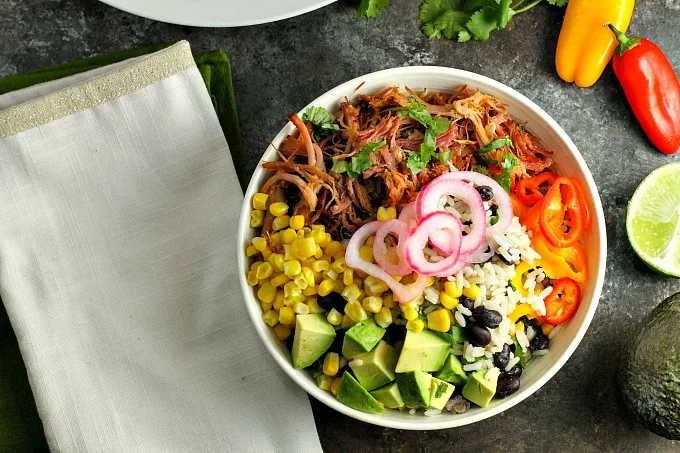 I just got back from Mexico so I'm feeling kind of inspired by Mexican food right now!
I went to Cancun on a girls trip with the women from my husband's side of the family — my mother-in-law, three sisters-in-law, my nephew's wife, my niece and my daughter. We stayed at the Hotel Riu Palace Las Americas. My nephew's wife had these fun "Spring Break" t-shirts made up…my mother-in-law was so surprised when we all showed up in them for breakfast one morning!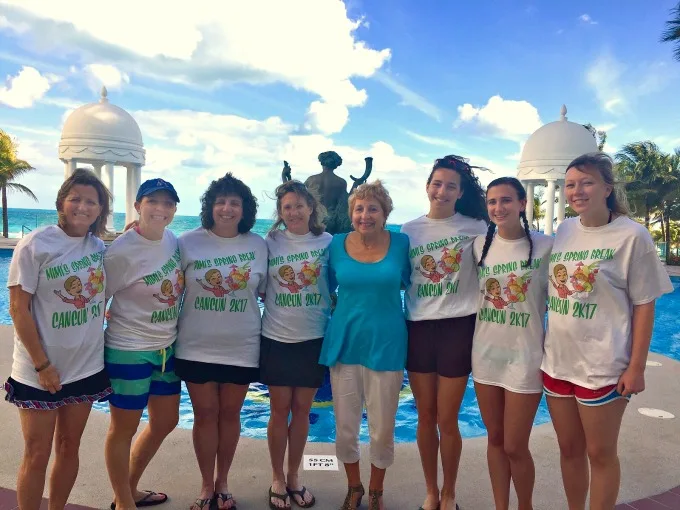 We spent most of our time relaxing by the pool. This was the view from my room.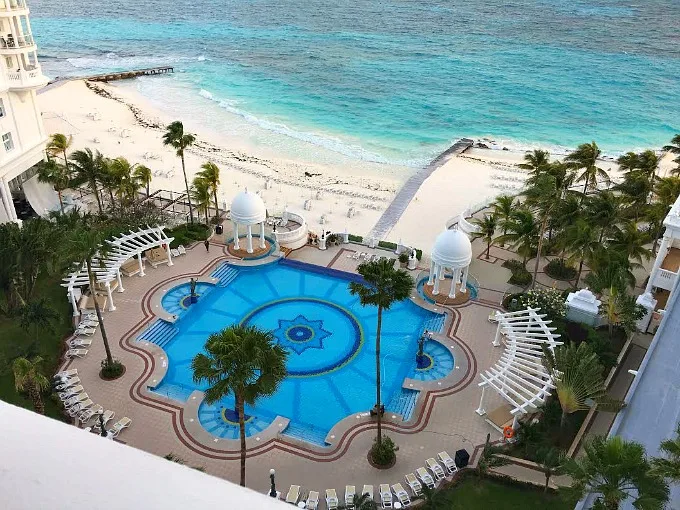 I'm tempted to try to duplicate this little creature for one of our pool parties this summer!
The Mexican food at the hotel was excellent, of course…and I ate guacamole every single day. I even had it inside an omelette, which let me tell you, is quite good!
It was nice to relax for a few days, but now of course it's back to reality. I took my youngest for his permit test the other day and he passed, so we'll have another driver in the house in a few months. And I'm headed to Charleston, South Carolina for a blog conference at the end of this week, which I am looking forward to.
Before we talk about the pickled red onion recipe, I wanted to tell you more about the Ford C-MAX ENERGI that I'm driving right now. If you've been following along for the last couple of months, you know I'm test driving this car for several months for the Driving on Energi program. While I have the use of the car and am being compensated, please know that anything I say to you here is my own opinion.
The Ford C-MAX Energi is a PHEV, which is a plug-in hybrid vehicle. In addition to gasoline, it uses a rechargeable battery that can be recharged by plugging in to an external source of electric power. There is a charging station on our downtown Green that I often use, but today for the first time, I plugged in at home.
Don't look too carefully at my garage…it could really use some spring cleaning!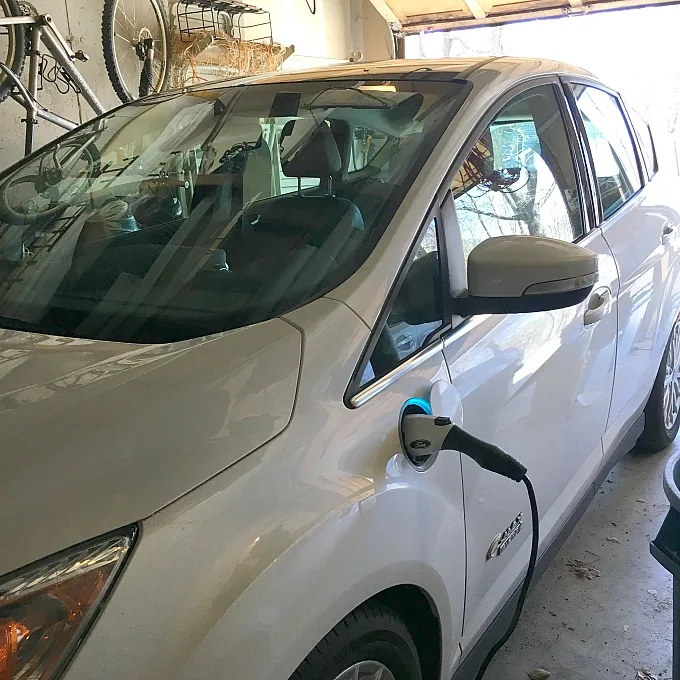 It does take longer to charge up at home, but a bonus for me is that we use solar energy, so essentially I was charging the car with energy from our solar panels!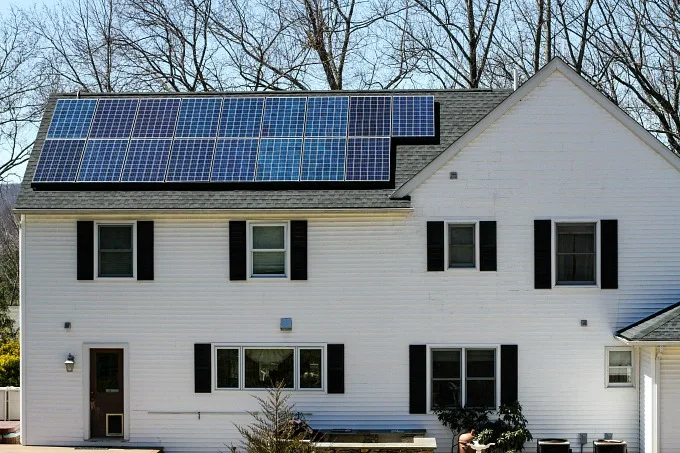 Being able to charge the car has really helped with our gas bill. I've been driving it since the end of January, but so far have only put in a half of a tank of gas. Yes, you heard that right! ONE HALF OF A TANK OF GAS. I feel like I haven't been to the gas station in forever! The more hybrid cars that are out there, the less the U.S. relies on petroleum imported from other countries. Plus, PHEVs have the potential to reduce tailpipe emissions to near zero when running on battery power, and that's good news for the environment.
Before I picked up the car, I thought it might be a bit of a pain to charge the car…you know, one more thing to add to my already busy schedule. But the fact of the matter is, I don't really charge it all that often. And when I do, it's not inconvenient at all. If I'm running errands downtown or it's one of those days I feel the need to get out of the house and work on the blog at the coffee shop instead, I charge it at the charging station. But I haven't actually been downtown for the last few weeks, so until earlier today when I charged it at our house, I hadn't charged it in several weeks. But using the brakes is another way to charge the car. Every time I brake, I'm returning energy to the car.
I have to tell you, before this, I never considered a hybrid car. Now that I'm seeing the benefits first hand, my husband and I are seriously talking about it for our next car.
Ok, let's talk pickled red onions!
SPICY PICKLED RED ONIONS
If you're a pickle lover, these spicy pickled red onions can be quite addicting. I make them all the time…I'm not sure why I've never put them on the blog. They're delicious on sandwiches and salads, but I also use them frequently on fish tacos and burrito bowls.
These pickled red onions are refrigerator pickles, so they'll only last about a week, if you don't finish them before that! Ours never last that long.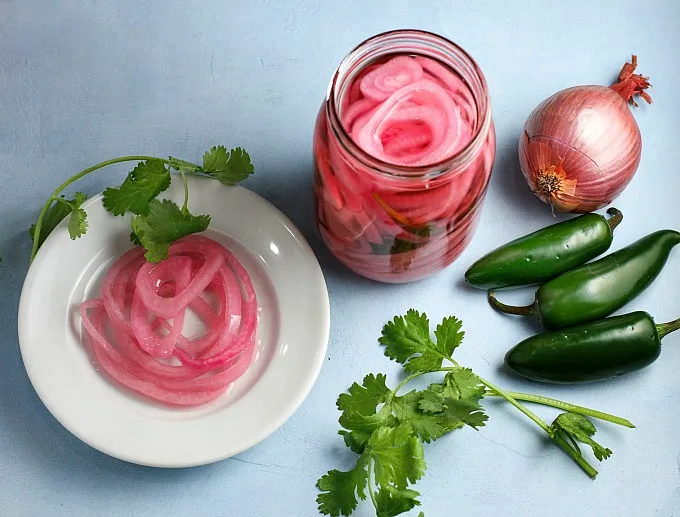 Pickled red onions are really easy to make too! First, combine your water, vinegar, and sugar in a saucepot and cook over medium heat, until the sugar is dissolved.
Remove the pot from the heat and let it sit while you're cutting your red onions, garlic, and jalapeños.
Add the garlic to the vinegar mixture and place the onion rounds, jalapeños, and cilantro into the storage jars.
Pour the vinegar mixture into the jars, and let it sit until the liquid has cooled. Once cooled, put the lids on the jars and put them in the refrigerator.
Make your pickled red onions in advance of any recipe you want to use them with, as they need to sit for at least an hour or so before you eat them. They'll be even better if you let them sit overnight.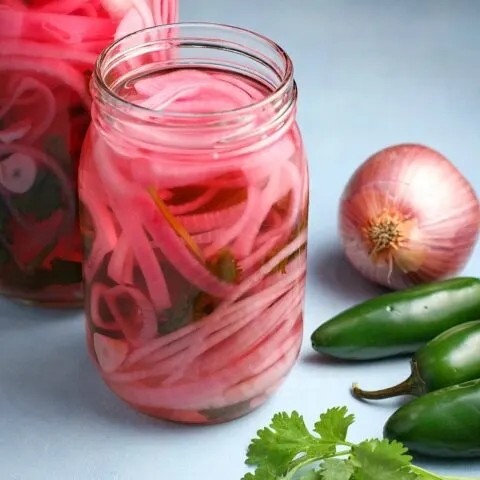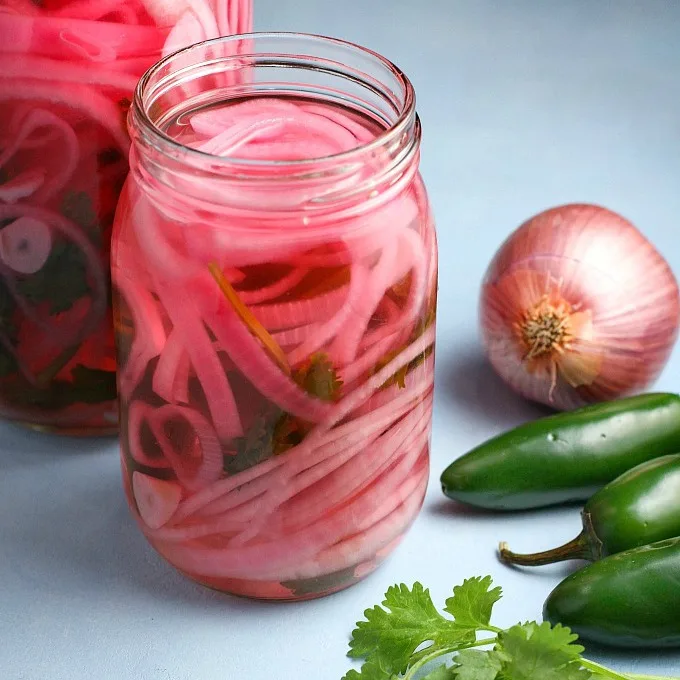 Pickled Red Onions
Spicy Pickled Red Onions are quick, easy, and the perfect accompaniment to sandwiches and salads, or tacos and burrito bowls!
Ingredients
2 large red onions, cut into rings
1 1/2 cups of water
3 cups of white vinegar
1 cup of granuated sugar
6 cloves of garlic, peeled and cut into rounds
2-3 jalapeño peppers, seeded, and cut in half (or in rounds if you prefer)
cilantro sprigs
Instructions
Add water, vinegar and sugar to a sauce pot. Cook over medium heat until sugar is dissolved.
Remove from heat and set aside.
Peel garlic, chop into rounds and add to vinegar mixture.
Cut onions into rounds; cut and seed jalapeño peppers as well.
Add red onions, jalapeños, and cilantro sprigs to storage jars.
Pour vinegar mixture into jars.
Keep at room temperature until cooled; then store in your refrigerator in an airtight container.
Nutrition Information:
Amount Per Serving:
Calories:

23
Total Fat:

1g