Crab cakes are a great appetizer or main dish for dinner. Muffin Tin Crab Cakes are full of lump crab meat and have the right amount of spice. Drizzle with Old Bay Remoulade for a treat that will take you to the ocean!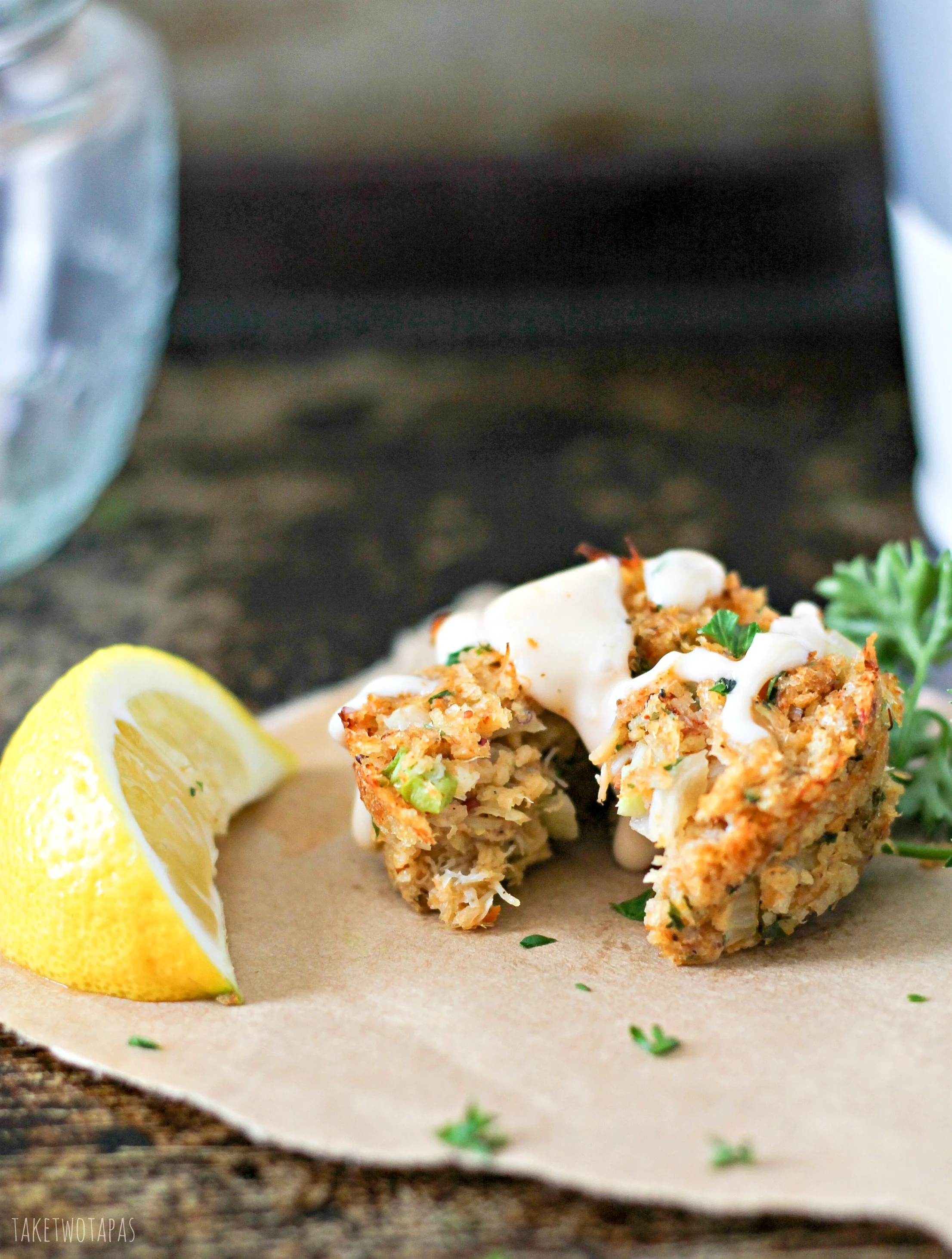 Spicy Muffin Tin Crab Cakes with Old Bay Remoulade
Ahoy to you A Dish of Daily Life readers! My name is Jennifer, and I create appetizers and tapas-portioned recipes over at TakeTwoTapas.com. Today, I am going to share one of my favorite seafood recipes that takes me back to visit my grandparents in the Bahamas when I was young. These crab cakes will whisk you away to the sea and make you feel that salt air on your face!
Crab cakes are a staple at every seafood restaurant I visit. Some always tout that they are the best. Just like the ones in Maryland, where crab cakes seem to be most popular, and most debated. Should you use bread crumbs? Should you deep fry them? Do you serve them with Saltine crackers and a lemon wedge or do you dare to put a sauce on them? My favorite way to eat crab cakes are with a spicy remoulade sauce AND lemon. Lemon seems to brighten everything!
I am pretty finicky about my seafood, only really eating shrimp, crab, fish, and lobster. My hubby Brooks loves to eat clams and mussels too. I don't make them so he only gets them when we go out. He also really loves scallops but I have burned a few of those in the past so I stick to the easier things. I also DO NOT DO oysters… But of course, he loves them!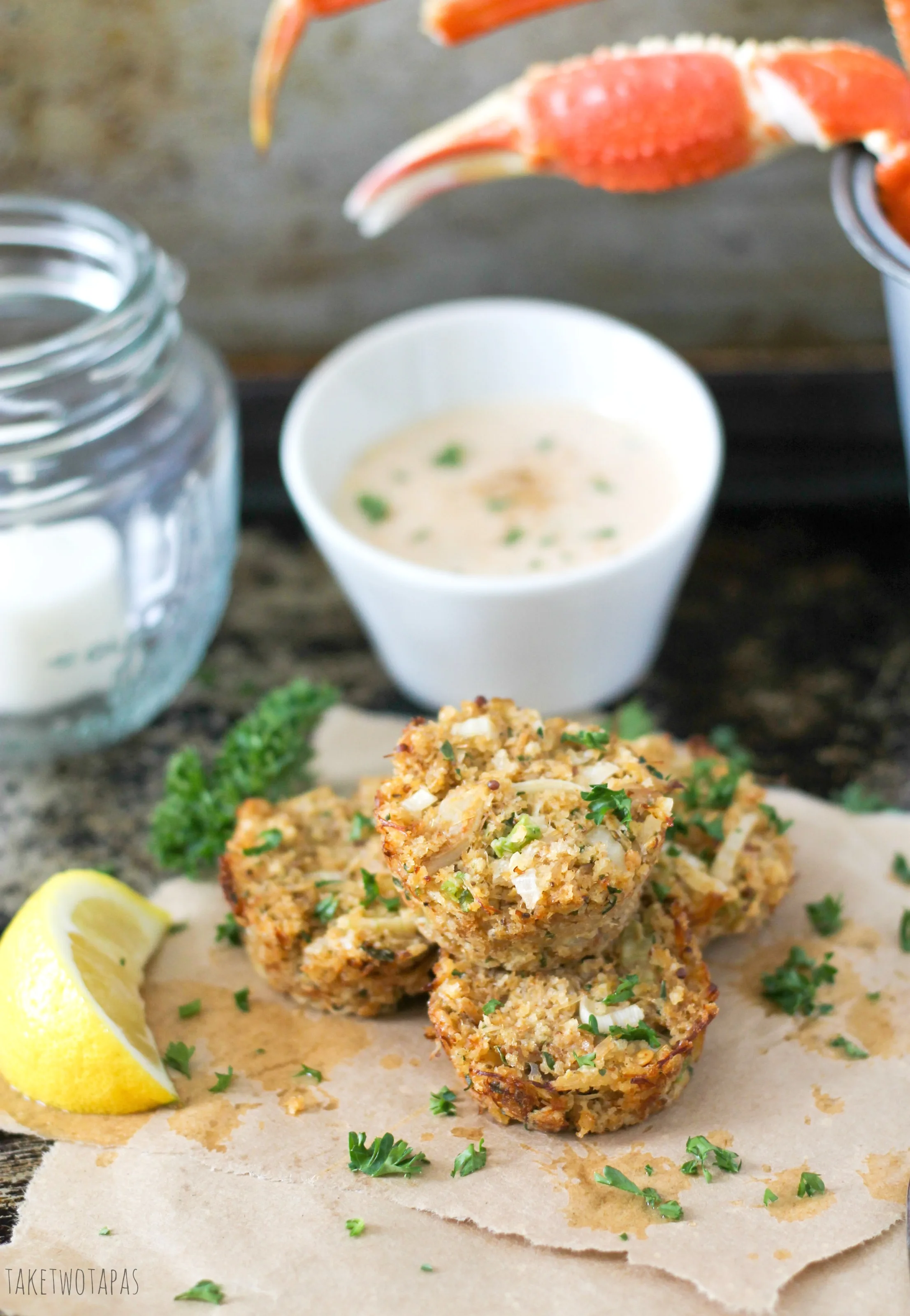 I decided that crab cakes were an appetizer and not a full-on entree, mostly because I want to eat crab legs for my dinner!! I love picking at the shells and licking the melted butter off my finger tips when I place the crab meat in my mouth. These crab cakes are less messy than cracking and eating the legs and you can just pop them in your mouth in one big bite!
You can eat these tiny cakes with the traditional lemon wedge and a salted cracker or you can dip them in an Old Bay remoulade that has jut enough spice to give it a little kick!
However you choose to eat these crab cakes, you will be rewarded with the taste of the ocean and visions of a vacation at the beach!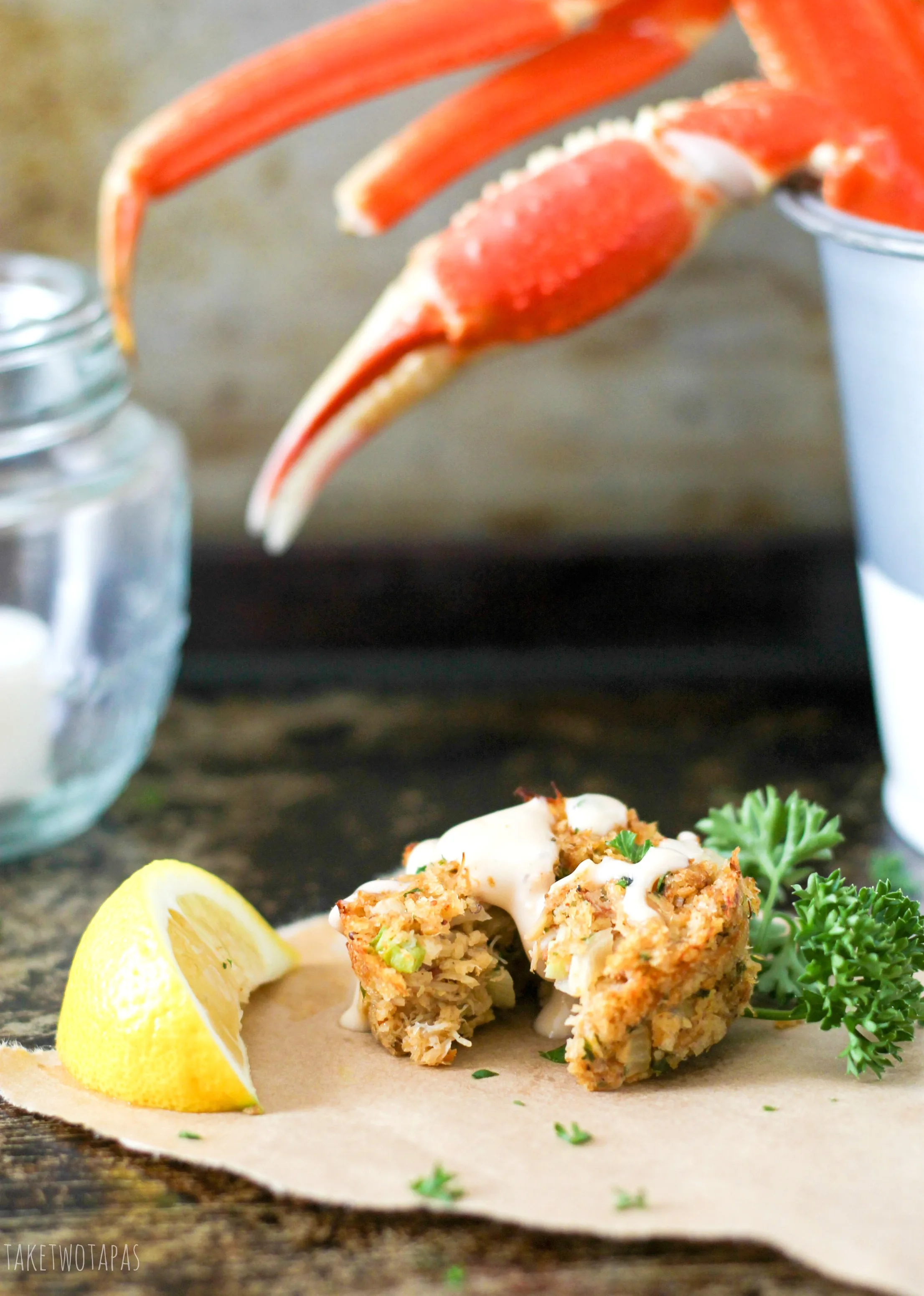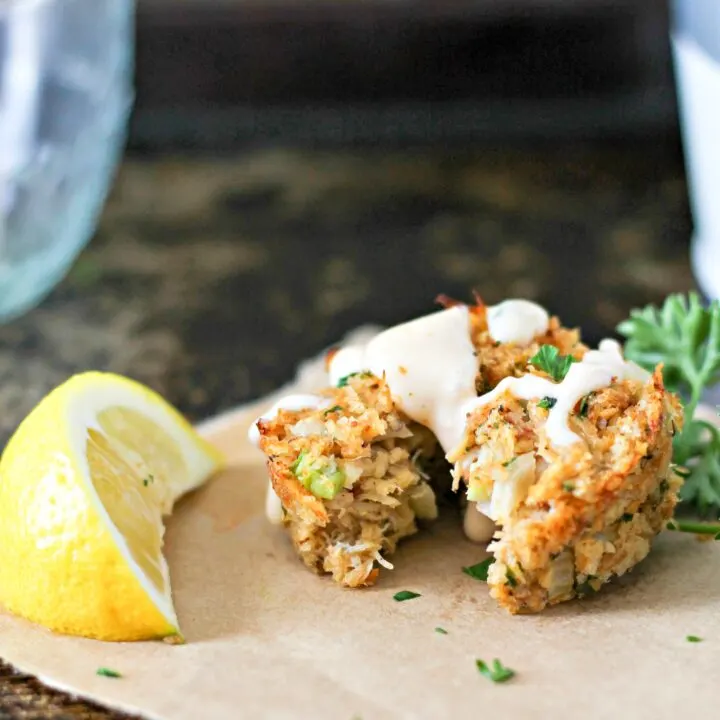 Spicy Muffin Tin Crab Cakes with Old Bay Remoulade
Ingredients
Crab Cakes:
8 ounces lump crab meat
1/2 stalk celery, finely diced
1/2 small onion, finely diced
1 tablespoon Whole Grain Mustard (I use my own)
2 tablespoons prepared horseradish
1 egg, beaten lightly
1 tablespoon parsley
1/2 teaspoon paprika
1 1/2 tablespoons Old Bay Seasoning
1/8 teaspoon salt
1/2 teaspoon pepper
3/4 cup breadcrumbs
Remoulade:
1/2 cup mayonnaise
1 teaspoon mustard
1 tablespoon horseradish, prepared
1 tablespoon lemon juice
1 tablespoon sriracha
1 tablespoon Old Bay seasoning
1 tablespoon capers, chopped and drained
Lemon Wedges
Instructions
Preheat oven to 375F.
Spray your mini-muffin tin with non-stick pray.
Mix all of the ingredients for the crab cakes in a bowl. Be careful not to work the mixture too much or you will break up the crab meat. You want it in chunks.
Press the mixture into a mini muffin tin. You will fill 20 spaces.
Bake for 15 minutes.
While the crab cakes are baking, make your remoulade.
Mix all the ingredients for the remoulade in a small bowl.
Keep chilled until ready to serve.
Run a knife around the edges of the crab cakes when they come out, being careful not to cut them.
Place on serving platter with Old Bay Remoulade and lemon wedges to serve!
Let them cool for a minute or so before removing them to your serving platter.
Serve warm with Old Bay Remoulade.