Creamy and delicious, this Hungarian Chicken Paprikash recipe is an easy comfort food dish with a minimum of prep time, perfect for a weeknight dinner!
CHICKEN PAPRIKASH
Today I'm participating in the Spring Edition of Freaky Friday, a recipe swap among bloggers, organized by Michaela from An Affair from the Heart. The Chicken Paprikash recipe I am sharing with you today is from Cooking on a Budget.
What I love about Cooking on a Budget is that Patty shares healthy recipes that you can make on a limited grocery budget with real food ingredients. She includes the cost per person of those recipes, which is helpful for those trying to plan their grocery money out for the week.
With the track season getting started here, I'm always looking for new fast, easy and healthy recipes. Looking through Patty's recipes, I chose Chicken Paprikash because it has a minimum of prep time and uses all natural whole food ingredients, which is important to me when cooking for my family.
While this dish takes about an hour to make, most of the time is spent cooking on the stove top. The prep time is minimal and consists mostly of chopping.
Chicken Paprikash is a traditional Hungarian chicken stew recipe made with paprika…specifically Hungarian paprika.
The paprika sold in your grocery store may be from Hungary, California or South America, and there are differences in range of flavor, from sweet and spicy, fruity and smoky.
There are eight grades of Hungarian paprika, and the one most often found in the US is édesnemes or "noble sweet."
You may notice a slight adaptation to Patty's recipe, which was simply to suit my family's tastes and a couple simple substitutions.
I added different types of peppers (and a little extra) because my family prefers red and yellow peppers to green peppers. I also used garlic cloves instead of granulated garlic and flour instead of cornstarch. My directions are slightly different to reflect how I made the dish.
However, the recipe is essentially the same.
Please note that while I made the original recipe in a Dutch oven because I prefer to cook with one for dishes like this, you can use a regular pan, which is shown in the video.
In the spirit of Patty's blog and pricing out the dish, I added up the cost of ingredients so I could share that with you as well.
This recipe cost me $29.20 to make. At 6 servings, that is $4.86/per serving.
I did not include the cost of the butter, olive oil, spices, or the flour, as I had them in the house already. I halved the cost of ingredients where I had at least half of the ingredient left over. And I used organic chicken, which is higher in price than regular chicken.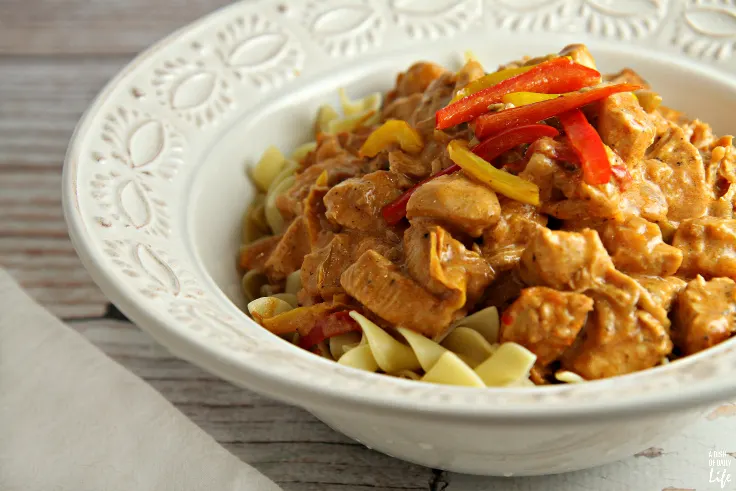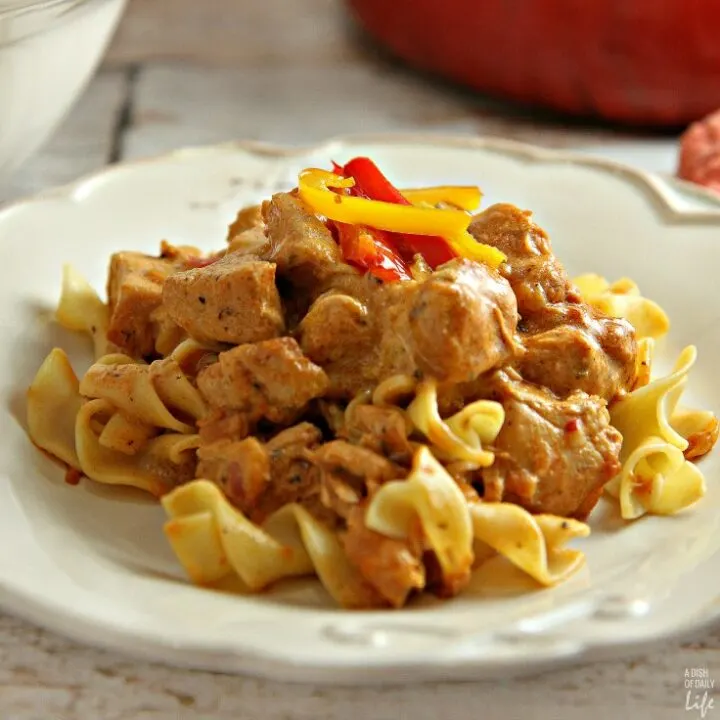 Chicken Paprikash
Creamy and delicious, this Hungarian Chicken Paprikash recipe is an easy comfort food dish with a minimum of prep time, perfect for a weeknight dinner!
Ingredients
2 tbsp butter
2 tbsp olive oil
2 1/2 lbs chicken, cut into bite size chunks
1 large onion, coarsely chopped
2 cloves garlic, minced
1 1/2 bell peppers (mix of green, red, and yellow), julienned
1 large tomato, chopped
1 1/2 cups chicken broth
1 tbsp Hungarian paprika
1/2 cup sour cream
salt and pepper to taste
onion powder to taste
dash of cayenne pepper
6 oz extra wide egg noodles (about 1/2 of a bag)
Instructions
In a large dutch oven over medium heat, melt butter and 1 tbsp of olive oil, then add chicken to pot. Season with salt, pepper, and onion powder.
Brown chicken. Remove chicken from dutch oven.
Add the other tablespoon of olive oil to the dutch oven and add onions. Cook over medium low until they are translucent. Add garlic. Stir and scrape the sides to get the brown bits from the bottom and sides of the pot.
De-glaze pot with chicken broth; then add pepper strips, tomato, paprika, cayenne and a little more salt and pepper. Stir well.
Add chicken back to pot, cover and simmer for 30 minutes.
After simmering, remove chicken and vegetables from pot.
Add tablespoon of flour to sour cream.
Temper the sour cream mixture by slowly adding the hot liquid from the pot, little by little, whisking while doing so, to avoid having the cream separate. Once the sour cream is mixed with the liquid, you can add it back into the pot.
Add chicken and vegetables back to pot as well, and cook for about 10 more minutes to combine the sauce with the vegetables.
While chicken and sauce is finishing, cook egg noodles to serve with the chicken.
Spoon chicken and sauce over the top of the egg noodles.
Notes
If you want to mix it up a bit, you might consider trying this recipe with smoked paprika for a different twist. Smoked paprika is Spanish however; and the flavors are definitely different. Hungarian paprika is sweeter. Normally I wouldn't substitute one for the other, but in this case, my family liked both versions.

Note: I did set aside a few of the julienned pieces to saute to top our individual dishes but that was only to give the pictures a bit of contrast, and I wouldn't do that for a normal weeknight dinner.
Nutrition Information:
Serving Size:

1
Amount Per Serving:
Calories:

2024
Total Fat:

79g
Saturated Fat:

35g
Cholesterol:

359mg
Sodium:

1860mg
Carbohydrates:

303g
Sugar:

175g
Protein:

35g