Lemony Chicken and Cabbage Soup with Quinoa is a healthy and delicious easy to make dinner that you can put on the table in less than 30 minutes.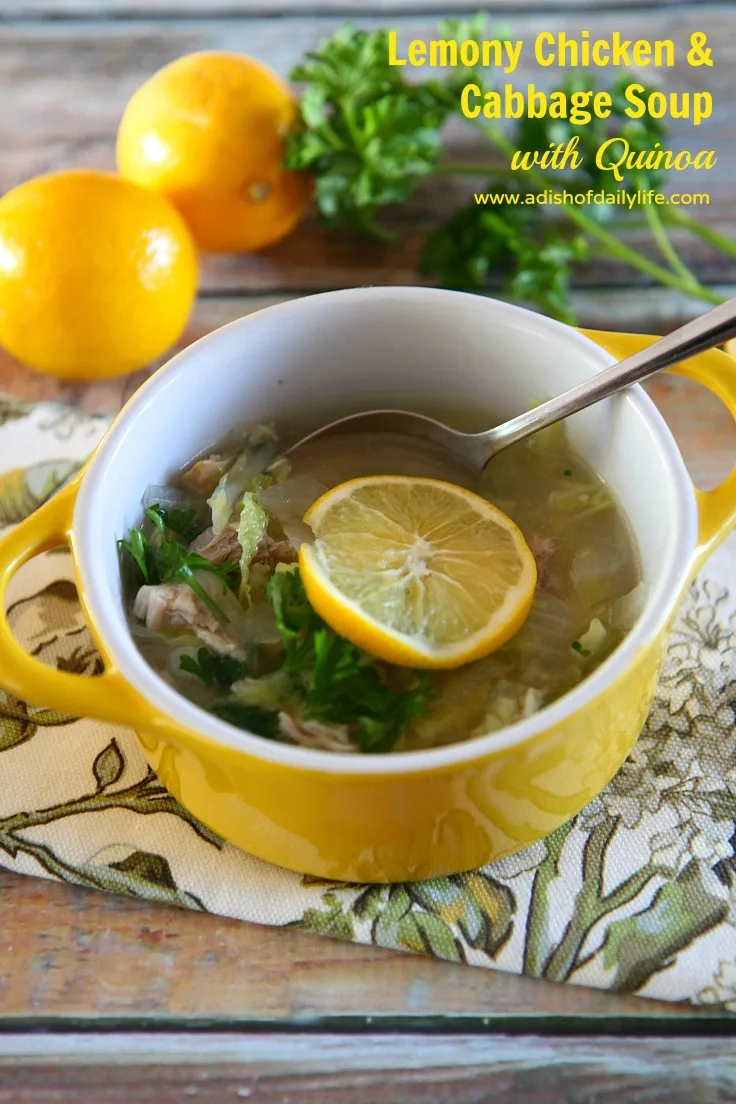 I never liked cabbage growing up.
And then I married my husband. My mother in law makes cabbage dishes like nobody's business. They always taste delicious, no matter how she makes it. And so, because of my mother in law, I learned to like cabbage. Sometimes it just takes having something prepared a certain way before you learn to like it.
One of my favorite recipes that my mother in law makes with cabbage is a chicken, cabbage and rice soup that my kids love. In addition to it being a family favorite, it's also a healthy dinner I can have on the table in less than 3o minutes! Needless to say, it's on the menu a couple of times a month here. Recently I decided to start making it with quinoa instead of white rice, since quinoa has such high nutritional value.
I usually make my own chicken stock. We belong to a chicken CSA in the summer, and we tend to roast the chicken, pick it mostly clean and then throw the bones in a stockpot with vegetables and make our own stock. However for this recipe, you can use canned or boxed broth as well. If you're wondering what the difference is between stock and broth, this is a good explanation.
As you might have guessed, we usually use our CSA chicken for our chicken soups. But I have been known to use a rotisserie chicken in a pinch.
I use savoy cabbage because I like the curliness…no other reason. You can definitely use plain green cabbage…that's what my mother in law uses.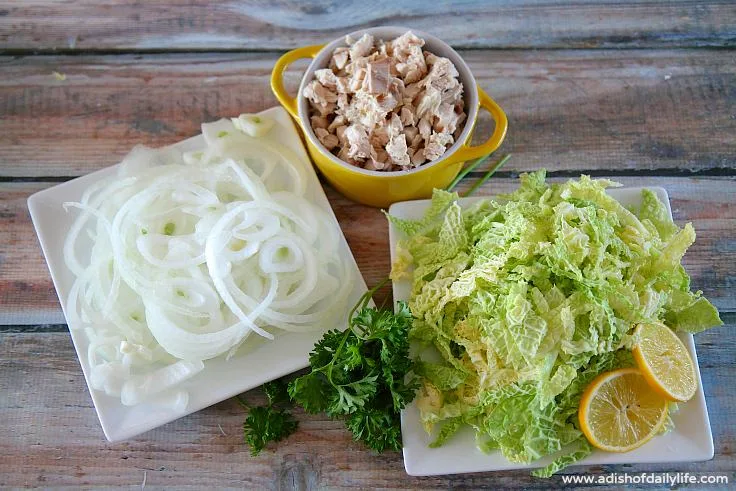 On the stovetop…
Dinner is served!
Lemony Chicken and Cabbage Soup over Quinoa
Ingredients
8 cups chicken stock or broth
1 large onion, sliced in rings
4 cups savoy cabbage, chopped
2 cups chopped chicken
4 tablespoons parsley
2 lemon slices
pinch of cayenne
salt and freshly ground pepper to taste
1 cup quinoa, prepared according to package directions
Instructions
Bring stock or broth to boil.
Add sliced onion rings and chopped cabbage.
Reduce heat, simmer for about 10 minutes.
While the cabbage and onions are cooking, start cooking your quinoa according to package directions. It should take you about 15 minutes.
Add the chicken, parsley, and a pinch of cayenne to the stock at the 10 minute mark and then continue to simmer for about 5 more minutes.
Remove from heat.
Add salt and pepper to taste, and lemon slices.
Spoon quinoa into bowls, and ladle soup over the top.
Enjoy! I hope your family loves this soup as much as ours does!